Tesla Corsa is back for its third Tesla-only racetrack experience on Sunday, March 31 at Buttonwillow Raceway Park in California. Having completed two successful track events this past January and October, Tesla Corsa looks to fill a few remaining open slots that would give Tesla owners the opportunity to experience the all-electric performance benefits of their vehicles in a safe, controlled environment.
Tesla owners looking to have some fun on the track will be matched by driving experience and also by their vehicle's power and handling characteristics. The event encourages Roadster, Model S, Model X, and Model 3 owners to fully enjoy the unique track experience while providing a sense of community and platform for exchanging tips and techniques.
"This is a scenario where it's a lot easier for drivers from a safety perspective, but also a lot easier for drivers to learn from each other, compare notes, and improve their driving," Unplugged Performance Co-Founder Avi Fisher told Teslarati. Unplugged is Tesla Corsa's sponsor and organizer.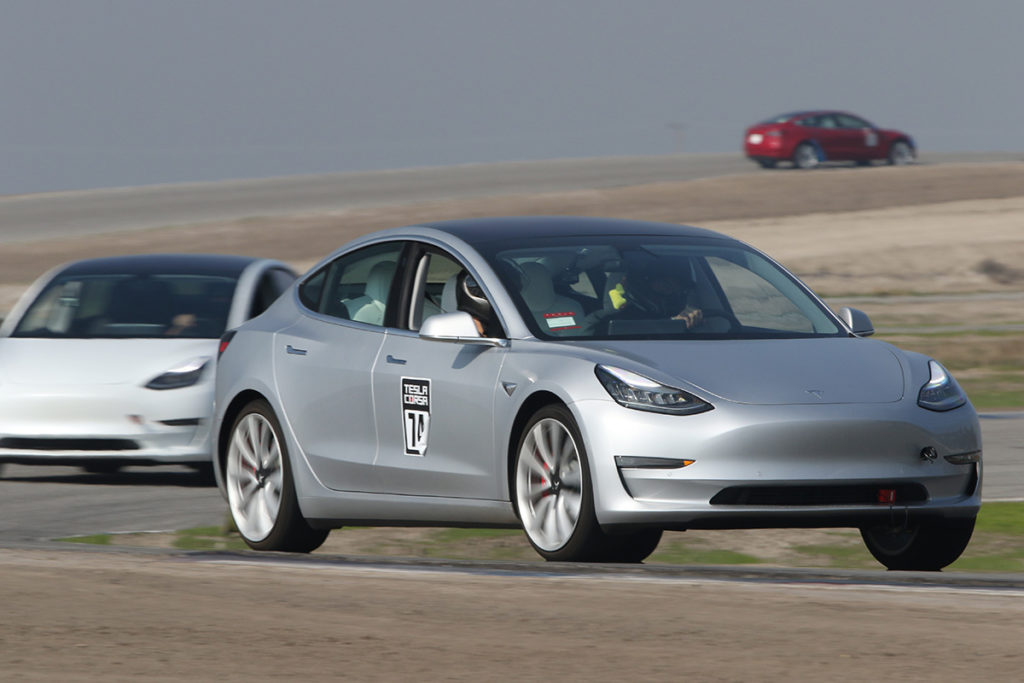 Tesla owners are generally aware of the great performance specs their vehicles offer but lack the opportunity to fully experience them, thus missing out on so many opportunities the ownership experience can bring. Even highway speeds can't legally and safely provide a venue for a Model S Performance to unleash Ludicrous Mode's maximum potential, for example. Similarly, Tesla's Track Mode optimizes their electric cars' performance and handling so drivers can push the limits of their vehicles in the same types of environments offered by Tesla Corsa.
The experience of pushing a Tesla to high-performance levels on the track has the added potential bonus of delivering a driving skill set that enhances overall safety, something Fisher was sure to mention to us.
"For anyone, the opportunity to explore the car in a safe environment is incredibly fun and rewarding. It's a whole side of your Tesla that many never get to experience…A natural byproduct of this is that if you are ever in an emergency avoidance type of scenario your ability to control your car under adverse conditions is significantly improved."
Anyone wanting to simply be a spectator during the Tesla Corsa event is also welcome with no fee required besides the $10 gate fee, something which also applies to drivers to gain access to Buttonwillow's track.
"Like any Tesla-owner event, there is a great chance to network. In the case of the last event, it was especially cool for attendees because Tesla sent a lot of their own staff there to interact with and interview Tesla owners. There were also a lot of SpaceX people there running their own cars or hanging out," Fisher detailed. He also told us that Tesla Corsa has a private Facebook group for attendees where a lot of daily discussion takes place.
A racetrack event like Tesla Corsa's involves plenty of memory making, and that's also been factored into the whole experience. As part of the participation fee, drivers are given access to everything produced by the professional photographers and videographers present on behalf of Tesla Corsa, both on and off track. Fisher explained to us that Tesla Corsa purchases the photos and videos produced and gives attendees full rights to them.
The long-term plans for Tesla Corsa's organizers are to bring its racetrack events to Tesla drivers and enthusiasts worldwide and possibly get Tesla in on the action as a sponsor.
Watch the below video for more about Tesla Corsa's prior events and dreams for the future
To participate, drivers can signup via Tesla Corsa's website. Both beginner and advanced drivers are welcome and will be grouped accordingly.