Edit: Sept 5, 2014 – 
The quotes cited within the article originates from an original interview of Alexis Georgeson by
AdAge.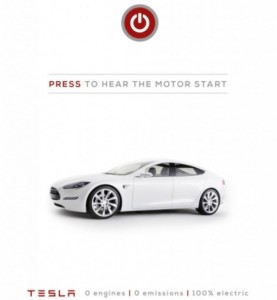 One of these days, we'll see Tesla advertising campaigns. It's a not a matter of why, but when.
Quickly, name one advertisement you've seen recently from Tesla Motors themselves? OK, name any advertisement you've seen from the company, ever? Tesla's marketing strategy is as disruptive as its business model. It lets you and I advertise for them, for free.
Tesla Advertising Strategy
Tesla does not spend millions of dollars in a traditional ad campaign. They let you and I discuss it, rave about it, hate on it, or rejoice in the spirit of going electric in a Tesla, be the catalyst to a viral and brilliant marketing campaign. At the end of the day, Tesla advertising is free.
InsideEVs spotted a great example that shows just what a Tesla advertising campaign may look like put together by the Miami Ad School. In my opinion, it's almost there but it's not as innovative as I would expect from Tesla.
Although Tesla Motors has no advertising department, nor an ad team, and certainly, no Chief Marketing Officer (CMO), spokeswoman Alexis Georgeson, who is the closest to a PR person in the company says:
"Right now, the stores are our advertising. We're very confident we can sell 20,000-plus cars a year—without paid advertising. It may be something we'll do years down the road. But it's certainly not something we feel is crucial for sales right now."
Edit: Sept 5, 2014
– To provide further context, the following passage was cited from the original interview held by 
AdAge
. Additional attribution to the quote added.
According to AdAge:
"Tesla has no plans to hire agencies or run ads in the near future. The in-house marketing team has only seven staffers and an internal team runs the website, where customers order directly. By contrast, Nissan spent $25 million advertising its Leaf EV in 2012."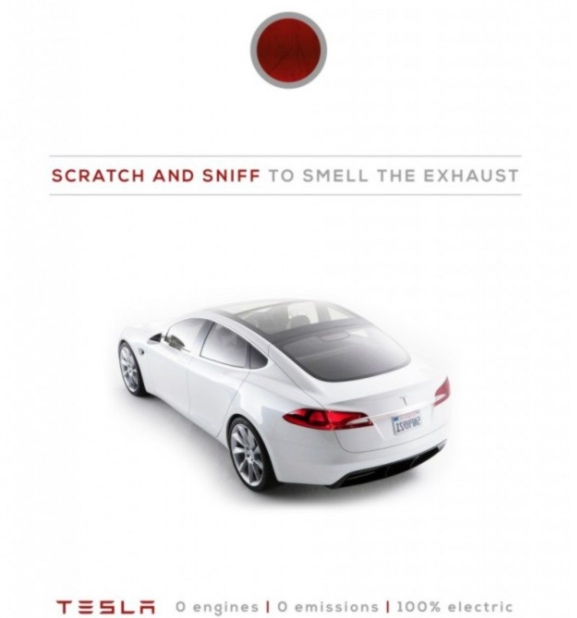 When Will Tesla Start Advertising?
It's true that Nissan, GM, Toyota, and Ford have deep marketing budgets that allow them to run some of the most creative advertising campaigns to date. However, Tesla Motors doesn't have that luxury, yet. Tesla's capital investment is used to lay down the foundation for tomorrow's success.
One thing Tesla does well with a minimum cash flow is to create a buzz. Without spending any money on direct advertising campaigns, Elon Musk and the creative minds behind the company know how to generate buzz, and in this modern age, that means using social media. A campaign a'la Apple would make sense. Here is what the Miami Ad School proposes. The first ad says: Press to hear the motor start, the other: Lift to feel the weight of the tank, and finally, our favorite: Scratch and smell the smell of exhaust.
The question is, are you ready to see Tesla advertising campaigns?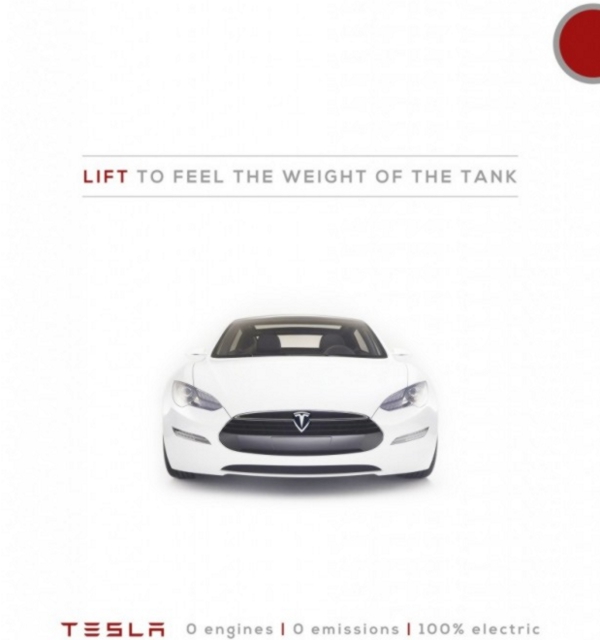 Source: InsideEVs via Gute Werbung