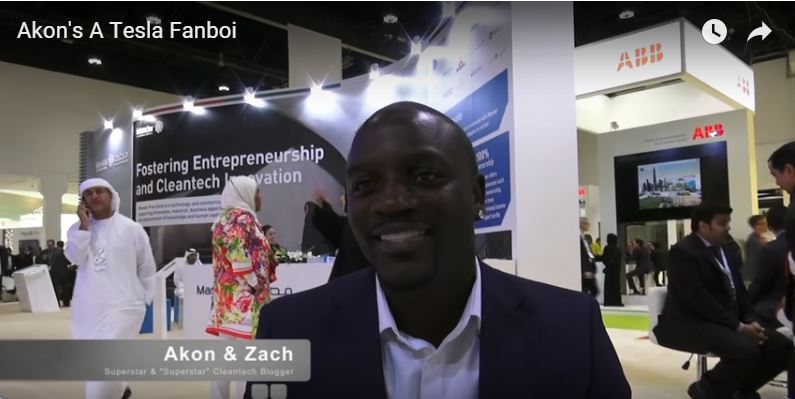 During this year's Abu Dhabi Sustainability Week, Zachary Shahan, editor of CleanTechnica, got a chance to sit down with internationally known rapper and music celebrity Akon. The event brings together business and national leaders "to address challenges and celebrate achievements in sustainable development and clean energy."
Akon is known for many achievements in sustainability and renewable energy throughout Africa, including his Akon Lighting Africa campaign. Along with several prominent partners, Akon is attempting to address the fact that over 600,000 people in Africa do not have reliable access to electricity.
Begun in 2014, Akon Lighting Africa, together with local governments, is now providing free solar electricity to communities in 14 African nations. The organization has installed solar powered street lights in many villages and provided a large number of solar lights for residential use. Those lights mean families no longer have to rely on oil lamps and candles that emit toxic fumes once the sun sets. "Electricity is more than light. This is a true change in our daily life", says a young mother in Yelimané village in Mali.
One of the things Zachary discovered during his meeting is that Akon is a huge Tesla fan. Like many young people who find success in the entertainment business, he initially squandered money on expensive cars. He once had a collection of 28 exotic cars, ranging from Ferraris and Lamborghinis to BMWs and Mercedes. Today, they are all gone. In there place are 4 Teslas — 2 at his home in Georgia and 2 more at his home in California. One of them is a Model X Signature Series that he took possession of recently.
Akon told Zachary how great it is to drive Teslas and how he prefers electric cars now. He loves the instant torque and the over the air software upgrades that Tesla provides. He says he would love to test drive an all electric BMW — if that company ever makes one.
Tesla and sustainability. Two concepts that are important to a man who is changing the face of Africa, one solar powered light at a time.
Photo credit: CleanTechnica