New U.S. car sales figures were just released for July and the month witnessed tremendous growth again, while demand for autos in China could be in some trouble. According to a recent Bloomberg article on vehicle sales in China, new car sales fell in June for the first time in more than two years . Will this consumer trend reveal Tesla's 2015 Vehicle Delivery number?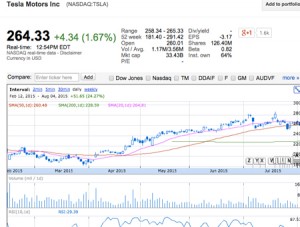 Overall consumer confidence is flatlining a bit in China and the recent stock market drubbing could further reduce the Model S buyer segment within the country. China's Automobile Dealers Association warned in the Bloomberg article that "that nationwide sales could drop for the first time in more than seventeen years, if the country's stock-market rout continues."
Le Xia, chief economist for Asia at BBVA Hong Kong, says,"some household suspended decisions to upgrade their cars and opted instead to play the stock market, only to see their savings evaporate." A recent stock market plunge removed $4 trillion of market value, according to Bloomberg.
China might not have been the impetus for the company's recent Model S "referral program," which runs through October of this year, but Tesla may have seen the writing on the wall in China. Analysts will dig deep on guidance for Model S demand in China during Wednesday's conference call – something Musk may try to skirt.
Friend of the program, Daniel Sparks pointed out in his tweet that it's been game-on for Tesla and its charging stations, including the destination charging program (marked in black), in China:
#Tesla charging locations in China have skyrocketed pic.twitter.com/h7jiUfUIel

— Daniel Sparks (@danielsparks) July 31, 2015
Wednesday's conference call may reveal stock volatility for the rest of the year. The Model X could extinguish some volatility in the coming months, especially if a steep production ramp actually happens. I wouldn't bet on an aggressive ramp up, though, just a gut instinct. After Wednesday's Q2 earnings call, investors and analysts may know whether 55,000 Tesla electric vehicles will be delivered in 2015.
With robust car sales in the U.S., analysts and investors could be disappointed if Tesla doesn't hit their delivery mark. Plan accordingly.