This latest Model X sighting comes to us directly from Tesla Headquarters in Palo Alto, CA. Two, presumably Tesla employees, are seen turning out of Tesla's parking lot in a rather clean and very production-looking Model X, before going on a slow cruise down Deer Creek Rd.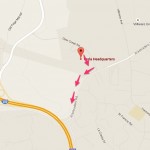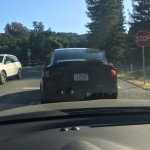 What's very different about this latest sighting is that the Model X appears be a very close final production version of the vehicle. Contrary to previous Model X versions seen testing on the streets, this version did not have missing fender trims or misaligned body panels. In fact, the Model X falcon doors appear to flow seamlessly into the bodylines.  What's even more compelling is the angle in which the falcon doors are positioned on the roof.
There's been question on whether the Model X would have enough surface area between the falcon wing doors for a roof rack. Based on this latest photo, we can see the hinge to be tapered, possibly providing enough space for a slender bike or ski mount.
There's been rumor that Tesla will announce the launch of the Model X Design Studio during Thursday's Q2 earnings call, and seeing how complete this Model X looks, that speculation is beginning to feel pretty real.