According to NASASpaceflight.com, SpaceX is just ~48 hours away from Falcon Heavy Flight 3's critical static fire test, in which all 27 of the rocket's Merlin 1D engines will be briefly ignited.

If the routine test goes as planned, SpaceX's third completed Falcon Heavy will be ready to lift off as early as 11:30 pm ET (03:30 UTC), June 24th. Atop the massive rocket will be the US Air Force's Space Test Program-2 (STP-2) mission, a collection of 24 small satellites from a variety of US government agencies and academic institutions. Practically speaking, STP is often more of an engineered excuse to launch, involving satellites and customers that are willing to accept higher risk than more valuable payloads, making it far easier for the US military to certify new technologies and new commercial launch vehicles.
As previously discussed on Teslarati, STP-2 is an extremely ambitious mission that aims to simultaneously certify or pave the way towards certification of critical capabilities. First and foremost, it will (barring serious anomalies) give the US military the data it needs to certify SpaceX's Falcon Heavy rocket for all national defense launches, giving ULA's Delta IV Heavy its first real competition in a decade and a half.
Included under the umbrella of that catch-all certification is a sort of torture-test validation of the long-coast capabilities of SpaceX's Falcon upper stage. To successfully complete STP-2, the upper stage will be subjected to "four separate upper-stage engine burns, three separate deployment orbits, a final propulsive passivation maneuver, and a total mission duration of over six hours." It will likely be SpaceX's most technically-challenging launch ever.
Finally, the US Air Force has decided that STP-2 presents an excellent opportunity to begin the process of certifying flight-proven SpaceX rockets for military launches. The STP-2-related work is more of a preliminary effort for the USAF to actually figure out how to certify flight-proven commercial rockets, but it will still be the first time the a dedicated US military mission has flown on a flight-proven launch vehicle. Down the road, the processes set in place thanks – in part – to STP-2 and Falcon Heavy may also apply to aspirational rockets like Blue Origin's New Glenn and ULA's "SMART" concept for Vulcan reuse.

Still, New Glenn is unlikely to be ready for flight-proven military launches until the mid-2020s, while ULA has no plans to even attempt to implement Vulcan's "SMART" reuse until ~2026, meaning that military certification probably wont come until 2028-2030 at the earliest. SpaceX has thus earned roughly half a decade where it will be the only viable US launch provider that can offer certified flight-proven hardware with an established record of reliability. Although the Air Force Research Laboratory (AFRL) had a lone smallsat aboard SpaceX's February 2019 launch of PSN-6 and Spaceflight's GTO-1 mission, STP-2 will be the first time a dedicated Department of Defense mission has flown on flight-proven launch vehicle hardware since 1992 (STS-53).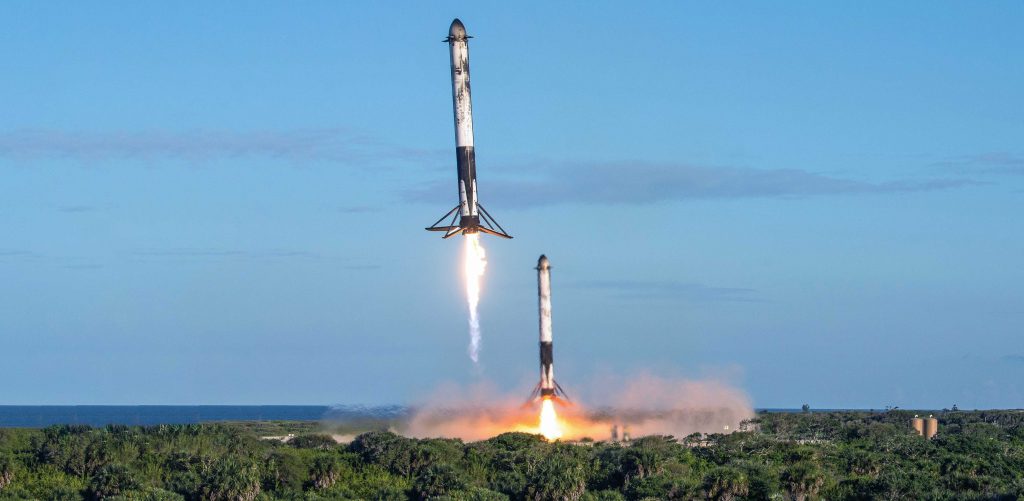 Aside from flight-proven Falcon Heavy side boosters B1052 and B1053, STP-2 is expected to use a new center core, B1057. SpaceX is in the late stages of vehicle integration and should be nearly complete by Monday, June 17th in order to support a June 18th static fire. The specific static fire window is not yet public but Falcon Heavy will likely roll out to Pad 39A no less than 12 hours before.
Teslarati photographers Tom Cross and Pauline Acalin will both be on site with a bevy of remote cameras to capture SpaceX's third Falcon Heavy before, during, and after liftoff. STP-2 will be Falcon Heavy's first attempted nighttime launch. Stay tuned for updates as we get closer to T-0!
Check out Teslarati's newsletters for prompt updates, on-the-ground perspectives, and unique glimpses of SpaceX's rocket launch and recovery processes.