After a very long wait, Tesla Model S Plaid deliveries seem to be finally happening in Europe. This was hinted at in recent reports from Germany, where images of the flagship all-electric vehicle's certificate of conformity (CoC) were recently shared.
The UK government notes that a certificate of conformity is a document issued by the manufacturer of a specific vehicle, and its purpose is to ensure the free movement of goods between EU countries. The document contains pertinent information about a vehicle and certifies that the car has been manufactured according to standards.
Images of the Model S Plaid's CoC for Europe recently made the rounds in the German Tesla forum tff-forum.de, with user s3bbo sharing pages of his vehicle's CoC. The Model S Plaid in question was reportedly ordered in late January 2021, so the Tesla customer's wait time has been extensive at about 22 months.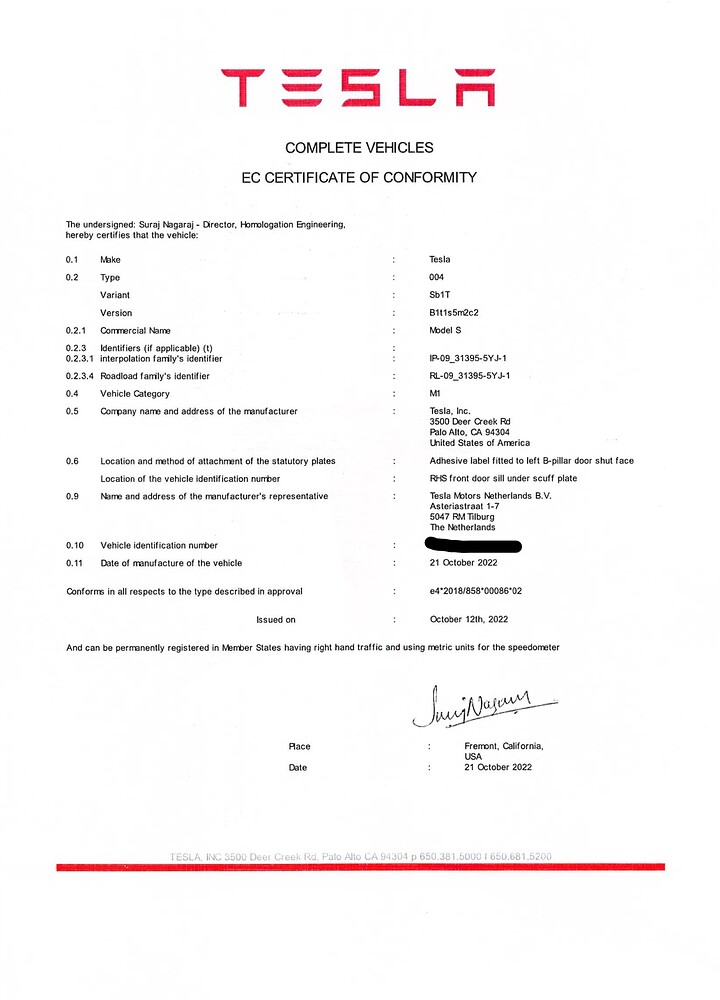 But while the confirmation that Model S Plaid deliveries are indeed coming to Europe was exciting, the technical details of the vehicle listed on the CoC's second page were truly what caught the attention of many (H/T to @tesla_adri). This was because several aspects of the all-electric flagship sedan seemed to be a bit different from the Model S Plaid that's been delivered to the United States so far. 
Immediately noticeable was the fact that the Model S Plaid's CoC listed the vehicle's top speed as 300 km/h. That translates to 186 mph, which is higher than the top speed of the Model S Plaid in the United States today. The Model S Plaid was initially rolled out to the United States with a software-limited top speed of 163 mph, but this was improved to 175 mph following the release of the vehicle's Track Mode feature.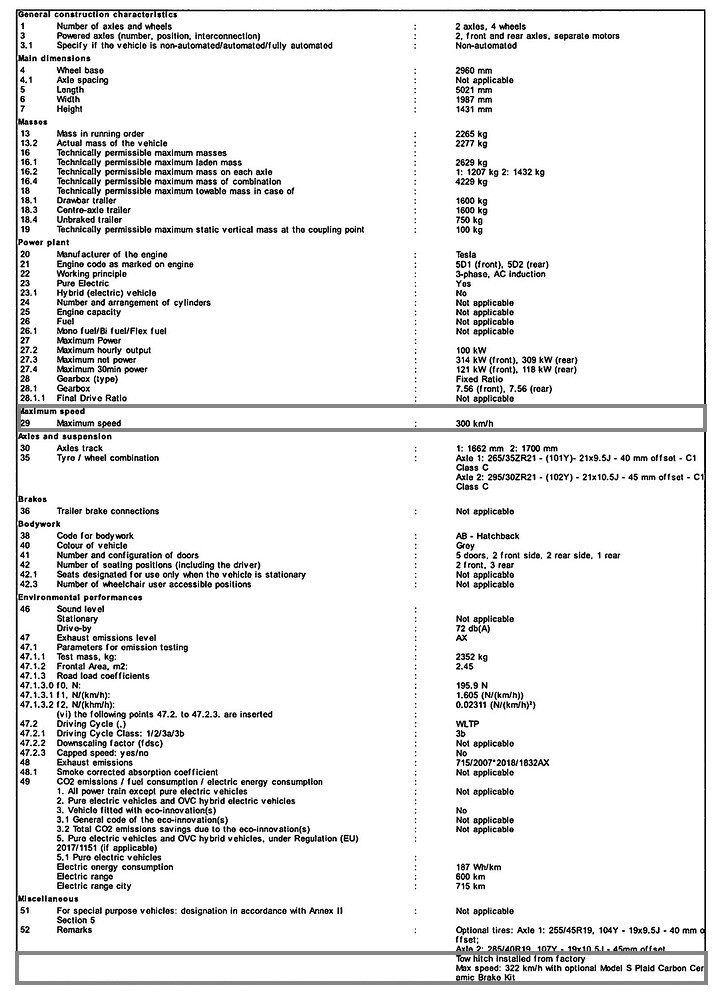 Also interesting on the Model S Plaid's CoC for Europe was a line pertaining to the vehicle's optional Carbon Ceramic Brake Kit. As per the document, the vehicle's maximum speed stands at 322 km/h (200 mph) with the optional performance brakes equipped. The Model S Plaid's Carbon Ceramic Brake Kit is currently listed on the Tesla Shop for $20,000. Its release date is also listed as Fall 2022. 
The Model S Plaid's CoC for Europe also lists a tow hitch on the flagship all-electric sedan that's installed from the factory. This has been hinted at in Tesla's online configurator for the Model S Plaid in Europe, which lists a tow hitch that's rated for 1,600 kg (3,500 pounds). In comparison, the Model S Plaid's order page in the United States does not include a factory tow hitch. 
Don't hesitate to contact us with news tips. Just send a message to simon@teslarati.com to give us a heads up.