Before going on vacation around July 4th holiday, PlugInsights sent a short survey to me with questions about Tesla supercharging procedures and also about recent comments by Elon Musk. About half way into the short survey, it delves into Elon Musk's supercharging "overuse" comment regarding some daily Tesla commuters relying on the free charging stations in southern California.
My first thought, this again. Musk's comments made some waves last month but why dredge this issue to the surface in the form of a survey from PlugInsights, a division of RECARGO.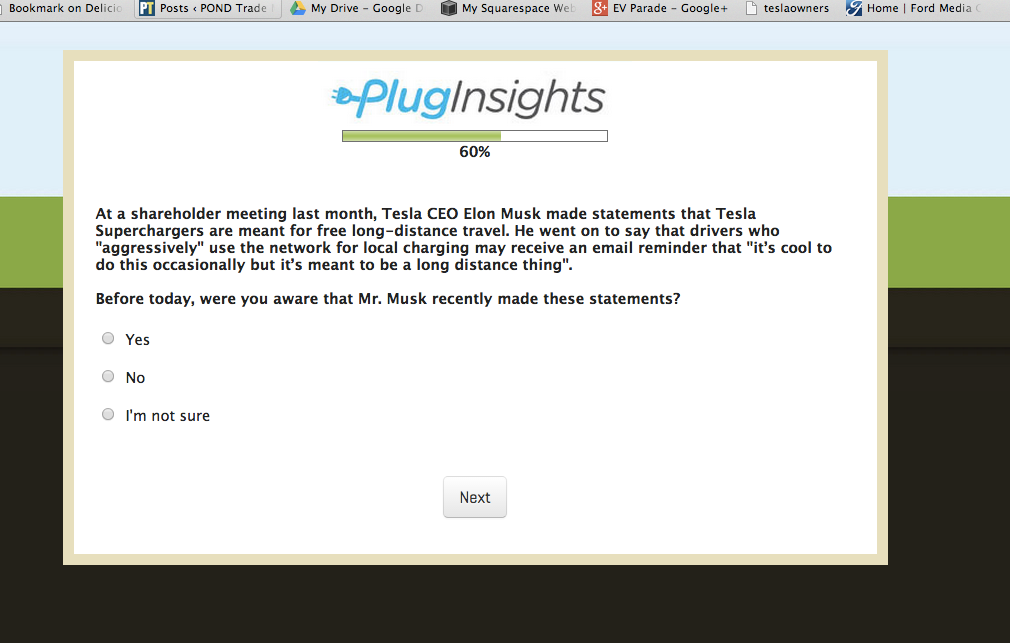 Is something afoot at Tesla? Why is the company worried enough to conduct a survey about this topic and especially Musk's comments at the annual shareholders meeting. One question from the survey actually discusses the actual comments by Musk. "Before today, were you aware that Mr. Musk recently made these statements?"
Below are Musk's comments at the recent annual shareholders meeting held in June:
(paraphrased via the survey)…"that superchargers are meant for free, long-distance travel" and "that drivers who aggressively use the network for local charging may receive an email reminder that it's 'cool to do this occasionally but it's meant for a long-distance thing.'
So why did Elon Musk comment on this relatively small issue? Ashley Vance recent biography on Elon Musk points out that Musk usually doesn't get involved in PR, unless an issue threatens one of his companies. So how could this threaten Tesla Motors? My speculation is the very real possibility of  battery capacity loss and drastically reduced range with multiple instances of DC fast-charging on a daily basis.
Could these patterns lead to drastically reduced battery packs ranges by year three or four of ownership and possibly lead to Tesla replacing a lot of battery packs, due to their warranty coverage?
My speculation centers around 120 kW of DC energy flowing into the battery pack on a daily basis. Did Tesla test battery packs for multiple, daily DC-charging usage? Maybe not.
Musk mentioned at the annual shareholder meeting that fast charging was intended for destination traveling and implied it wasn't for daily use by commuters.
The Idaho National laboratory conducted a study on DC fast-charging and its effects on battery packs some years ago and released findings in 2014. Using 2012 Nissan Leafs, the study compared the effects of different types of charging: level 2 charging (3.3 kW) and DC fast-charging (50 kW).
The study revealed after 40,000 miles of testing that there was little loss of initial capacity and that the DC-fast charging battery pack had only lost 3 percent more than the other Nissan Leaf using level 2 battery charging.
However, Tesla Superchargers are dishing out 120 kW DC versus the Idaho study of 50 kW, more than 2x the amount of electricity coming into battery pack. That's a lot stress on the battery management system to keep heat levels down, plus these car owners are supercharging daily, maybe doing it twice a day?
Many automakers have said that DC fast charging is fine on the battery pack, as long as it's not done excessively. It seems twice a day could be considered excessive and cause concern for Tesla execs. This could be leading up to some proviso with excessive supercharging and the battery pack warranty, hence the PlugInsights survey on usage and expectations.
What about you, any other thoughts on why this is such an issue for Tesla?
** My other mild theory is Tesla's rising electricity costs for owners employing supercharging only mode. The results of PlughInsights survey showed that 26% of Model S owners polled have used Tesla Superchargers as a free local alternative to home charging.