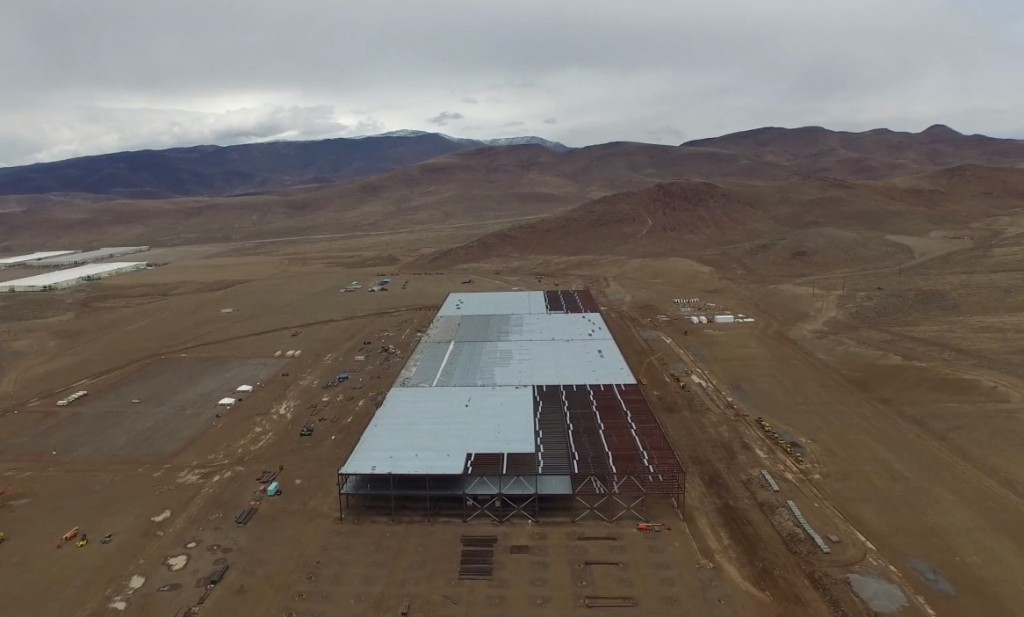 Tesla purchased 1,200 acres of land adjacent to the Gigafactory last week and is about to purchase 350 acres more. That's according to Dean Haymore, a Storey County official who gave a presentation about the Reno Industrial Center recently.
Haymore said the Tesla Gigafactory could eventually take up  7 "blocks" in the Center. The first building of the Gigafactory, which is now under construction, is considered one "block." Once completed, it will represent one quarter of the original Gigafactory.
>>>>> MUST SEE: Drone Captures Tesla Gigafactory in 4k Ultra HD
If Haymore is correct, the completed structure could contain 24 million square feet of space and be the largest building on Earth in terms of footprint. Elon Musk has previously said that, if the transition to electric cars is to be completed successfully, hundreds of Gigafactories will be required.
Following the announcement of the Tesla PowerWall residential storage battery in April, initial demand was so strong that Musk said the entire output of the first Gigafactory could be devoted exclusively to building just that one product.
Haymore also revealed during his presentation that Panasonic, Tesla's major partner in the Gigafactory project, will involve 14 more companies at the Reno location. "Panasonic is bringing 14 other companies, besides them, over here (Tahoe Reno Industrial Center) to provide for Tesla," Haymore said. This is in line with Tesla's plan to bring multiple suppliers under the same roof to lower costs. You can see all of Haymore's presentation at this link.
Still, it is now a year later and the company has not named another supplier apart from its long-time battery cell supplier, Panasonic. Perhaps Panasonic has been charged with arranging for those additional suppliers in accordance with its role as major partner in the process.
Tesla may turn out to be as much a battery company as a car company, as it aggressively positions itself to be a major player in the grid scale electricity storage market. The Reno Gigafactory may be just the first of many such battery manufacturing facilities.
Source: Electrek