Faraday Future finally took the wraps off its planned production car, named FF 91, last night at CES 2017. What the public finally saw was a low slung, four passenger crossover style vehicle that is intended to compete with the Tesla Model X.
The California-based electric car startup says the car will utilize an industry leading 130 kWh battery that's capable of driving 378 miles on a single charge. Powered by three electric motors — one in front and two at the rear — FF 91's all wheel drive system will be capable of blasting off a 0-60 mph time of 2.39 seconds, making it the world's quickest electric vehicle.
The battery, which Faraday Future claims has the highest energy density in the industry, is supplied by LG Chem. Pete Savagian, vice president of propulsion engineering at Faraday, says the FF 91 is equipped for 200 kW fast charging and can charge at a rate of 500 miles per hour.
The rear doors are hinged at the rear to provide ease of access to the interior. The doors are fitted with radar sensors that protect them from damage from cars or objects parked nearby. Those sensors also are part of the advanced self-driving system built into the car. Rear seating is said to be spacious and sumptuous.
Those are the specs but specs don't sell cars. People buy on emotion and justify their decision later with facts. The FF 91 is an emotional car in a way that the equally capable Lucid Air is not. The Lucid sedan looks like a very nice Audi. That's not a bad thing; it just means it doesn't have a lot of visual excitement. No car appeals to every taste, of course, but the FF 91 does have curb appeal. It is visually attractive and mimics the body lines of BMW's i3 and i8 — thoroughly modern without being too bizarre.
Richard Kim, Faraday Future's head of design, says much of the car was designed using virtual reality technology. "If you want to have the most progressive, forward thinking vehicle design, you have to have use the most progressive and forward thinking methodologies," Kim told Automotive News during a tour of the company's headquarters in Gardena, California late last year.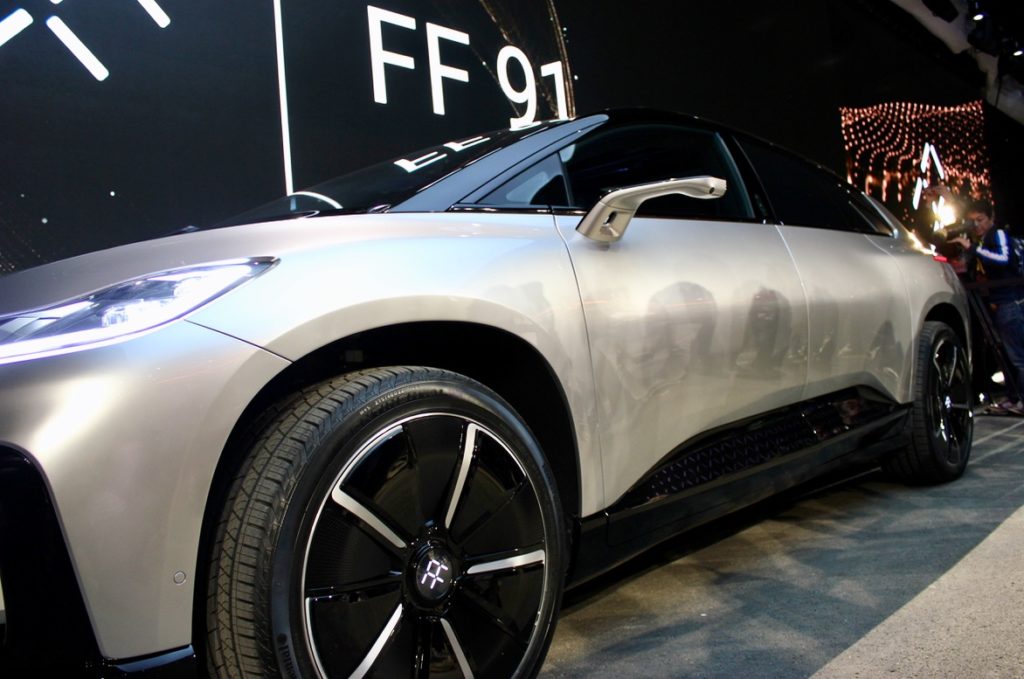 Faraday Future says owners will be assigned an FFID — a personal identification code that will allow any Faraday Future car to configure itself to the personal preferences of the owner. That raises a significant point. Will there ever be enough Faraday Future cars on the road to make FFID relevant? The company is said to have serious financial difficulties. Work on its factory in North Las Vegas has been shut down for almost two months and senior company executives have left the company in the past few weeks.
Not to worry, Nick Sampson, senior vice president of R&D and engineering, told the audience Tuesday night in Las Vegas. Brimming with confidence, he assured those in attendance that Faraday Future is in the middle of a "multifaceted disruption" that will "reformat the auto industry." Then he added, "Despite all the naysayers and the skeptics, we will persist," before adding that the company's "clean sheet" gives it an advantage over traditional automakers. Maybe so. But with the first cars scheduled to be delivered in 2018 and no factory yet in existence, there are plenty of skeptics.
Are Faraday Future and the FF 91 ready for prime time? Interested parties can reserve a car now or pay a $5,000 fee to secure a "priority reservation" for one of 300 "Alliance Edition" cars. With the company teetering on the edge of financial collapse, the CES reveal is seen by many as a Hail Mary event. If the reaction to the FF 91 is positive, new investors may be brought on board. But without fresh funds, it is hard to see how the company can survive long enough to be part of CES 2018.