The internet is one of the first places car buyers go when researching electric vehicles. Tesla dominates the market, but they aren't without competition. Those competitors are going to do everything possible not only to keep up with Tesla's products, but also try to grab as much web real estate, search traffic, and clicks as possible.
So how does Tesla stack up against its competitors when it comes to web presence? Let's find out:
Tesla on the Internet
First let's look at Tesla's online world, and then we'll check out the rest. Right away Tesla has a huge advantage thanks in large part to charismatic CEO Elon Musk. Even people who aren't interested in cars consider him a household name. Nearly anything he says or does captures headlines and gets people talking. Tesla gets entire articles written about them on the largest publishers in the world from Musk's individual tweets, which helps them dominate the blogosphere when it comes to news. Can you name a CEO of any other company that has such a strong presence? If you're a regular consumer, probably not.
That high level of familiarity extends to social media, too, in large part because Musk writes his own tweets and has over five million followers. On Facebook, fans can click a link to design their dream Tesla or look through a variety of relevant content, ranging from news stories to videos. The brand's Instagram channel, which has over a million followers, features hundreds of inspiring photos.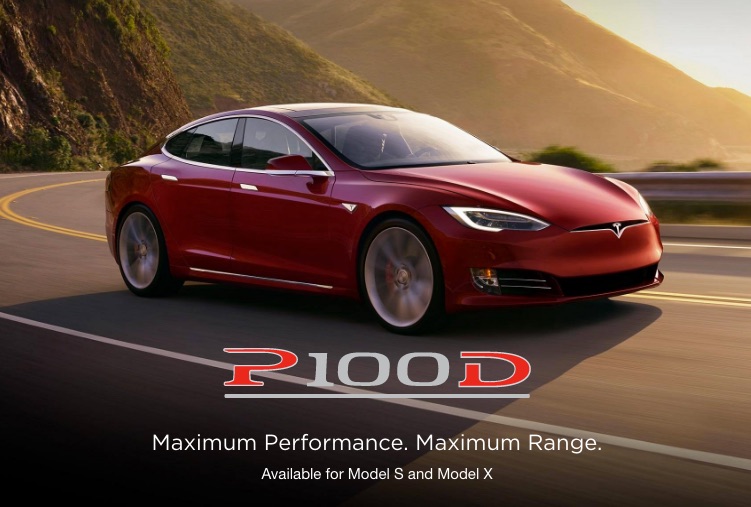 Interestingly, Tesla's website itself doesn't have a social media section, which is it's one downfall. It's very clean and modern, and uses colors similar to apple.com.
Having a rockstar-type CEO means Tesla's competitors have their online work cut out for them. Let's look at how their competitors market their electronic models on the Web.
General Motors
Maker of the Chevy Bolt, General Motors largely relies on external media outlets to spread the word about its car. Cruise Automation, an autonomous car technology company acquired by General Motors, released a snapshot of the self-driving car cruising around San Francisco.
Soon afterward, Mashable picked up the story, along with other news outlets. Details were scarce, but the picture sparked curiosity. It certainly didn't create the buzz of Tesla.
Chevy has tried extremely and possibly too hard at using the internet to reach millennials. It spent an entire campaign based around emoji's, which seemed forced and out of touch. Can you sit through this entire commercial without being embarrassed for them?
With the Bolt though, things may finally be heading in the right direction for them. Apple Co-Founder Steve Wozniak just announced yesterday that he's ditching his Tesla for the Bolt. In the online world, that's a big deal, and is already starting to grab headlines. A Google search for his name right now shows up more articles about his choice of car than about the hugely newsworthy iPhone 7 announcement.
Nissan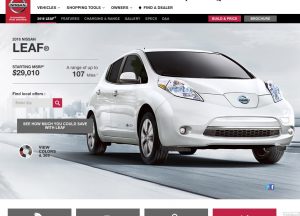 Nissan made a smart move by creating social media accounts specifically for the Leaf, its electric vehicle, so interested purchasers could get targeted information. There are designated Nissan Leaf channels on Facebook and Twitter, each with new content posted least daily. Topics vary, from tips for finding fellow electric car enthusiasts in your area to funny pictures viewers can caption.
Their actual website isn't nearly as nice, and uses a few large images that don't make much sense. For example, one of the first things you see is a huge image of the rear windshield.
BMW
The i3 is BMW's contribution to the electric car market. During the 2015 Super Bowl, the company put a commercial online that offered a dose of nostalgia. Featuring Katie Couric and Bryant Gumbel, the spot played off of the pair's famous "What is the internet?" segment, which aired on the "Today" show in 1994.
The modern commercial suggested that similarly to the internet, the BMW i3 would change society's perception of what's possible. Twitter followers responded especially well, praising the ad for the way it was different from the typical male-centric Super Bowl commercial and made them think of days past.
Unlike Nissan, BMW hasn't created specific social media profiles for the i3. However, it has one of the earliest forms of social media — a message board. The Circuit is a forum for i3 owners and enthusiasts. Although the approach makes sense, the message board isn't often used and has just over a couple hundred posts in its most popular section.
Ford and Google
True to form, Elon Musk wowed consumers by discussing ongoing work related to Tesla's fully autonomous car. Musk asserts the technology will be ready well before regulators approve it for public use. Even in these early stages, he confidently talks about how impressed he is about the technology so far.
Musk's words came as no surprise to Google and Ford, as those companies plan to compete with Tesla. At the end of last year, the two companies said they'd come together to engineer self-driving cars.
Ford has one of the most impressive websites, but because they have so much to offer, the spotlight doesn't reach anything electric very often. They're one to keep an eye on for the future.
Mercedes
Last month, Mercedes attracted attention on the internet by publicizing plans to directly challenge Tesla and other electric car brands by creating a to-be-named sub brand of electric vehicles that'll include a minimum of two SUVs and two sedans. Earlier, the brand promoted its AA class of electric vehicles with a memorable "Saturday Night Live" spoof featuring Julia Louis-Dreyfus. It originated on TV but got significant online traction through social sharing.
The brand will reportedly showcase the first of its new electric vehicles at a Parisian auto show soon. Only time will tell whether Mercedes can truly pose a threat to Tesla, but the brand's already created a buzz through online news articles about its upcoming offerings posted on well-known sites such as TechCrunch and Bloomberg.
Audi
You might say Audi is the least-likely Tesla challenger since it doesn't have a fully electric vehicle yet. Even so, automotive media outlets report the company may be testing an electric version of its A7. Pictures of a prototype show a car without exhaust tips, which could indicate an emissions-free design.
Beyond the potential electric version of the A7, Audi will release an electric SUV in 2018. The A7 snapshots have drawn attention online because some media outlets specifically focused on how the pictures might show sneak peeks of electric car technology. They also point out how Audi's hybrid cars have charging ports behind the front grilles and speculate how it'd be easy to install them on the A7, too.
Audi has generalized social media profiles and those related to the brand's racing vehicles. It might capitalize upon current electric vehicle interest and branch out further by creating profiles for those cars, too.
While their competitors are on the right track, Tesla remains a formidable online marketing force. It probably helps that Tesla has stayed on track for making electric, driverless cars while the other brands mentioned have numerous other goals. They've all taken good first steps but have a long way to go before reaching Tesla's level.