Tesla CEO Elon Musk revealed his vision of the future through the company's Master Plan Part Deux on July 20, 2016. Filled with predictions about his complex and detailed plan to marry self-driving electric vehicles covering all segments, with solar rooftops and integrated battery storage units, 2017 should be the year when many of them begin to come into focus in a way the public can visualize.
Tesla Model 3 Deliveries
Arguably the most anticipated product on Tesla's roadmap is its affordable mass market Model 3 mid-size sedan which will see first deliveries take place at the end of 2017. The car has been in "pencils down mode" since summer, meaning the final design has been locked in and the process of getting it ready for production has begun. Elon has hinted that plans call for a volume production date that would begin sometime near the summer of 2017.
Goals should always exceed one's grasp and Musk recognizes that starting volume production on Model 3 by the end of July is going to be next to impossible. He was chastened a bit by the roll out of the Model X, which began in September, 2015. A number of production glitches delayed full production of that car until well into the second quarter of 2016.
That experience tempered Elon's irrepressible optimism with a dose of real world experience. Even assuming production did begin next summer, it would result in relatively few cars being produced. Those would get into the hands of customers living near the factory in Fremont, California so that any post-production issues can be addressed quickly and efficiently. The lessons learned would then be used to improve the quality of the cars to come.
Machines That Builds Machines, Come to Life
A main area of focus for Musk and Tesla's production arm is devising ways to reap significant benefits from a total rethinking of the manufacturing process by "building the machine that builds the machine". Having recently acquired a leading engineering firm in Germany focused on building advanced automation tools, Tesla believes that a properly designed factory could operate at 5 to 10 times the speed of today's production facilities.
"Tesla engineering has transitioned to focus heavily on designing the machine that makes the machine — turning the factory itself into a product. A first principles physics analysis of automotive production suggests that somewhere between a 5 to 10 fold improvement is achievable by version 3 on a roughly 2 year iteration cycle.", said Musk at the Tesla Gigafactory Grand Opening celebration.
Plans to nearly double the size of Tesla's Fremont, Calif. factory were recently approved by the city. Tesla plans to build as many as 500,000 cars a year, most of them Model 3s, by the end of 2018.
Tesla Model Y Compact SUV and Tesla Pickup Truck Unveiling
An electric compact SUV based on the Model 3 chassis, dubbed Model Y, will round out Tesla's S-E-X-Y range of vehicles. That, along with a Tesla pickup and a Tesla 'minibus', will fulfill the major automotive segments the Silicon Valley automaker and energy company aims to cover with its upcoming fleet of electric cars. Expect prototypes to be unveiled sometime in 2017
"In addition to consumer vehicles, there are two other types of electric vehicle needed: heavy-duty trucks and high passenger-density urban transport. Both are in the early stages of development at Tesla and should be ready for unveiling next year.", reads Tesla's blog post.
Musk also says
Tesla is already working on a semi-truck
 for hauling. Heavy trucks account for about 50% of the emissions from transportation. With Musk's focus on creating a sustainable society, trucks will need to be big part of the picture. Both  the pickup truck and the Tesla Semi are expected to be revealed in concept form during the coming year.
@RoadandTrack @TeslaMotors Model Y (compact SUV) off Model 3 chassis. Tesla Bus/Minibus/Spacebus off Model X.

— Elon Musk (@elonmusk) July 31, 2016
In addition, Tesla is thinking about creating a self driving minibus that could transport up to 10 passengers, according to Musk's Master Plan Part Deux. It would be based on the Model X chassis. Passengers could summon the bus to their location and it would deliver them to their destination with little or no walking required — something traditional public transportation vehicles cannot do.
Tesla job openings reveal that developments for future vehicles are already being planned for.
Roll Out of Autopilot 2.0 and Self-Driving Features
2017 is also the year when Tesla's Enhanced Autopilot should become fully operational. All cars produced after October 19 are equipped with the hardware 2 package of cameras, radar, and advanced ultrasound sensors that will allow them to operate without human input. All that remains to be done is accumulate enough human logged driving miles to flush out the confidence level for the company's self-driving algorithms.
Tesla has already accumulated more than 1.2 billion miles of driving history and is adding 3 million more miles every day. Elon believes it will require a total of 6 billion miles of driving experience before autonomous driving is reliable enough to convince regulators to allow self-driving cars to be allowed on public roads. He is also aware that approval will vary widely from jurisdiction to jurisdiction, both within the United States and in other countries.
Musk plans to showcase a fully autonomous trip from Los Angeles to New York by the end of 2017. According to Musk, the cross country journey in a Full Self-Driving Tesla would take place "without the need for a single touch" from a human driver, including recharging the car's battery.
"Our goal is, we'll to be able to do a demonstration drive of full autonomy all the way from LA to New York," According to Musk, the trip would be "from home in LA, to dropping you off in Times Square, and then the car will go park itself."
Tesla Will Begin Solar Roof Sales
Now that SolarCity has officially become part of Tesla Motors, the Solar Roof products introduced in October will become available next year to customers throughout the US. Tesla is revamping its retail stores to include information about its solar products and the Powerwall 2, its latest residential energy storage product. Musk envisions a seamless, pain-free process that will allow solar customers to order a Solar Roof and all the details are handled completely by Tesla.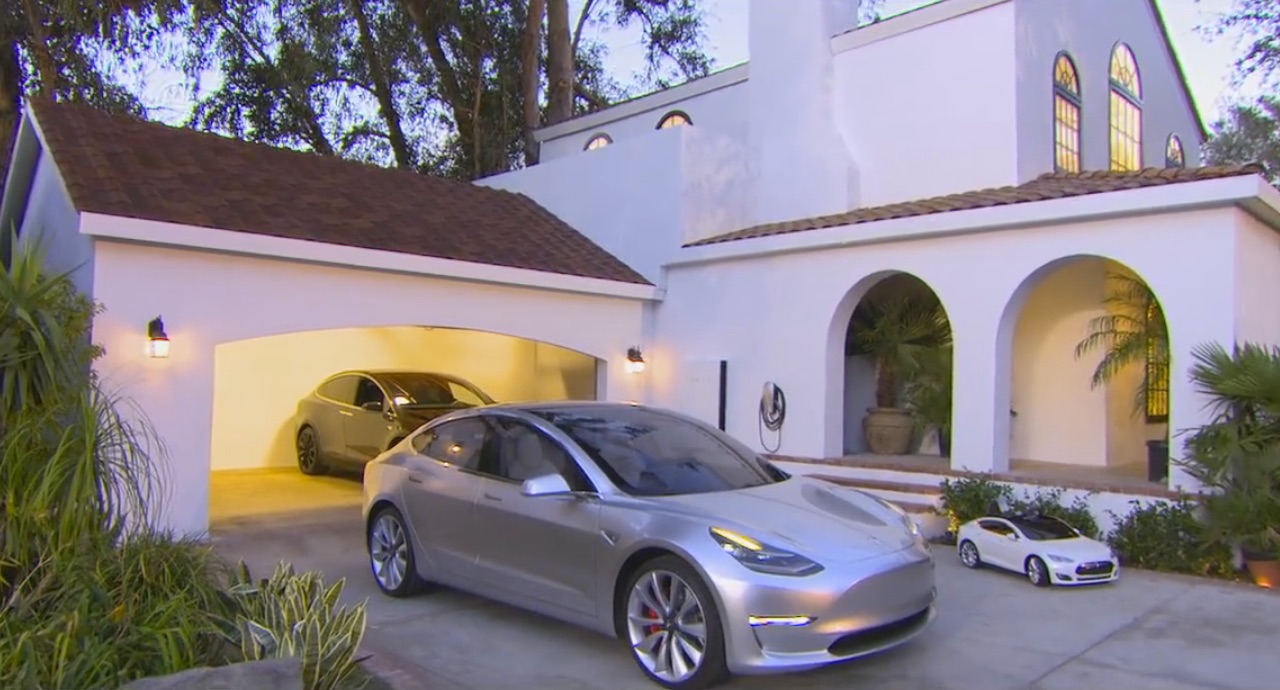 Combining energy production with local energy storage will permit more homeowners to reduce their reliance on the local utility company, which will insulate them against future rate hikes. It will also mean fewer carbon emissions from generating electricity, reinforcing Musk's goal of a sustainable future.
The Solar Roof will be offered in four styles and the anticipated to go on sale during the summer of 2017, starting with the most popular style first. Other styles will become available at the rate of one additional style every three months.