Tesla (NASDAQ:TSLA) is currently heading full speed into what could potentially be a record quarter, and Wall Street analysts could not be more split over the company. Just a day after longtime TSLA bear David Tamberrino from Goldman Sachs downgraded the electric car maker's stock, longtime Tesla supporter Ben Kallo has raised his price target on the company from $340 to $355 per share.
In a recent note, Kallo noted that consensus expectations "have overshot to the negative," creating a favorable setup for Tesla for the remainder of 2019. The Baird analyst argued that several catalysts are currently present that could drive Tesla higher, starting with the company's release of its Q2 delivery figures. Kallo also noticed that "bear arguments have preemptively shifted from demand to profitability," and that a solid second quarter delivery result could set up a positive cash flow quarter, which could then result in TSLA shares rising in the second half of 2019.
Apart from the Baird analyst, Philippe Houchois and Himanshu Agarwal of Jefferies stated that despite being humbled by Tesla's results in the first quarter, they remain "convinced that there is significant value" in the company. The analysts cut their full-year gross profit estimates by 20%, though they also argued that the negativity surrounding the electric car maker today is excessive, particularly with regards to Tesla's alleged demand issues and the upcoming competition from other automakers.
The TSLA bulls' recent arguments stand opposite those of Goldman Sachs analyst David Tamberrino's points on Thursday. In his note, where he downgraded his TSLA price target from $200 to $158 per share, Tamberrino argued that the decline in Tesla shares would resume as it becomes evident that the demand for the company's vehicles is "below expectations." This is well in character for the analyst, who has long been one of TSLA stock's most aggressive critics.
Last April, for example, Tesla was undergoing a company-wide initiative to hit a then-ambitious production rate of 5,000 Model 3 per week. Tamberrino then published a note, stating that Tesla would only be able to maintain a Model 3 production rate equal to around 1,400 units per week for Q2 2018. Similar to his downgrade yesterday, the Goldman analyst also adjusted his TSLA price target, bringing his estimates down from $205 to $195 per share. Tamberrino would ultimately be proven wrong at the end of the second quarter, as Tesla did produce 5,000 Model 3 in one week during the last week of June 2018.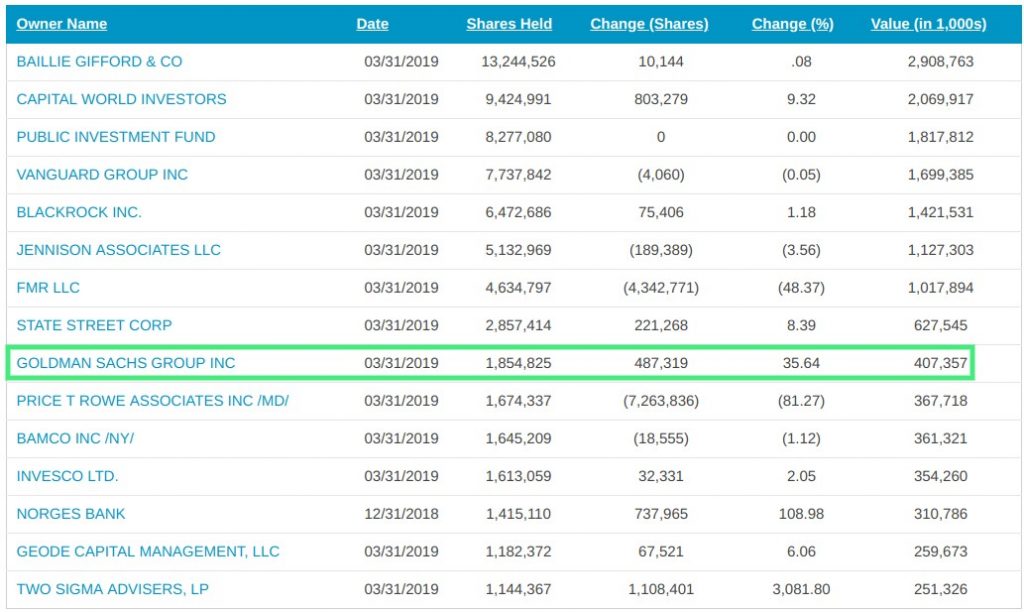 Quite interesting is that Tamberrino's perennial bearish Tesla calls from Goldman Sachs' equity research division have remained consistent despite the increasing TSLA holdings of Goldman Sachs' investment bank. When the analyst gave his 1,400-per-week Model 3 production estimate last year, for example, Goldman's investment bank held over $330 million worth of TSLA shares. In Q1 2019, which appears to be considered by Tamberrino as a sign of Tesla's predestined demise due to its lower-than-expected delivery and production numbers, Goldman's investment bank increased its TSLA position by 35%.
Elon Musk, for his part, has noted that Tesla could be poised for a record quarter, one that even exceeds Q4 2018, a period where the electric car maker delivered over 90,000 vehicles to customers. Tesla is currently in full throttle as the final days of the second quarter count down, and based on recent reports, it appears that the Silicon Valley-based electric car maker is digging deep to hit its self-imposed targets.
As of writing, Tesla stock is trading +0.69% at $222.14 per share.
Disclosure: I have no ownership in shares of TSLA and have no plans to initiate any positions within 72 hours.