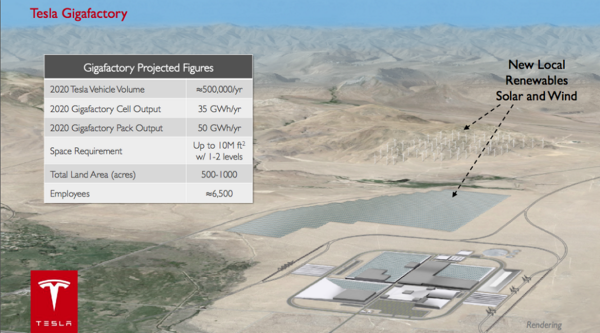 Energy storage and Tesla Motors' residential battery pack has been trending over the last couple of days since it was announced last week during the company's conference call. In typical Musk fashion, the conference call reference was lean on details and provides the carrot for financial analysts to overlook it's miss on revenue and earnings.
The assumption is this battery pack production will be able to store energy from your solar panels and electric vehicle owners will be able to use that electricity to directly charge their cars.
This is an interesting play from Musk and direction for Tesla Motors due to the fact that residential battery storage doesn't exist at this point—some pilots have been underway in California via Tesla. Some critics are saying Tesla may be getting sidetracked and would benefit from a more pragmatic CEO (think they said the same thing about Steve Jobs in early 80s).
They have a point. I write for a manufacturing software magazine, called Automation World, and this audience seems to be ideal market for battery storage, if the return on investment is right. However, while researching an upcoming feature article on energy management for manufacturers, plant floor production is just starting to focus on managing energy for bottom-line savings. Battery storage isn't in the picture, yet—though commercial buildings might be easier to implement than manufacturers at the beginning.
So is Musk's aim correct? Is residential battery storage ready?
Battery to power your home from @TeslaMotors – very appealing after going 6 days without power after Hurricane Sandy. http://t.co/QyIWRG8pfL

— Freyja Balmer (@bettyrocker) February 12, 2015
One critic, Jigar Shah, president and co-founder, Generate Capital, believes the solar and battery storage market's first push would be for commercial buildings or manufacturers, but not necessarily with residential.
On a recent Energy Gang podcast, Shah says,"You have to have a market for residential storage, by which to bid that capacity into the market like intelligent generation does and get paid for it. So if you decide to have 24 hours (or longer) of battery storage, then it's not a dead asset sitting there that only gets used twice a year.
Again, Shah is talking about a lithium battery battery pack linked with solar. So what is the vision from Musk and JB Straubel?
From the conference call comments, Tesla said the design is finished. Musk says,
"We're going to unveil some of the Tesla home battery consumer battery that will be for you using and people's houses or businesses, fairly soon. We have the design done and it should start going into production probably about six months or so."
So not much at this point and Musk once had hoped to leverage "used battery packs" as part of a greener energy storage solution for businesses or homes.
However, Tesla's director of powertrain business development, Mateo Jaramillo, on the same podcast, says,"So will a used EV battery in seven or eight years be cheaper, more cost-effective to integrate into whatever application you're trying to get into than a brand new battery in that year, says Jarmamillo. "Right now, the answer doesn't look like to be yes."
RELATED: [Podcast] Tesla's Battery Storage Strategy
BMW is also starting a battery storage pilot program in California with Pacific, Gas and Electric, which we announced last month —Tesla and BMW Battery Packs to the Rescue?). Tesla has also said they are in talks with utilities and they are not enemies in this market play.
So there's something here and it seems like Musk is porting over his Model S plan: create a market, create buzz and hope supporting market mechanisms will sprout up.
Jigar Shah makes a good point that utilities need to have real-time analytics and a communication infrastructure to provide energy pricing signals quickly to customers. Shah sees this support needed to help residential storage to make money and even "pool" their energy with other battery systems and sell it back to the grid.
Just like last year with the gigafactory, Tesla has teased a product with to the clean energy and business crowd. The wait won't be as long as the gigafactory in 2014, Musk said via the conference call last week that "a product unveiling is probably in the next month or two."
We're ready PT Barnum/Nikola Tesla.