Tesla has officially released information on the upcoming Model 3 unveiling event to be held on March 31st at 7:00 pm at the Tesla Design Center in Hawthorne, CA.
Similar to previous launch events held by Tesla, invitations were sent to most existing Tesla owners, but here's the catch – only 650 lucky hopefuls will be selected by lottery to attend the highly anticipated Model 3 unveil event. The even is scheduled for 7:00pm Pacific though the official livestream doesn't start until 8:30pm.
As indicated on the invitation by Tesla:
We're excited to share details of the Model 3 prototype unveiling at an intimate event in Los Angeles, CA for less than 800 people.

We want to share this with Tesla owners first, as a token of our appreciation for your support over the years. We've saved 650 places at the event for current owners including their guests.
Those that reply to the invitation by noon PST tomorrow, March 16, will have a chance to be randomly selected to attend the private Model 3 unveiling event. Official invitations will be sent to winners of the lottery on March 17.
The reason for the more intimate event is likely to prevent it from becoming the large spectacle that was of the Model X unveiling event.
Tune in for the 3/31 unveiling on https://t.co/7Ol1Bw0ZaG #Model3 pic.twitter.com/P1PY0U8H4T

— Tesla Motors (@TeslaMotors) March 15, 2016
It's unknown at the moment how many general invitations were sent out, and of the ones sent, how many will enter themselves into the raffle, but rest assured that there's plenty of wishes being made right about now.
Be sure to watch the Tesla Model 3 livestream on March 31st.
Here's a copy of the full invitation.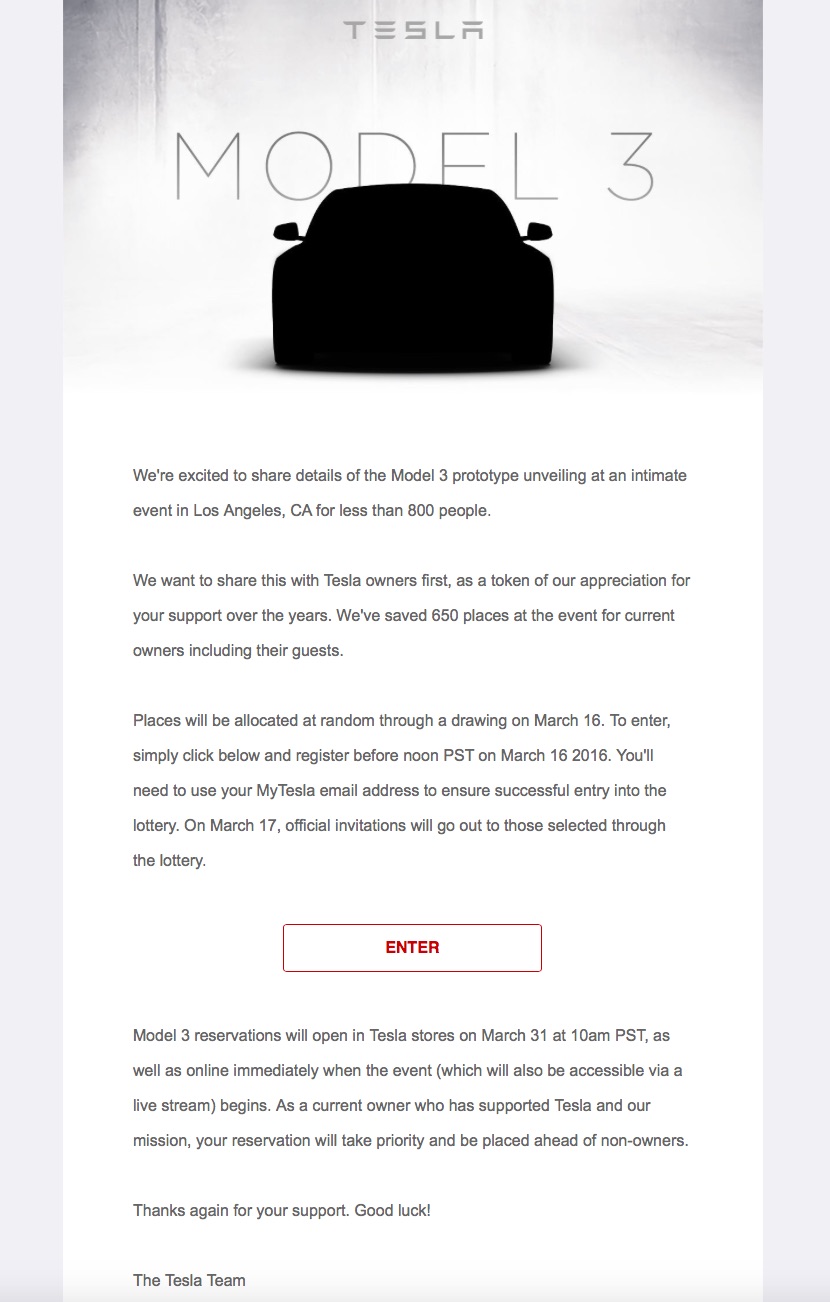 More Tesla Model 3 News