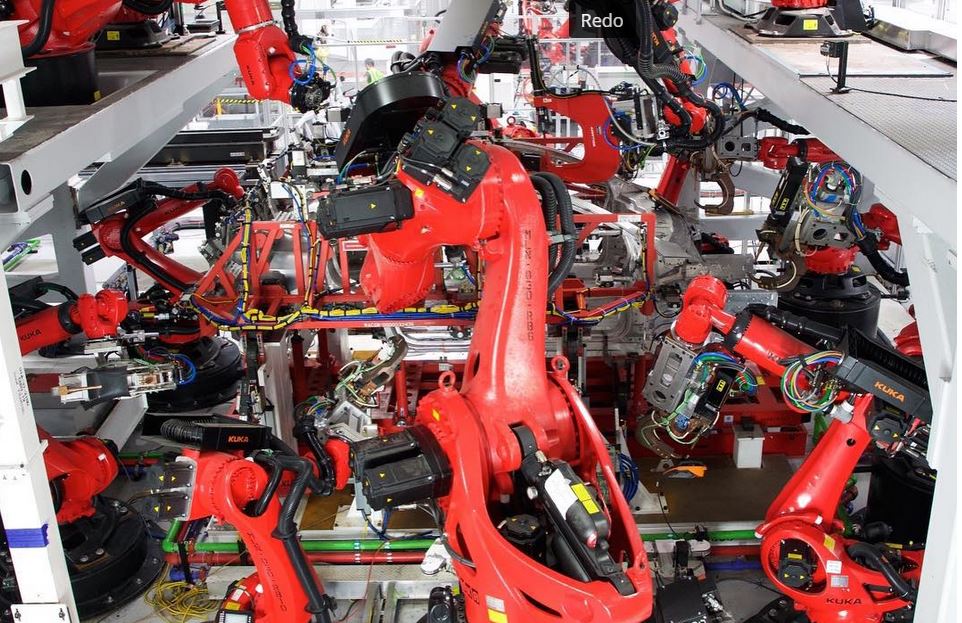 Analysts from Stifel Financial, Credit Suisse, and Robert W. Baird were given a tour of the Tesla factory in Fremont, California recently. Afterward, they got a chance to sit down with Tesla CFO Jason Wheeler. According to Bloomberg, Steifel analyst James Albertine said,"In roughly one year since our last visit, the progress witnessed is truly stunning." Tesla has invested amost $1.6 billion in upgrades to the factory in the past 12 months as it prepares to begin manufacturing the Model 3.
Lessons Learned
Credit Suisse analyst Dan Galves reports that Tesla has learned valuable lessons from the Model S and Model X. In particular, he says that engineers were in charge of the Model X design process, leaving little room for input from financing, manufacturing, and purchasing departments.  Now all groups seem to have an equal voice. "Model 3 launch timing and ease of mass production is significantly more important than it was for the Model X," Galves wrote. "On the Model 3, management indicated that there is a clear focus on ease of build, on-time launch, and cost."
Battery Costs Tumbing
Robert Baird's analyst, Benjamin Kallo, says the factory tour convinced him the cost of batteries for Tesla are already half what the rest of the industry is paying and are continuing to fall faster than anticipated. As a result of his findings, he has raised his rating on  Tesla stock to "outperform" and set a target price of $300 a share.
Faster Assembly Lines
All the analysts noted the presence of many more robots on the assembly line since their last visit, but there are more human workers as well. Tesla says it boosted its work force by 29% last year. The total number of people employed at the factory now stands at 13,058.
There are "several football field sized areas spanning the entry to the facility with desks, computers and seemingly invigorated staff," James Albertine writes. "There was an energy and buzz within the facility that is hard to imagine as an outsider."
"Robotics systems are customized, production processes are revolutionary, and attention-to-detail/supply chain management is improving by the minute," Albertine writes. "We do not believe this production process is one competitors can easily recreate." Benjamin Kallo of Baird & Co says Tesla's manufacturing skills will help the company reach its target of more than 25% gross profit margins on the Model X.
The analysts noted that the pace of the Model S assembly line is considerably faster than it was at the time of their last visit. By contrast, the Model X line moves quite a bit slower, with only one Model X built for every 6 or 7 Modes S sedans assembled.
New Stamping Equipment
Credit Suisse analyst Dan Galves commented in his notes after the tour that Tesla's new aluminum stamping press has 10 to 20 times the output of Tesla's older machine. That will help the company keep up with demand for its Model S and Model X aluminum bodied cars. The analysts also noted that the new paint shop, with an annual capacity of 500,000 cars, is complete and ready to finish all the cars the company thinks it will be selling by the time the year 2020 arrives.
In all, the analysts were very impressed with what they saw in Fremont and feel the production side of the company is ready, willing, and able to meet all of Tesla's sales goals for the near and medium term.
Photo credit: Tesla Motors