A Tesla Powerpack system is helping a remote water treatment facility in Queensland, Australia, provide safe drinking water 24 hours a day to roughly 200,000 people in the region, while using solar-generated power.
The water reservoir, built in Logan and just south of Brisbane, is located in a remote area that's difficult to connect to local utilities. Using a 95 kWh Tesla Powerpack system combined with 323 solar panels, the Logan Water Infrastructure Alliance with solar installer CSR Bradford was able to create a micro-grid that chlorinates a water reservoir and provide safe drinking water to nearby residents in Flagstone, Yarrabilba, North Maclean, Spring Mountain and Woodhill. The project is expected to save the local government nearly $1.9 million AUD (~$1.5 million USD) in operational costs.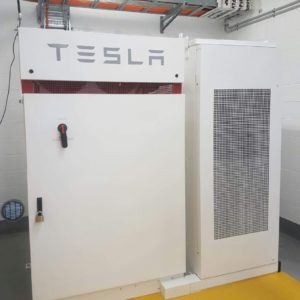 "There was a need to have this reservoir, there was a need for it to be powered for its chlorination treatment however it was in an area where it was completely off the grid," Smith told ABC News Australia. "We were concerned until demand increases, water stored in the network may age and not stay at the highest possible quality."
As residents move into the area, Smith is confident that the water treatment plant will be able to support an influx of people.
"We've obviously been trialling it for the last few weeks and we're confident that it's going to work, but what it will do is it will set a new standard, I think, globally but particularly what we're building in Logan," Smith said in an interview. "We've got a lot more [reservoirs] to build and we'll be looking at how we can use this innovation in sewerage treatment plants that we will have to build in the future."
Smith's and Logan's efforts to provide an off-grid solution is inline with other Tesla energy projects taking place in Australia. The Elon Musk-led company is already establishing the world's biggest battery in Hornsdale, Australia — a 100 MW, 129 MWh Powerpack battery system that will charge from a wind farm and provide backup power in the event of blackouts and grid instability.
In addition to this project, The Cathedral College in Rockhampton became one of the first schools in the region to utilize renewable energy captured through a solar panel system and Tesla Powerpack. The school established a 100kW solar system to help power a dorm and is estimating 40 to 50 percent energy cost savings as a result.
Australia has also passed a Renewable Energy Target aiming to use renewable energy to fuel 20 percent of the country by 2020.