As more Tesla employees and their family members are being invited to configure their Model 3, the California-based electric carmaker is gearing up to open up its online design studio to non-employees in early October. Moreover, a source tells Teslarati that Model 3 production is ahead of forecasts and early reservation holders will soon be asked to configure their Model 3, depending on their vehicle configuration preferences. 
Tesla first rolled out its Model 3 online configurator to company employees the day after CEO Elon Musk handed over the first 30 production vehicles to their new owners at an event held at the Fremont factory in late July. The Model 3 event was seen as an appreciation event for the hardworking staff that worked tirelessly around the clock to meet Tesla's aggressive Model 3 production timeline.
Handover party for first 30 customer Model 3's on the 28th! Production grows exponentially, so Aug should be 100 cars and Sept above 1500.

— Elon Musk (@elonmusk) July 3, 2017
But as we draw closer to the end of the year and the first customer cars are expected to be delivered in October, according to information shown on Tesla's Model 3 delivery estimator, the company will begin sending email invitations within weeks to reservation holders interested in purchasing a Long Range Model 3.
A user from the Model 3 Owners Club forum and spouse of a Tesla employee posted the following screenshot of the "Design Your Model 3" invitation email they received.
"Thank you for reserving a Model 3 and joining our mission to accelerate the world's transition to sustainable energy. It's time to choose your options and place your order," the invitation reads.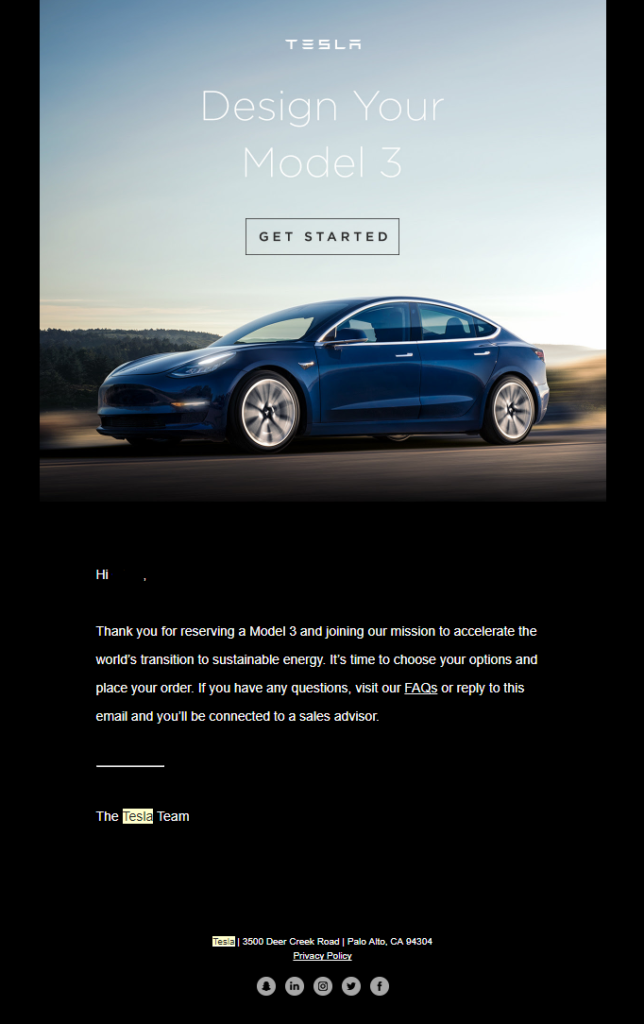 Source: Model 3 Owners Club
Clicking on the 'Get Started' button takes users to Tesla's Model 3 Design Studio where they can select a vehicle's paint color, wheel size and Autopilot. It's presumed that non-employees who are on the Model 3 reservation list will also receive the same invitation email.
Data that was recently gathered from a Model 3 monthly cost estimator indicate that on average the Model 3 will cost $900 per month. Surprisingly, the data also showed that around 60 percent of drivers will opt for the aero wheel covers despite the community's aversion-to its aesthetic appeal.
As Tesla nears the end of the third quarter, the company is expected to release its Q3 2017 Production and Deliveries report, providing insight on number of units being produced in the quarter. Musk has previously stated that Tesla aims to produce 1,500 Model 3 units in September, before ramping up to 20,000 Model 3s produced per month in December.
Looks like we can reach 20,000 Model 3 cars per month in Dec

— Elon Musk (@elonmusk) July 3, 2017
As Tesla gears up to ramp production following its S-curve and increase deliveries, Model 3 reservation holders everywhere will be anxiously awaiting their configuration email.