Fremont's city council has approved a request from Tesla Motors to drastically expand the size of its existing factory according to the East Bay Times. When complete, the additional space would nearly double the company's manufacturing space in Fremont's south end. The city says the plan submitted by Tesla lays out "a development pattern for the site in order to facilitate future growth" of the company.
The master plan Tesla has put together would add 4.6 million square feet of manufacturing space in 11 new buildings ranging in size from nearly a million square feet down to 118,000 square feet. It is expected most of the new space will be used to manufacture the much anticipated Model 3 midsize sedan due out in late 2017.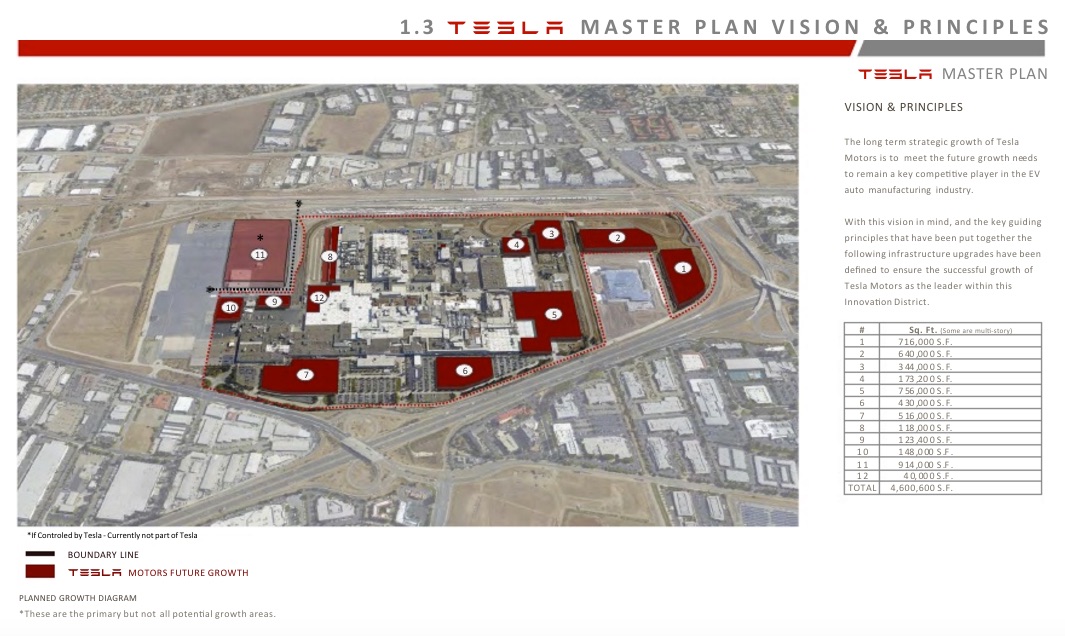 At present, there are 6,210 workers at the Tesla factory; 1,000 of them are Fremont residents. The city anticipates the new manufacturing space will add an additional 3,100 workers to Tesla's payroll at the Fremont factory. Tesla plans to build as many as 500,000 cars a year, most of them Model 3s, by the end of 2018. The new buildings will be critical to meeting that goal.
While approving Tesla's plan to add manufacturing space, the city council also spoke approvingly about a request from the local carpenters union asking Tesla to be more proactive about the need for work and training programs aimed at assisting workers to improve skill sets needed for manufacturing work.
In preparation for production of the Model 3, Tesla has already completed a new state of the art paint shop at the Fremont factory. The 370 acre lot is already a beehive of activity as we saw in a flyover drone shot of the Fremont factory. Organizing the space available to maximize production efficiency while finding room for additional workers will take careful planning and creative work flow solutions — two things Tesla excels at.