The highly anticipated Electric GT (EGT) racing series featuring a fleet of modified rear-wheel drive Tesla Model S P85+ vehicles will kick off its inaugural season in early 2017. The series aims to bring exposure to sustainable mobility and highlight the growing trend in all-electric racing through competition across some of the world's most famous racing circuits – Nürburgring, Barcelona Circuit and Donington Park in the UK.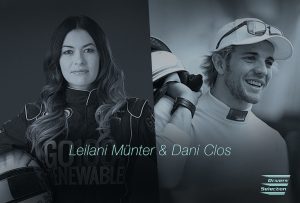 Having recently revealed the initial driver line up for its upcoming series, a press release issued late Tuesday by the EGT announces that veteran race car driver, environmental activist, and early supporter of Tesla, Leilani Münter, will join the team as the Championship's first American and second female driver. The announcement also welcomes former Williams F1 test pilot, Dani Clos who will be joining the grid in 2017. Münter and Clos will be one of 20 drivers across 10 professional teams looking to compete across Europe.
Electric GT Championship CEO, Mark Gemmell says through a company press release, "We are delighted to welcome Leilani and Dani into our EGT Drivers Club for the beginning of our revolutionary championship. Both enjoy a substantial profile on social media, which is crucial for projecting the values of our series to a modern audience, but most importantly they have talent in spades and we are sure they will have the chance to showcase that aboard our Tesla Model S EGT."
No stranger to being behind the wheel of a Model S or on the race track, Münter is an early Tesla adopter and race car driver that has made a name herself racing in the ARCA stock car series. More recently, Münter was featured alongside Tesla CEO Elon Musk in the Emmy-nominated documentary Racing Extinction, drawing attention to the human impact on climate change and mass extinction of wildlife. Her experience in racing, combined with her high profile and evangelistic background, is exactly what the EGT is aiming for when selecting its team of professional drivers. "The Electric GT Driver's Selection Club is a prestigious selection of professional drivers with backgrounds at the highest level of international motorsports, who support and project the values of sustainability on which the championship is based. These 'Electric Heroes', admitted for their courage, outstanding achievements and noble qualities, will play an important part in accelerating towards a new era, 'The Age of Light' when the series gets underway in 2017", says the organization.
The EGT Championship kicks off early next year and will be available for live viewing through Periscope, Twitch, YouTube and social media. The race series will consist of a 20-minute practice session, 30 minutes of qualifying, a 37-mile (60km) daytime race and a 37-mile race at dusk. Each round will be a weekend-long festival of technology and innovation for sustainability in and around the circuits.
Excited to be the first American driver to join the electric @EGTChampionship Drivers Club! https://t.co/2dYAyMwC89 @TeslaMotors @ElonMusk pic.twitter.com/pxW6NvcLgs

— Leilani Münter (@LeilaniMunter) October 4, 2016