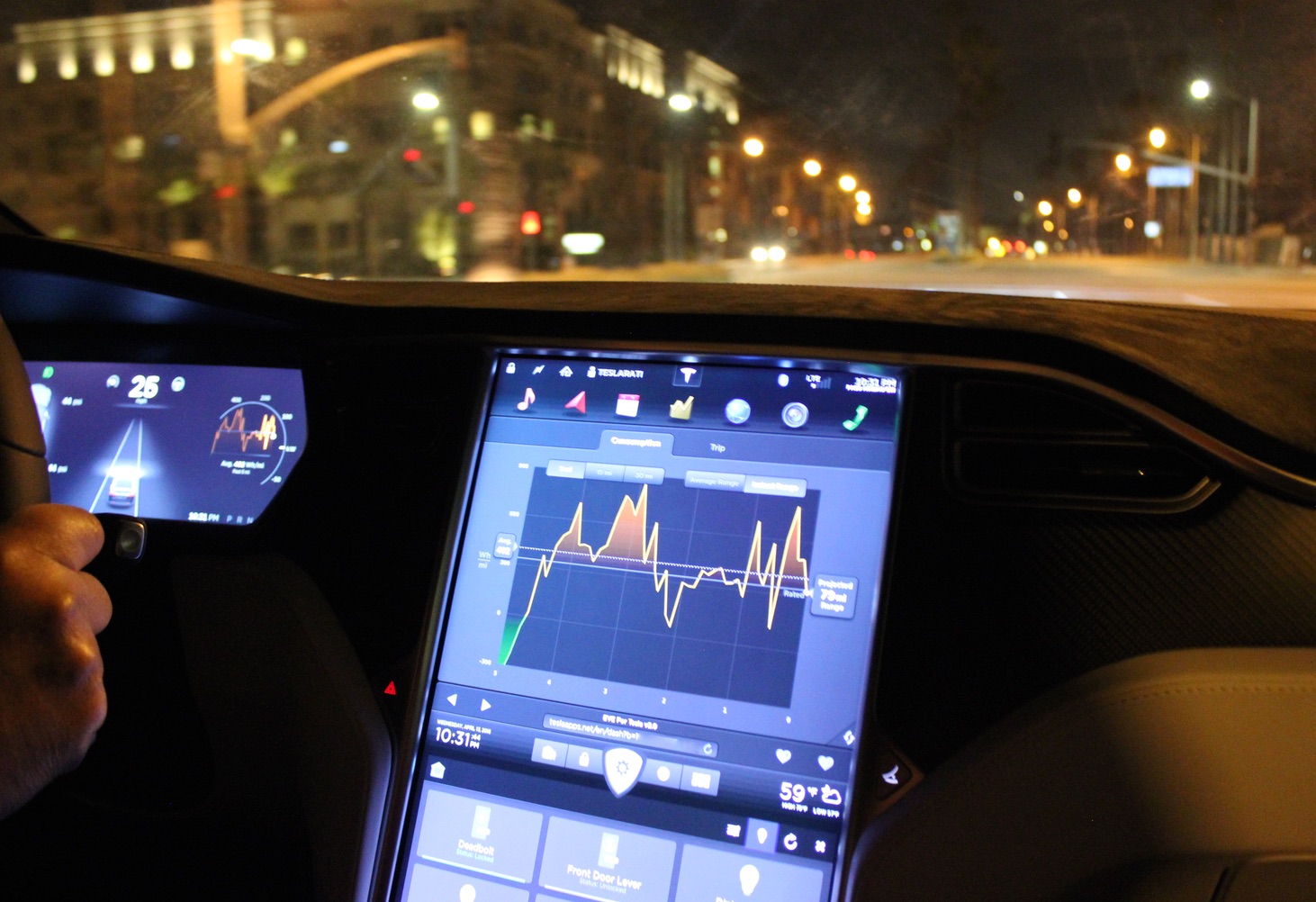 Long-time electric vehicle (EV) advocate, Tesla Roadster owner, and Plug in America Chief Science Officer Tom Saxton has been conducting a long-term EV battery study with the goal to gather deep insight on how EV batteries perform (and degrade) over time.
Tom's long-term battery study has been invaluable not only to the greater EV community but specifically to Tesla fans as well. The take rate for participants for the Tesla Roadster study is close to a 7% sample, while early 85 kWh Tesla Model S owners contributed to a healthy start. In an email correspondence with Tom, he has indicated that he is looking to expand the study to include the new 70 kWh and 90 kWh Model S variants as well as the Model X 90D.
With the EPA recently setting an unprecedented 303.2 mile Highway rating for the redesigned Model S, consumers may want to know what the long-term differences would be between a 90D classic fascia vs a 90D new fascia. Providing a third-party study of the effects of long-term battery health enables all concerned, especially amongst first time Tesla owners / Model 3 reservation holders, with a greater understanding and comfort to know "that Tesla knows what they're doing." Furthermore, it gives new EV drivers a sense of comfort when making the switch to electric powered car ownership.
Related:
Below are charts for the Model S as captured from Plug in America's survey.
The first chart that caught my eye is one that plots battery range capacity vs. miles accumulated for that vehicle.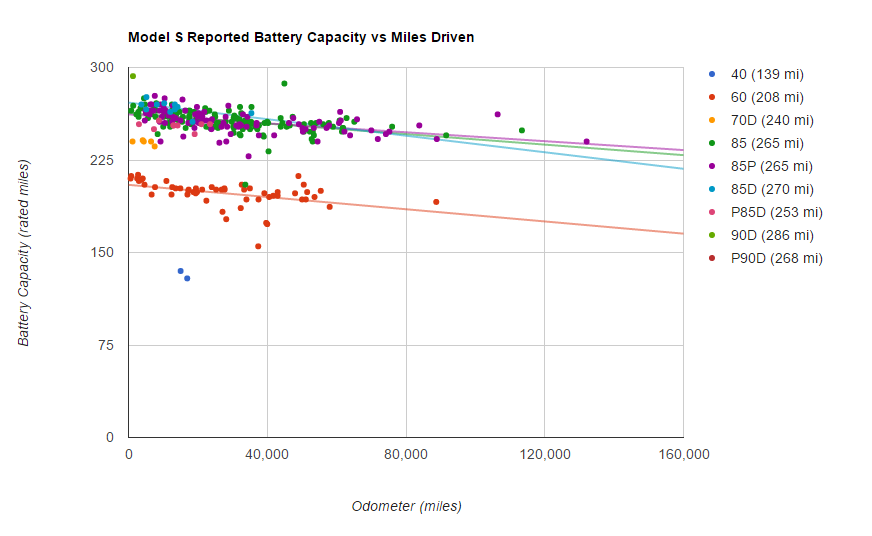 This same chart can be used to also track how a particular respondent's vehicle matches with the universe of respondents. The vehicle in black on the chart below shows the performance of my vehicle in relation to other respondents' cars.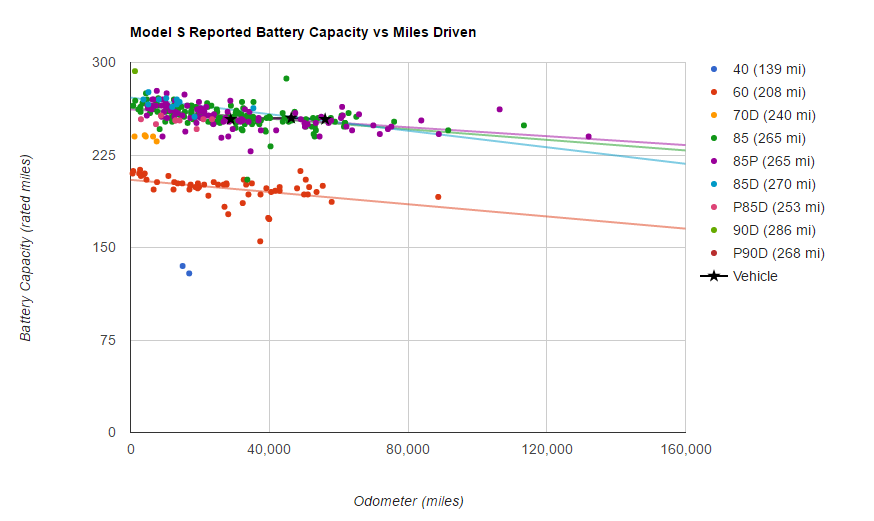 The third chart that was of interest is the reliability of certain components, namely the drive unit, battery, and charger found on the Model S. I can't help but wonder if the increase in reported failures on chargers for 2014 vehicles resulted in Tesla abandoning it for the current 48A charger found on newer Model S and Model X.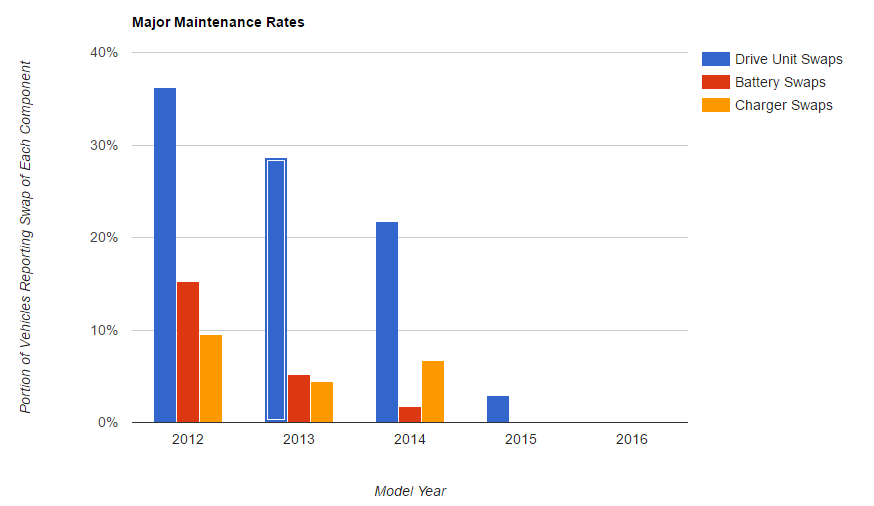 Lastly, the inspiration to my exhorting fellow owners to participate in this survey was the chart of participant vehicles.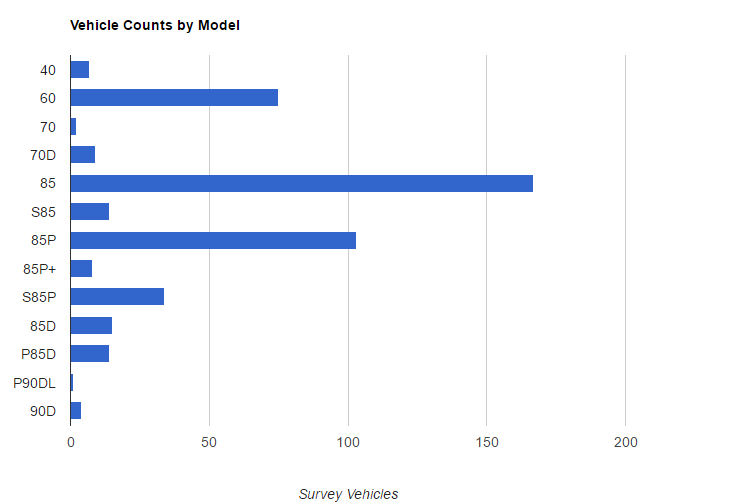 For as many Model S' are on the road today, I wonder as to the ability of this study in its current count, to fully report on the vehicle with such a small sample size. If you're a new 70D or 90D Model S owner, please contribute your data to Plug in America through the Model S battery survey form. It's fairly straight forward and serves our common purpose.
Tesla continues to improve in every sense, but it's also wise to run a third party check against Tesla's claimed figures.
Plug in America is an organization that formed out of the advocates that tried to stop the "murder"of the GM EV1 as told through the documentary, "Who Killed the Electric Car?". According to the Plug in America site, they aim to accelerate the shift to plug-in vehicles powered by clean, affordable, domestic electricity to reduce our nation's dependence on petroleum, improve air quality and reduce greenhouse gas emissions.