Rivian captured the attention of the automotive world when it debuted its quad-motor R1T all-electric pickup truck and R1S SUV in Los Angeles this week, including the attention of none other than Tesla Chief Designer Franz von Holzhausen.
Teslarati spotted the veteran automobile designer, and chief designer to the Tesla Model S, Model X, and Model 3, paying a surprise visit to Rivian's LA Autoshow booth one day before the event is set to open its doors to the general public. Tesla also has a booth this year at the auto show where the company is showcasing its solar roof tiles, energy products, and its fleet of electric vehicles.
While Tesla executives including CEO Elon Musk have yet to make any public comments about Rivian's launch, Von Holzhausen's presence at their LA Autoshow booth and his visible interest in the R1S SUV can be interpreted as a sign that Tesla is taking the Michigan-based electric car startup seriously.
Rivian's R1S  design was led by Jeff Hammoud, who joined Rivian in May of 2017 as VP of Vehicle Design. Hammoud previously spent 13 years at Fiat Chrysler, where he was Chief of Design for the Jeep division. His most notable design during his tenure with Jeep was the Jeep Grand Cherokee. In addition to recruiting Hammoud from Jeep, Rivian also brought on Nick Malachowski as Director of Advanced Design.
"The R1T and R1S designs communicate strength and refinement while still inviting customers to get the vehicles dirty. Strong proportions and clean, continuous bodylines help achieve a modern, inviting stance while acknowledging the performance and level of technology integrated into the vehicles," Rivian stated in a press release.
Although the design language between Tesla and Rivian may differ, Hammoud and Von Holzhausen both share in their passion to build and create something that would ordinarily just be a dream. And do so while being unbounded.
"The chance to be part of something like this from the ground up is the kind of opportunity you dream about," Jeff Hammoud stated in a Rivian blog post.
"I'm looking forward to working at a new startup company that doesn't have the confines of a large OEM," Von Holzhausen told Car Design News when he joined Tesla in 2008.
Rivian's R1S will go into production in the second half of 2020 and starts at $72,500. The R1S's range is configurable between three battery pack variants: 105 kWh, 135 kWh, and 180 kWh, each providing 240, 310, and 410+ miles, respectively.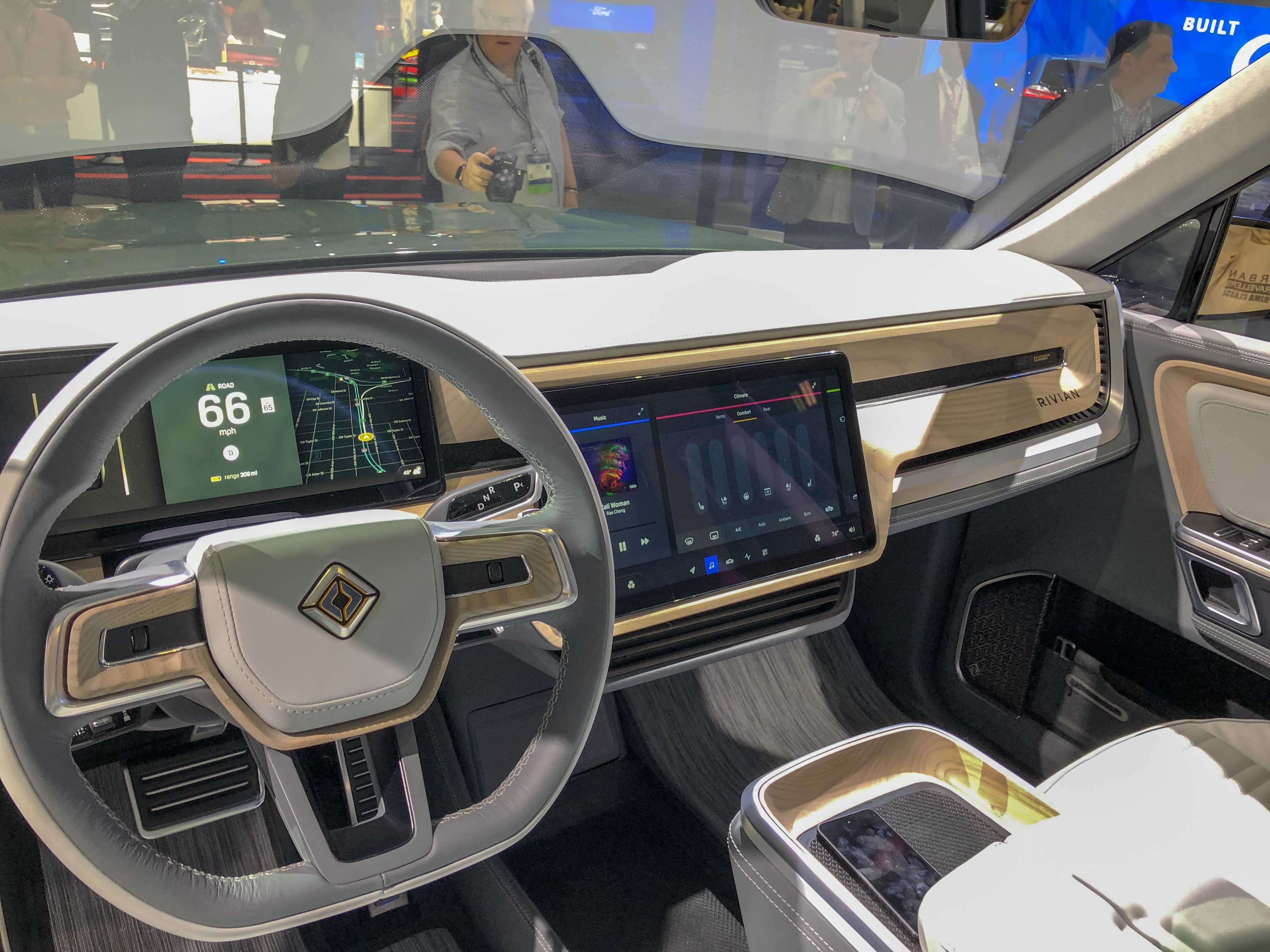 In addition to checking out Rivian's SUV, Von Holzhausen also looked at Rivian's R1T pickup truck that was also at the company booth. Rivian's R1T is the first production electric truck to be revealed. Tesla is currently designing and developing their own electric pickup truck but has yet to disclose any information about its design, size, or pricing.
RELATED: Rivian R1T and R1S: Top 10 hidden features that make an electric off-road vehicle
The starting price for Rivian's R1T begins at $69,000 and has the same battery pack configurations as the R1S. The company is expecting to produce roughly 50,000 of the R1T and R1S in their manufacturing plant in Normal, IL. Rivian has started to take preorders for both their vehicles with a $1,000 deposit.
Update: A spelling correction has been made to Rivian's VP of Design, Jeff Hammoud.