"We are going," is an important part NASA's motto for its return to the Moon, and to get there, the space agency will need corporate partners. As part of carrying out the private sector integration requirements of White House Space Policy Directive 1, NASA Administrator Jim Bridenstine announced today at 2 pm EST the nine companies the agency has selected to compete for $2.6 billion in contracts to support its Moon to Mars mission. These contracts will be geared to filling the needs of NASA's Commercial Lunar Payload Services Program over the next ten years of its development.
BREAKING: We are announcing new Moon partnerships with American companies at 2pm ET this Thursday. The U.S. is returning to the surface of the Moon, and we're doing it sooner than you think! https://t.co/1vC2NC6OzI

— Jim Bridenstine (@JimBridenstine) November 27, 2018
Prior to the announcement, Bridenstine spoke on The Hill TV's "Rising" program, emphasizing the purpose of the Space Policy Directive's mission to build the capabilities of not only returning to the Moon, but stay as a sustained presence. In his opening remarks, he further honed in on the major difference in NASA's current direction for obtaining new capabilities. "We're gonna buy the service," he cheered. As the event continued, he and Thomas Zurbuchen, associate administrator for NASA's Science Mission Directorate in Washington, detailed the numerous technical capabilities required for the Moon mission that the private companies will be competing to develop.
Here's the break down of the space agency's newly announced partners:
Astrobotic Technology: A Pittsburgh-based company focused on flying hardware systems into space for companies, governments, and universities. The company is currently developing a "Peregrine Lander" aimed at orbital and surface operations for any lunar destination.
Deep Space Systems: A Colorado-based company focused on systems engineering for supporting the design, development, integration, testing, and operations of science and exploration spacecraft. The company currently subcontracts with other major contractors in the field of space exploration such as Lockheed Martin and NASA.
Draper: A Cambridge-based company focused on developing general engineered systems for corporate, government, and academic solutions. Their Moon work will focus on providing payload services.
Firefly Aerospace: An Austin-based company focused on economical and convenienct access to space for small payloads via reliable launch vehicles. Their priority is providing low-cost rocket access to low Earth orbit (LEO).
Intuitive Machines: A Houston-based company focused on cradle to grave aerospace engineering development, integration, and testing services along with a unique set of aerospace. Some of its current technology developments include a universal reentry vehicle and a lunar lander.
Lockheed Martin: An industry giant with a long, established history of involvement with NASA and human spaceflight. The company will provide any number of contributions towards NASA's mission to the Moon.
Maston Space Systems: A Mojave-based company focused on reusable rocket technology and reliable planetary landers for the Earth, Moon, Mars, and beyond. The company previously competed and succeeded through two funding levels in the Northrop Grumman Lunar Lander Challenge X Prize in 2009.
Moon Express: A Cape Canaveral-based company dedicated to expanding commercial opportunities in general on the Moon. The company has previously worked with NASA to develop Moon commercial cargo transporation capabilities and was the first private company authorized by the US government to land on the Moon.
Orbit Beyond: A New Jersey-based company building spacecraft bound for the Moon. [no link available]
The White House Space Policy Directive 1, signed December 11, 2017, revised US national space policy to integrate NASA's programs with private sector partners to return to the Moon before continuing on to human exploration of Mars. As part of a push to continue American leadership in space, the Directive instructs NASA to develop a flexible deep space infrastructure to support the increasing complexity of missions. The agency currently partners with the private sector for other missions, including human transport to the International Space Station (ISS) wherein SpaceX and Boeing are developing capsules for that purpose, and the Directive expands that to include deep space missions.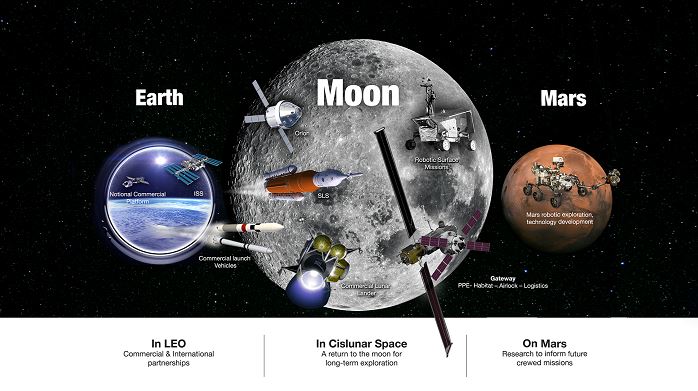 The Space Policy Directive was born from the recommendations provided during the first meeting of the new National Space Council, a group under the US Department of Commerce's Office of Space Commerce. During Council meetings, US government officials from civilian and military space along with space industry leaders such as SpaceX and Boeing, as well as other significant public and private institutions, hold discussions with high ranking members of the US government, the Vice President being the Chairman. The purpose is to help overall comprehension of the challenges involved in making significant progress in space exploration and propose viable policy solutions.
The outline published by NASA to fulfill the Space Policy Directive, the "Exploration Campaign", focuses on three core domains for development: low Earth orbit, lunar orbit and surface, and Mars, with the option of other deep space objectives being integrated. Under this framework, NASA hopes to have its next rocket combination, the Space Launch System and Orion capsule, fly to the Moon by 2020 with crewed flights planned for 2023. Direct support to the ISS will end by 2025.