Over the last several weeks, US spaceflight company Rocket Lab has posted major updates about its ongoing work on LC-2 – the company's second orbital launch complex – and offered a number of glimpses behind the scenes of preparations for Electron's 9th orbital launch attempt.

That attempt will be streamed by Rocket Lab and could occur as early as October 17th, delayed from the 15th due to unfavorable weather conditions.
Prior to announcing booster recovery efforts – much like SpaceX and the Falcon 9 – the company broke ground on their first US-based launch facility, to be located at the Mid-Atlantic Regional Spaceport in Wallops Island, Virginia. Launch Complex 2 (LC-2) will join the company's lone orbital Launch Complex 1 (LC-1) – New Zealand's first and only orbital launch site – and is meant to enable Rocket Lab to eventually reach a biweekly-to-weekly launch cadence with Electron.
In a statement posted to the company's social media accounts, Rocket Lab proudly announced that it is working alongside Virginia Space teams to construct LC-2 and its associated Integration and Control Facilities. The future pad recently reached a major milestone as workers installed LC-2's 66-ton Electron launch platform, to be followed soon after by the installation of the mount's 44 foot tall (13.4m) strongback, itself weighing 7.6 tons. This marks the beginning of the end of construction efforts at the complex and Rocket Lab is still working towards completion sometime in December 2019. Inaugural pad testing and shakedown operations are expected to begin immediately after, followed by LC-2's first Electron launch sometime in early 2020.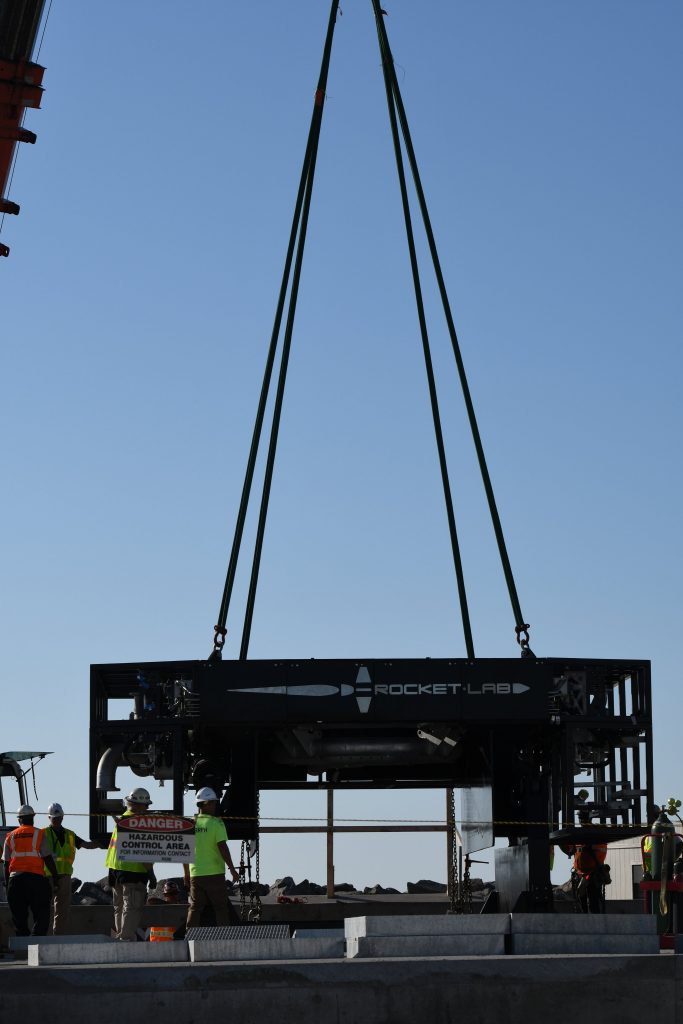 The US launch facilities will closely resemble Rocket Lab's New Zealand pad both in appearance and operation: Electron will be rolled horizontally to the launch mount to be lifted vertical after installation on the strongback. A high-pressure water deluge system will protect the mount from Electron and deaden some of the acoustic energy created by the booster.
Although Rocket Lab is an American company headquartered in Huntington, CA, it has never launched from the United States. The addition of a second launch complex is expected to drastically increase Electron's launch cadence, while also lowering the burden placed on companies who would otherwise have to transport spacecraft internationally. In a statement, David Pierce – director of NASA Goddard Space Flight Center's Wallop Flight Facility – said that "the company's Electron rocket helps fill a key national need for providing more – and more frequent – launch opportunities for small satellites, and NASA's Launch Range at GSFC/Wallops, which has enabled commercial space operations for decades, is poised and ready to support these missions."
Rocket Lab previously worked with NASA to support the Educational Launch of Nanosatellites (ELaNa)-19 mission in December of 2018. So far, Rocket Lab has supported many small companies by launching a total of 39 satellites to orbit. A launch facility located in the US will allow the company to expand its customer base and open up opportunities for more US government launch contracts.
The new US-based launch facility will allow Rocket Lab to expand its employee roster by hiring up to 30 new team members in positions supportive of launch operations including engineering, launch safety, and administration. Launch Complex 2 has been certified to fly Electron up to 12 times a year – specifically supporting government contracts – while Launch Complex 1 in New Zealand has been certified for up to 120 launches per year.
Electron's 9th launch – nicknamed "As the Crow Flies" – is scheduled for liftoff no earlier than (NET) October 15th and will be a dedicated commercial mission for startup Astro Digital. It will serve as an orbital launch attempt for Astro's "Corvus" satellite bus and will test the world's most powerful small electric propulsion system. In a recent blog post, Rocket Lab Senior Vice President of Global Launch Services Lars Hoffman stated that "the mission is a perfect example of the tailored, responsive and precise launch service sought by an increasing number of small satellite operators."
On October 4th, the 9th flight-qualified Electron rocket completed a routine wet dress rehearsal (WDR) – loading the vehicle with propellant and counting down to launch (sans ignition) – at LC-1. A few days later, Astro Digital's spacecraft was integrated with a Curie-powered kick stage and encapsulated inside Electron's carbon fiber payload fairing.
As of now, everything is smoothly on track for Electron's ninth launch. Of note, the Flight 9 Electron booster is outfitted with a new telemetry system designed to gather a huge amount of data about the reentry environment the booster experiences, data that will be used to reinforce the booster and prepare for its first recovery attempts.
Due to the volume of data that will be produced, Electron will quite literally eject small data capsules that will then be recovered by boat in the Pacific Ocean. If all goes well and the data returned looks promising, Rocket Lab could attempt its first Electron recoveries – nominally grabbing the parasailing booster mid-air with a helicopter – at some point in early 2020.
Check out Teslarati's newsletters for prompt updates, on-the-ground perspectives, and unique glimpses of SpaceX's rocket launch and recovery processes.