On June 4th, SpaceX Cargo Dragon capsule C113 departed from the International Space Station 250 miles (400 km) above Earth's surface, tapped its thruster 'brakes', and reentered the atmosphere soon after.

After a month spent in orbit, the uncrewed Dragon returned more than 1900 kg (4200 lb) to Earth, currently the only operational spacecraft on Earth capable of doing so. Per usual, Cargo Dragon splashed down off the coast of California, was picked up by SpaceX vessel NRC Quest, and arrived at Port of Los Angeles a few hours later. Captured by Teslarati photographer Pauline Acalin in spectacular detail, C113's second successful orbital mission serves as excellent foreshadowing for a follow-up launch – CRS-18 – that could come as soon as July 21st.
Orbital-class marshmallows
As per usual, Cargo Dragon received a healthy dose of charring during its orbital-velocity Earth reentry, barreling through the atmosphere at a blistering 7.7 km/s (4.8 mi/s, Mach 23). The capsule's orientation during reentry is essentially seared into its hull by its own heat shield-generated plasma trail, creating the distinct dark-brown and black streaks visible in photos.
Although the visible wear and tear might look dramatic, the reality is SpaceX's Dragon spacecraft are specifically designed to survive the ordeal of Earth reentry in excellent shape – the ablative heat shield takes nearly all (~99%) of the heating-related stress. Cargo Dragon (and Crew Dragon, for that matter) are just shy of encased in a cocoon of a different type of foam-like thermal protection material, visible as Dragon's pearly white skin prior to reentry.

Teslarati photographer Pauline Acalin did an exceptional job of capturing the well-done SpaceX spacecraft's return to shore in all its gritty, flight-proven glory, offering glimpses of Cargo Dragon's Drago thrusters, parachute/drogue mortar, docking mechanism, and PICA-X heat shield.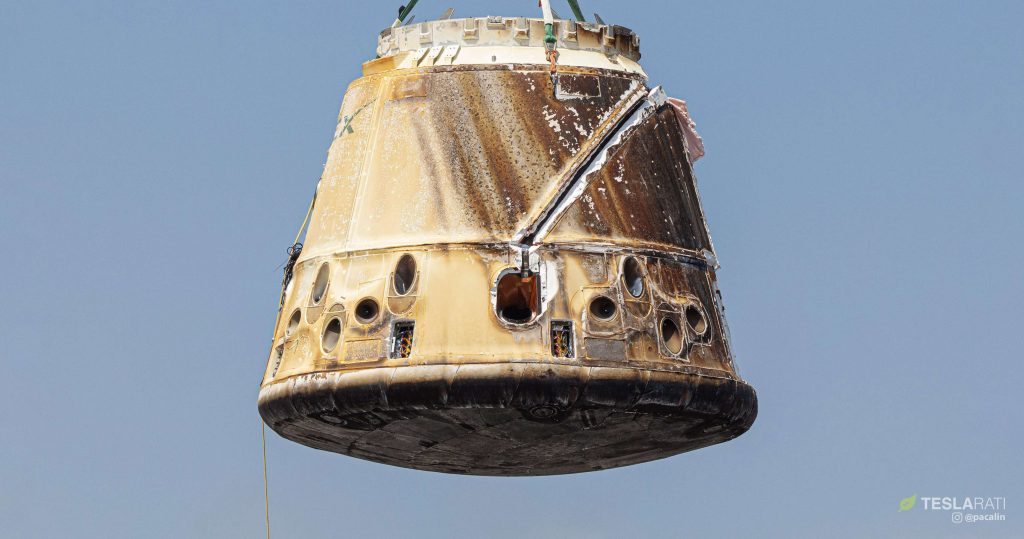 CRS-18 crests the horizon
NASA and SpaceX have already scheduled Cargo Dragon's next launch to the International Space Station on July 21st, a brisk 85 days after CRS-17's successful launch. To make that date, preparations are already well underway and Cargo Dragon will likely ship from California within the next two weeks if it's not already in Florida. Having successfully supported Cargo Dragon's CRS-17 mission one month ago, Falcon 9 B1056.2 is scheduled to become the first flight-proven Block 5 booster to launch a dedicated NASA mission and the space agency is even open to using B1056 for a third time on CRS-19.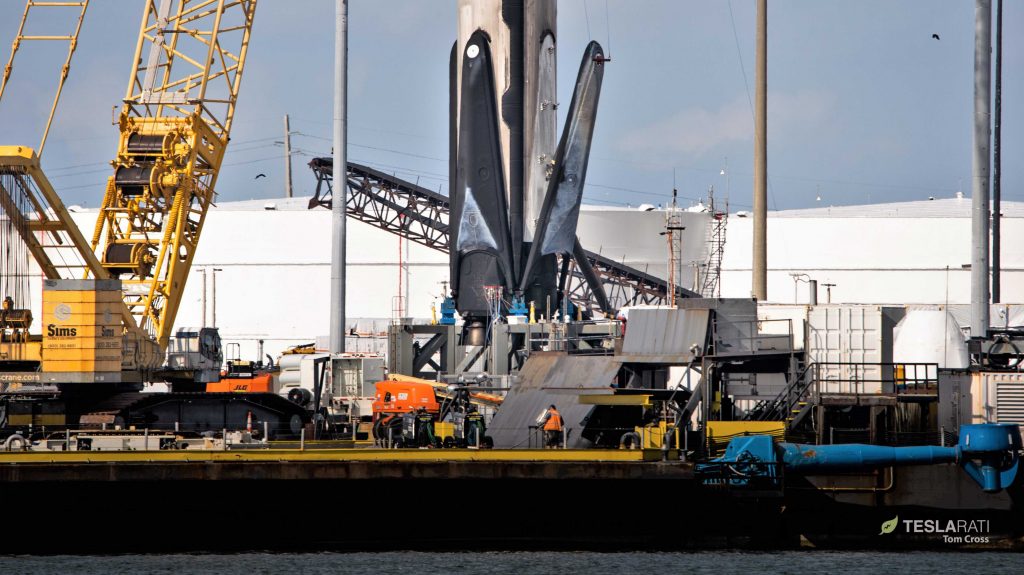 Beyond NASA's Block 5 booster reuse milestone, there is also a good chance that CRS-18 will mark SpaceX's first launch of an already twice-flown and refurbished Cargo Dragon capsule. Since CRS-10 (February 2017), just one of SpaceX's seven subsequent Cargo Dragon launches has flown with a new capsule, and all of the company's remaining CRS missions are expected to use refurbished spacecraft. Although one mystery Cargo Dragon capsule (C107) remains publicly unaccounted for, chances are quite good that CRS-18 will mark the first time a commercial space capsule has reached orbit three times.
Assuming SpaceX's third refurbishment follows the fairly consistent two-year time scale of past Dragon reflights, Cargo Dragon C106 – the first Dragon SpaceX reused – will likely be CRS-18's capsule.
Check out Teslarati's newsletters for prompt updates, on-the-ground perspectives, and unique glimpses of SpaceX's rocket launch and recovery processes.