SpaceX CEO Elon Musk has taken to Twitter to share an unexpected wealth of detail about the "radical" and largely unpublicized design changes the company's Starship and Super Heavy (BFS & BFB) have undergone in 2018.
Beside information ranging from discussions of metallurgy to overall design philosophy and comparisons, the eccentric CEO also offered the most concrete target yet for the beginning of prototype spaceship (BFS/Starship) hop tests in South Texas – "March/April [2019]".
I will do a full technical presentation of Starship after the test vehicle we're building in Texas flies, so hopefully March/April

— Elon Musk (@elonmusk) December 22, 2018
On one hand, this expeditious new testing schedule – acknowledged by Musk himself to be "much sooner than expected" – is a thrilling prospect, given that it implies that a nearly full-scale prototype of Starship (or something vaguely approximating the spacecraft) could take its first baby steps into the air as early as the first quarter of 2019. On the other hand, however, this is an almost bafflingly large schedule change considering that SpaceX President and COO Gwynne Shotwell asserted that a prototype of BFS (now Starship) could begin "hopping" by late 2019, speaking in September 2018.
Shotwell: think we'll be "hopping" the second stage of BFR (the BFS) late next year. #DARPA60

— Jeff Foust (@jeff_foust) September 6, 2018
Schedules (especially aerospace program schedules) do certainly tend to be chaotic and jumpy, but it's almost inconceivable that any given project – regardless of the scope or scale – could wind up reaching completion nine months earlier than previously forecasted without suffering one or several dramatic compromises, typically involving lower-fidelity testing and prototypes or watered-down deliverables. It's unclear if BFR has suffered the same fate, but – to put it lightly – the South Texas sight greeting the eyes of close followers of SpaceX's BFR program is downright unbelievable.
BFWhat?!
Given the very recent and conspicuous additions of triangular appendages that look precisely like rudimentary fins and an obvious nose cone assembly, the only possible conclusion to draw from photos of SpaceX's Boca Chica facilities taken in the last week or two is that the company (and/or contractors) are busy building something related to Starship. At least in these early stages, the… thing being built could be best described as what might come to mind if you asked an imaginative kid to build a full-scale sculpture of Tintin's spaceship on a budget of maybe $500,000.
You got something to show us in Texas? pic.twitter.com/vBF0WwwIfF

— Chris (Robotbeat)??? (@Robotbeat) December 22, 2018
More likely than not, this could be a case of things being more than they seem. To most, it may almost look like an elaborate prank, but that assumes that we know the full story and have a decent working understanding of aerospace prototyping. For the vast majority of us, that is simply not the case – what looks like a spade is probably not a spade.
At the end of the day, the most basic of observations – that this purported 'Starship prototype' will begin hop tests with extraordinarily powerful Raptor engines installed as few as three months from now – suggest that this spooky metal contraption will be used to conduct the most basic of Starship tests. As such, it will probably never travel much faster than Falcon 9's Grasshopper and F9R predecessors, which tended to gently accelerate from the ground to as high as a kilometer or two before slowly heading back down for a powered landing.
Given that SpaceX has already refined this complex and challenging task to a reliable science with Falcon 9 and Merlin 1D, it's unclear why a very similar test campaign would be of serious value to the company without simultaneously testing full-fidelity control surfaces (fins), exotic new stainless steel propellant tank technologies, and more. Perhaps SpaceX just really wants to ensure that Starship will be capable of landing and taking off from an unprepared and angled surface of the type it could (will?) experience on Mars. Maybe the company simply wants to have a bare-minimum flying platform capable of testing and refining multi-engine configurations of Raptor.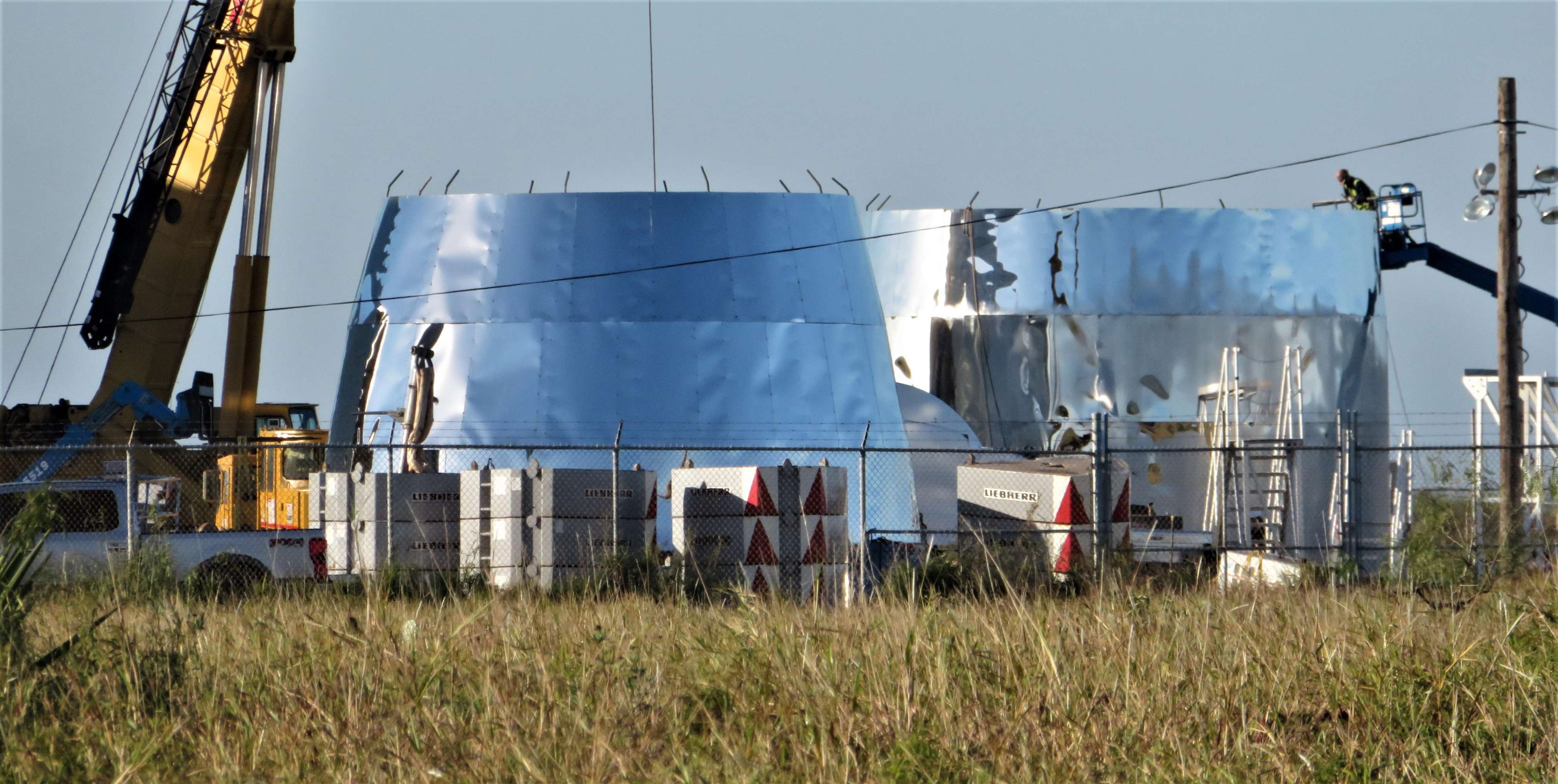 All that can be said for sure at the moment is that the public simply does not have the full story to explain the moderately shocking activity going on in Boca Chica. Musk did state that he would provide another technical update on the status of Starship and the BFR program as a whole in the first half of 2019, but only after the first Starship hopper flights have begun. It would seem that those on the sidelines will simply have to wallow in confusion and wild speculation for another ~3-4 months at minimum, hopefully only going moderately insane as a result.
In the meantime, copious thanks are owed to NASASpaceflight members bocachicagal and Nomadd for their relentless and thorough coverage of SpaceX's activities in the obscure far south of the Texan coast, as well as their courteous permission for media outlets like Teslarati to republish their photos. Cheers!
---
For prompt updates, on-the-ground perspectives, and unique glimpses of SpaceX's rocket recovery fleet check out our brand new LaunchPad and LandingZone newsletters!