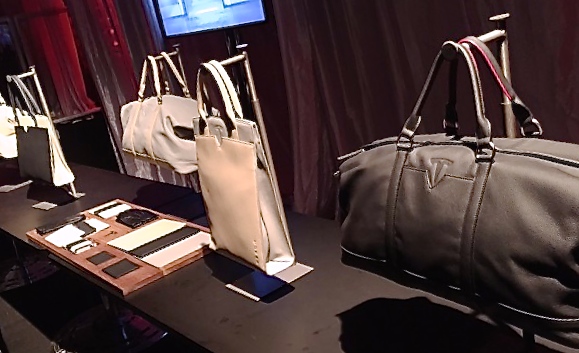 Cast in the shadows of the recent P85D showing was a new line of Tesla branded lifestyle goods, the "Tesla Design Collection", ranging from leather handbags, wallets and iPhone covers, to gloves don'd with a capacitive touch designed to work with the Model S center touchscreen display.
There's no question that Tesla Motors has become more than just a premium electric carmaker. They've become a lifestyle brand akin to what Porsche, Ferrari and BMW have been able to cultivate, for decades, through an extensive line of branded accessories. Did you know you can buy a Porsche branded coffee maker?
We were told from an employee at the event that the new line of Tesla branded lifestyle goods will be hitting the Tesla online store 'very soon', and likely just in time for the holiday shopping season to begin.
Buy a Model S? Heck, why not augment it with a matching travel tote and iPhone cover, and best of all in a material that matches the interior trim to a tee?
According to The Wall Street Journal, the Tesla branded lifestyle goods are made from excess leather recycled from Tesla's factory in Fremont, California. This would be the same leather as used in the Model S and presumably the upcoming Model X.
Manufacturing lifestyle goods from excess leather that would otherwise be sold-off or discarded as scrap seems to be a win-win situation in every sense. Produce less waste while creating branded products that every Tesla owner, super-fan and enthusiasts would surely love.
So, there you have it. There is a Tesla lifestyle, and now you know.
RELATED: