Tesla Second Hand Market
The Tesla used car market has been relatively small up until this point mainly because many owners just don't part with their Teslas. Thanks to the recent D announcement, the Tesla second hand market just doubled in size and will continue to grow as Model S owners begin selling off their cars in exchange for Teslas with newer features.
It's truly a genius tactic by Tesla Motors that allows early adopters to remain happy by having the latest and greatest, but also enables people that wouldn't regularly be able to afford a $100k+ Tesla to purchase one at a deeply discounted second hand price.
So, what is a used Tesla Model S worth? Well, that depends on how much you drive and Model S owners that drive between 12k – 15k miles per year can expect trade in values ranging between $55k – $70k. This works out to an effective cost (the amount paid during ownership) between $30k to $40k.
The trade in value on my Model S 85, assuming I put on 25k miles by the time the D option becomes available, will be approximately $49k. If this seems low to you, that's because it is. There are a few reasons for it which I'll explain. First, your car loses substantial value the instant you drive it off the lot. Second, Tesla is jump starting a secondary market by placing a pretty low residual value.
Chances are that you'll get a better price selling the Model S on your own to another private party, which incidentally is exactly what many Model S owners are doing.
Trading in Your Model S for a New Dual Motor Variant
Tesla updated the pricing of the Model S and its options when it added the new dual motor and updated Tech Package to the order selection screen. For fun I decided to configure a Model S with very similarly specifications to my own with the only additional feature being the dual motors. The sticker price for that configuration came out to $98,140 or about $4,000 more than my S85.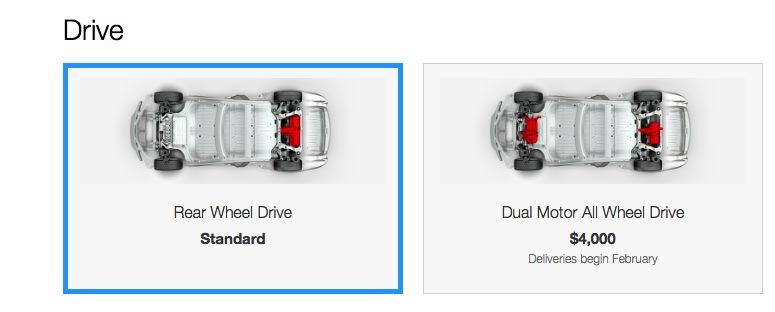 You may be eligible for another Federal tax incentive of $7,500 and a State-level $2,500 rebate (varies by state) for having a battery electric vehicle. Tax and registration adds another $6,000 which ends up netting out a zero after factoring in the Federal and State incentives.
Trading in my S85 for a newly configured 85D would cost me $48,473. Not only would I have the dual-motor upgrade, but I'd also have the new autopilot feature along with a brand new car with 0 miles and a fresh battery.
The cost to "upgrade" from an old Model S to the new one will obviously vary by owner depending on the age and condition of the trade-in, but will generally cost you between $30k – $50k. On the other hand, brand new buyers have the option to add the dual motor option for "just" $4,000 extra.
Are the dual motor and autonomous driving features worth $48K? Not to me at least. I'd love to have them but I love my Model S as it is.