Tesla Model S and Model X owners can now take an electrified journey from Melbourne to Brisbane using nothing but the company's fast-charging Supercharger network. The California-based electric car maker has announced the arrival of three new charging stations in Knockrow, Heatherbrae and Coffs Harbour, creating a Supercharger corridor 1,000 miles long (1,600 kilometers) connecting two major Australian cities.
The new Supercharger stations in Heatherbrae and Knockrow are each equipped with six charging stalls, capable of replenishing 170 miles or 270 kilometers of range in as little as 30 minutes of charging time. The Coffs Harbour site is outfitted with two temporary Supercharger bays which Tesla says will eventually be replaced by a permanent location nearby, according to an email sent to Model S and Model X owners in Australia.
Tesla currently has eleven Supercharger stations opened across Australia, with two additional locations in Ballarat and Keith pending construction. According to the company's find us map, Tesla expects to have a total of eighteen Supercharger stations opened in Australia, one as far as Perth, by the end of this year. To ensure that the company's entire range of vehicles, including the upcoming mass market Model 3 sedan, can travel between Supercharger stations without experiencing issues related to range, Tesla has strategically spaced stations no more than 150 miles apart, thereby allowing even its lowest range vehicle to travel comfortably between stations. A rear wheel drive Tesla Model S with 60 kWh battery pack is capable of driving 210 miles per single charge. According to Tesla's website, Model 3 will achieve 215 miles of range per charge.
Below is a copy of the email Tesla sent to Model S and Model X owners in Australia, welcoming the new Supercharger route connecting Melbourne to Brisbane.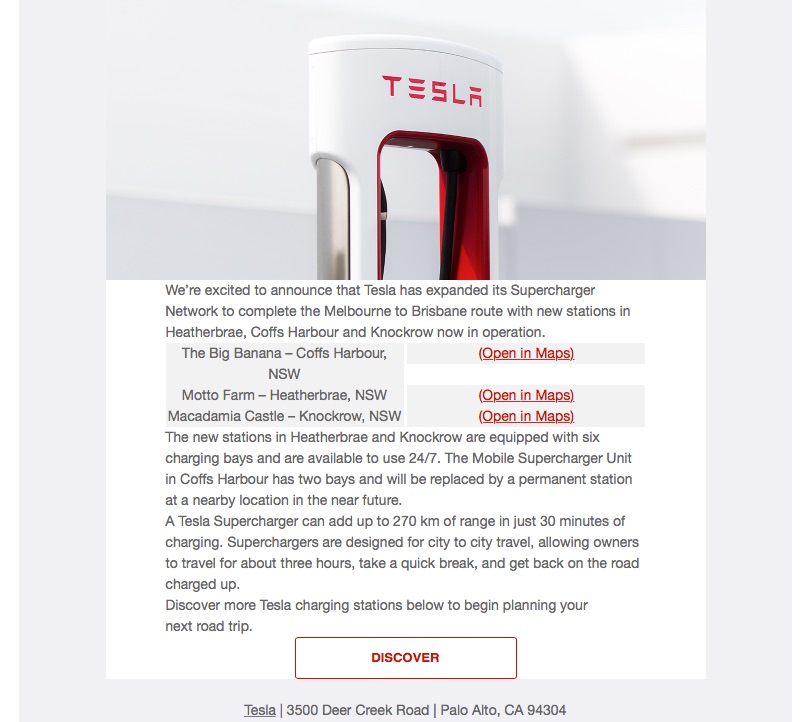 Melbourne to Brisbane Supercharger Route is Open
We're excited to announce that Tesla has expanded its Supercharger Network to complete the Melbourne to Brisbane route with new stations in Heatherbrae, Coffs Harbour and Knockrow now in operation.
The Big Banana – Coffs Harbour, NSW
Motto Farm – Heatherbrae, NSW
Macadamia Castle – Knockrow, NSW
The new stations in Heatherbrae and Knockrow are equipped with six charging bays and are available to use 24/7. The Mobile Supercharger Unit in Coffs Harbour has two bays and will be replaced by a permanent station at a nearby location in the near future.
A Tesla Supercharger can add up to 270 km of range in just 30 minutes of charging. Superchargers are designed for city to city travel, allowing owners to travel for about three hours, take a quick break, and get back on the road charged up.
Discover more Tesla charging stations below to begin planning your next road trip.
Download: Gain access to Tesla's Supercharger map from your fingertips with our app. iOS | Android | Desktop