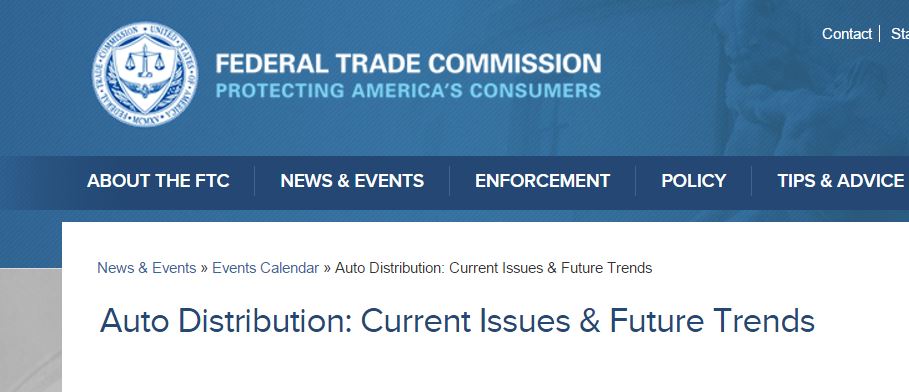 The Federal Trade Commission will hold a series of panel discussions about the automobile industry this week. Among the topics on the agenda are franchise dealer laws in the various states. That discussion will focus on the question of whether "restrictions on direct distribution in this industry" are really in the public interest.
Tesla Motors' general counsel Todd Maron will be one of the 6 panelists, as reported by Green Car Reports.  The other panel members will include Joel Sheltrown, vice president of government affairs for Elio Motors, a member of the New Jersey Coalition of Automotive Retailers, as well as representatives from the American Automobile Association and the National Automobile Dealers Association.
The FTC got involved in the franchise dealer debate in 2015 when it weighed in on the issue after Michigan passed legislation that directly benefited that state's auto dealers. It fired off a letter to Michigan legislators calling the new law "protectionism for dealers" and "likely harming competitors and consumers." The panel discussion will take place on Tuesday, January 19 at 2:15 EST. A webcast is expected to be available on the FRC website.
Despite having a manufacturing presence in the state, Tesla elected to boycott the Detroit auto show as a show of defiance brought on by the Michigan ban. Tesla's VP of Business Development Diarmuid O'Connell told Michigan Live, "The reason we're not at Detroit this year relates to the issue here. We use shows to sell cars, and this is a show in Michigan. If we can't sell cars here, then why would we be marketing cars here? You know, it's many factors but it relates specifically to that."
The hearings by the FTC may mark a turning point in the franchise dealer laws in effect in several states, including Connecticut and Texas. Tesla enjoys its role as a disruptor of business as usual, but that approach angers some entrenched interests, especially traditional car dealers. In turn, they like to show off their political power by putting road blocks in the way of Tesla's direct sales model.
With a push from the federal government, those road blocks may be cleared away in the foreseeable future.