Following this week's sighting of a very refined looking blue Tesla Model 3 driving near the company's Silicon Valley headquarters, the vehicle was sighted once again this time giving us a first close-up look at a very production-ready Model 3 interior.
The blue Tesla Model 3 was spotted on Thursday shortly before 4pm local time driving away from Tesla HQ and coming to a stop at the intersection of Arastradero road and Purrsima. It's the very same road we first captured on video a black Model 3 doing a very spirited drive with a BMW chase car. However, unlike previous sightings of the highly anticipated electric car, Thursday's sighting takes place while being directly next to the vehicle.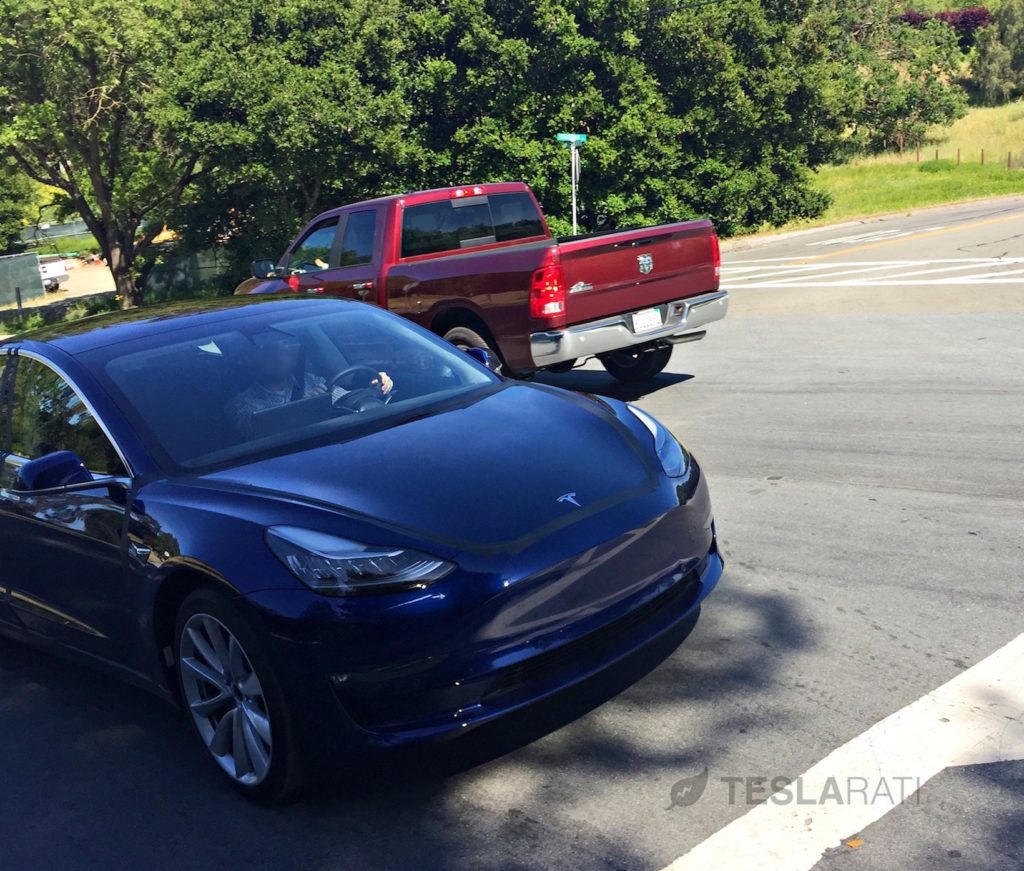 Teslarati obtained the following never-before-seen photos showing a close-up look at what's presumably the final version of the Model 3 dashboard. As noted by Chief Elon Musk earlier this month, the dashboard doesn't have a heads up display – much to the disappointment of HUD hopefuls worldwide. Noticeably present is the large landscape mounted center infotainment system which will also act as the main command center to the vehicle. The thin touchscreen device framed by what appears to be a hard plastic bezel with rounded corners rests several inches away from a shallow dashboard.
Tesla Model 3 drivers will not have an instrument cluster with speedometer. After all, Elon Musk says "you won't care". Nor will there be a "hump" on the dashboard in front of the steering wheel. Some Tesla community members speculated that there would be some form of an instrument cluster, after seeing a rounded dashboard protrusion appear on a rendering showing a Tesla Model 3 under a Supercharger with solar canopy.
In its place is a streamlined and simple looking horizontal strip of seemingly functionless interior trim. With the expectation that Model 3 will one day be fully self-driving, Tesla could eventually use the area as a storage compartment for passengers in the non-driving driver's seat.
A large digital readout resembling that of an oversized analog speedometer appears on the left side of the infotainment system and occupies nearly a third of the overall screen size.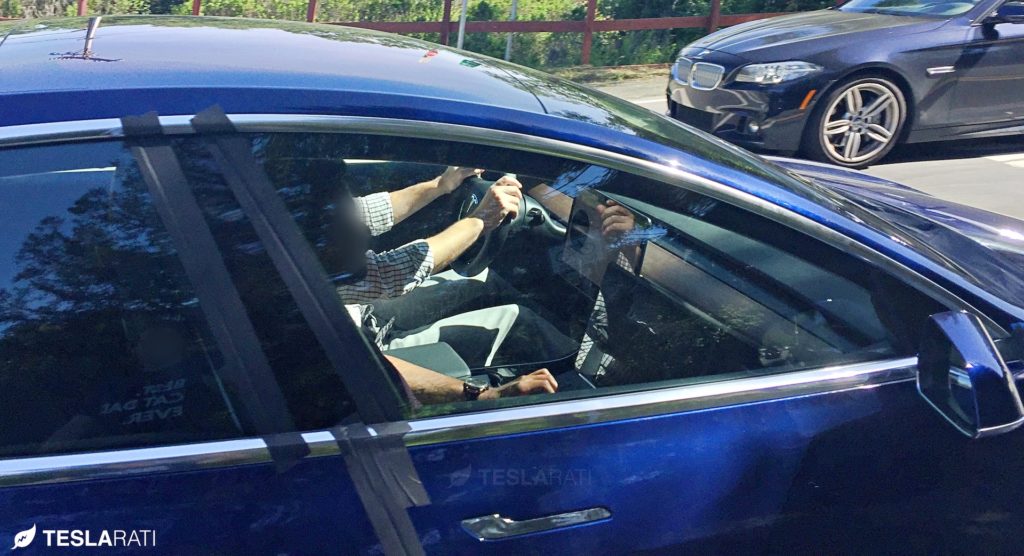 Also seen in our spy shots is a bamboo style interior finish that's currently not available on either the Model S or Model X. The interior trim decor is angled on a downward slope away from the vehicle's ventilation system that's located directly above and runs the full width of the dashboard.
We're also getting a clear look at how the steering wheel is mounted which swoops in and around the bottom section of the dashboard.
The center console of the Model 3 remains largely the same as early Alpha cars that we've seen. Two cupholders have been provisioned into the center console storage unit which appears to have pull handles similar to that of the Model S and Model X console.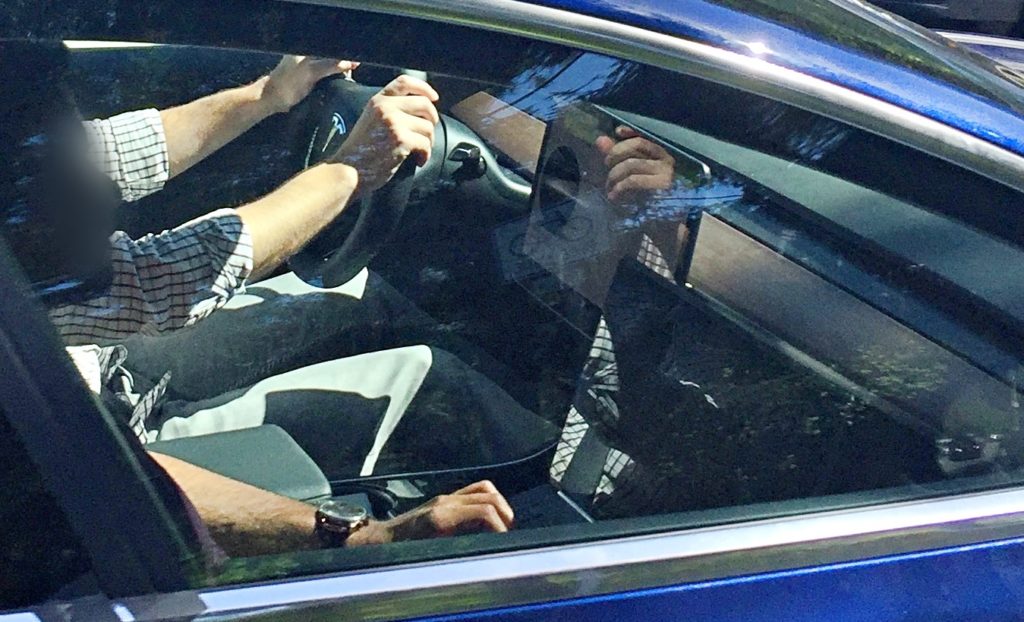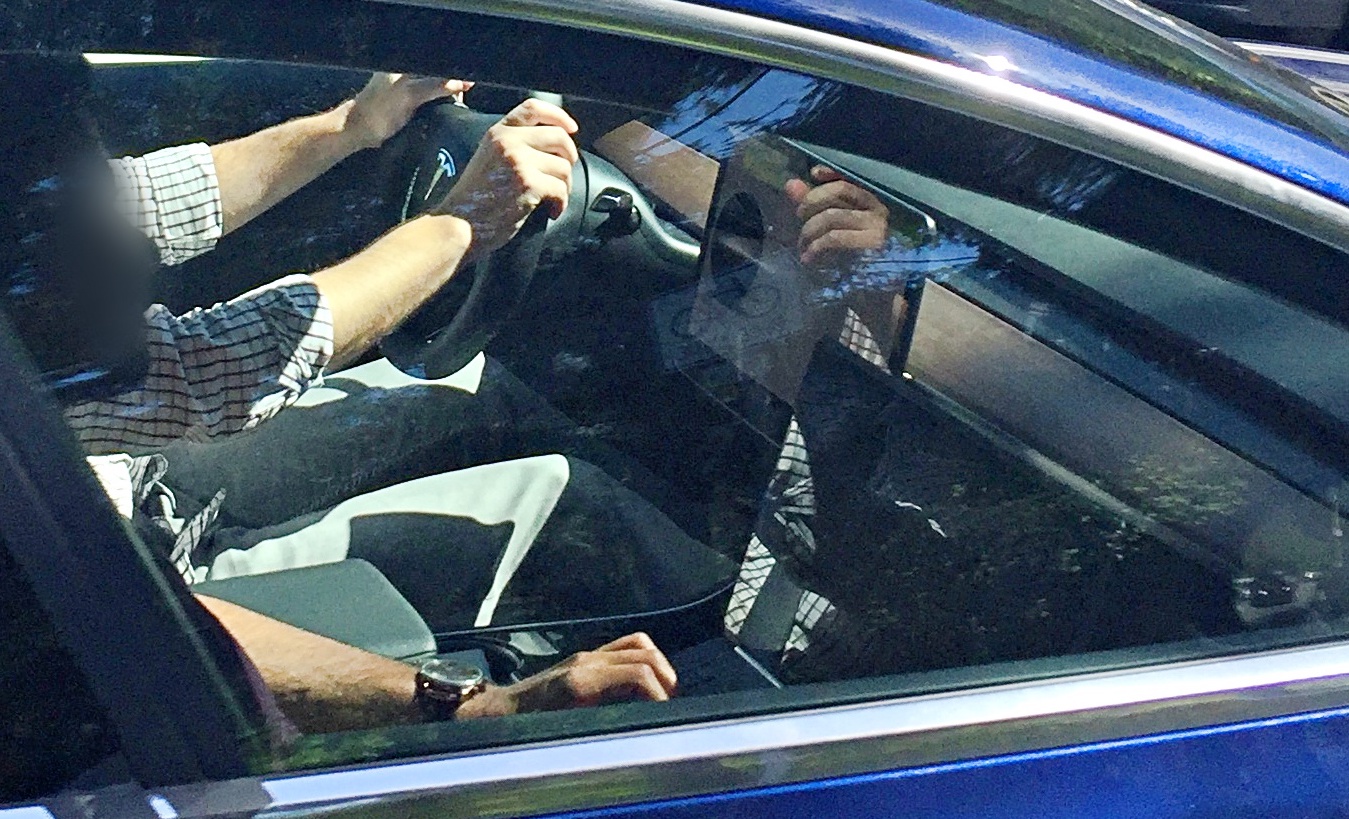 Lastly, we're seeing what appears to be the final trunk and glass roof design. Though black tape is seen across the entire car masking off any gaps between body panels and doors – presumably as engineers perform quality assurance wind testing – the Model 3, overall, appears to be very well-finished.
The rear defroster lines can be seen on the rear windshield leading to two unknown circular marks on the glass roof. A horizontal rear brake light can be seen mounted towards the bottom of the rear windshield.
Musk has said that the first deliveries of Model 3 will be the simpler rear wheel drive configuration followed by the dual motor variant and performance version in late 2017 and into 2018.  With only a couple of months left before Tesla is expected to begin low volume production of the first Model 3 variants, we suspect that there will be very few updates, if any, to come. Tesla is expected to hold a Model 3 launch event in July.
Have you spotted a Model 3? Be sure to send us a tip at tips@teslarati.com or DM us on @Twitter or Facebook.
A big thanks to Wayne for providing Teslarati with the following exclusive photos. We've stitched together Wayne's photos to create an animation that shows his perspective of the oncoming Model 3.