Tesla has updated the Model 3 sedan's landing page with a new message about the all-electric sedan and its eligibility for the US Inflation Reduction Act's (IRA) federal tax credit. As per the EV maker, reductions to the Model 3's federal tax credit will likely take effect after December 31, 2023.
A look at Tesla's landing pages for the S3XY lineup shows that only the Model 3 has the warning about a federal tax credit reduction. The Model Y crossover, another vehicle that qualifies for the IRA's incentives, does not seem to have a similar warning on its landing page as of writing.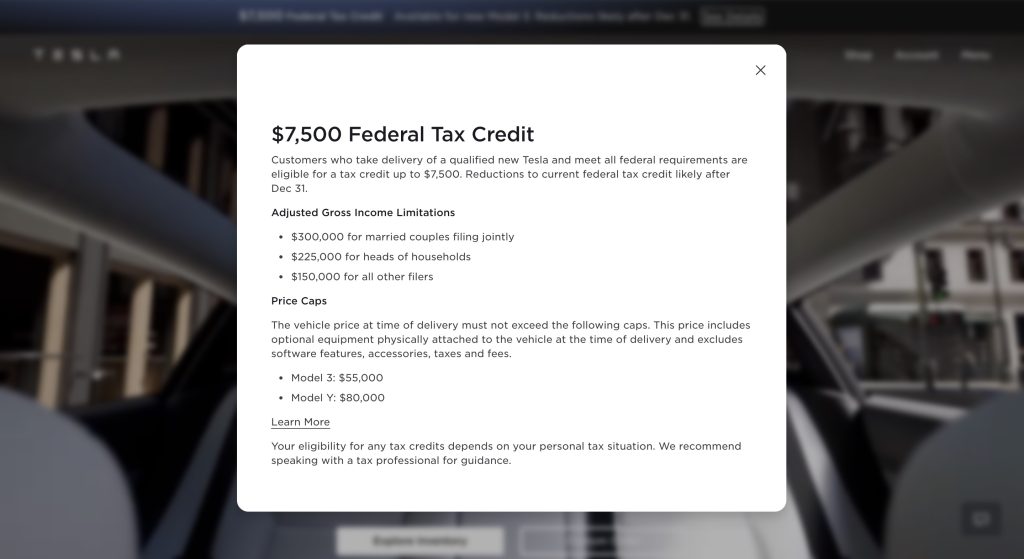 "Customers who take delivery of a qualified new Tesla and meet all federal requirements are eligible for a tax credit up to $7,500. Reductions likely after Dec 31," Tesla wrote on the Model 3's page. 
Tesla did not provide details about why the Model 3 might lose its full IRA incentive starting next year. However, it should be noted that the all-electric sedan's Rear Wheel Drive version, which is produced at the Fremont Factory, uses lithium iron phosphate (LFP) cells, which are from CATL, a China-based battery supplier. If the IRA's regulations are poised to get stricter, the Model 3 RWD's LFP battery might result in the vehicle being ineligible for the full tax credit. 
Tesla, however, appears to be preparing for such a scenario. Reports from March suggested that Tesla is looking to build a battery plant in the United States with CATL. Individuals reportedly familiar with the matter also informed Bloomberg News that Tesla's plans with CATL have been discussed with the White House. 
If such plans do come to fruition, Tesla would be able to produce batteries for its electric cars on US soil. This should make the company's cars eligible for the federal tax credit, even if they use LFP batteries with technology from CATL. Tesla would not be alone in this setup, as a similar system has been adopted by Ford, which announced that it would be building a battery plant with CATL. Ford would own and operate the factory while licensing the technology from the battery maker. 
Don't hesitate to contact us with news tips. Just send a message to simon@teslarati.com to give us a heads up.