Tesla's aggressive sales strategy has been implemented in the United States. As per a recent update on Tesla's official website, the company's best-selling vehicles — comprised of the Model 3 sedan and the Model Y crossover — have been given substantial price cuts. 
For the Tesla Model 3, the vehicle's base RWD variant now costs $43,990, $3,000 less than its previous cost of $46,990. The top tier Model 3 Performance, on the other hand, now costs $53,990, $9,000 less than its previous $62,990 price.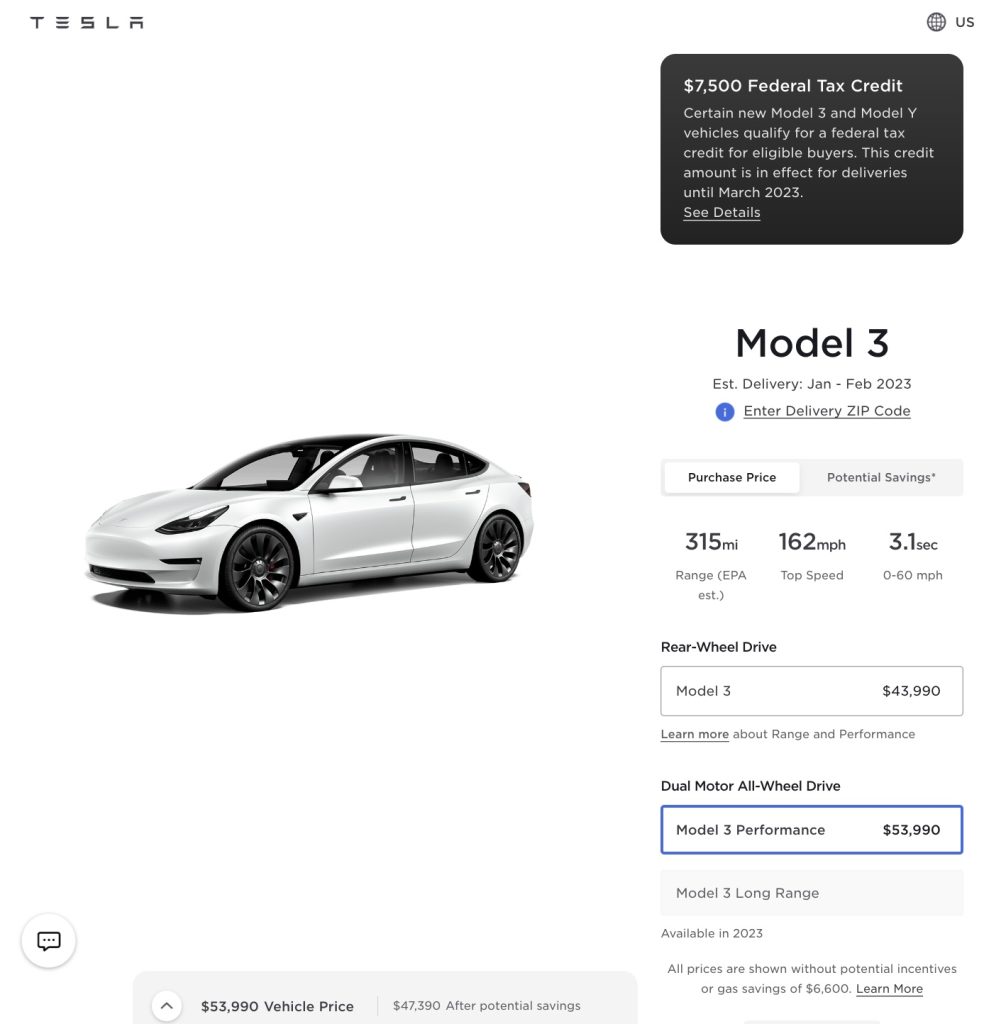 The Model Y Long Range price has been reduced to $52,990, a full $13,000 less than its previous price of $65,990. The Model Y Performance, the top-tier variant of the vehicle, has been adjusted to $56,990, which is also $13,000 less than its previous price of $69,990.
With these price adjustments in place, Tesla has ensured that the Model Y Long Range would qualify for the Inflation Reduction Act's $7,500 federal tax credit. Prior to its price reduction, this was not the case, since the vehicle — which happens to be too light to be considered an "SUV" under the IRA's regulations — had a price above the program's $55,000 cap for "all other" vehicles.
As observed by some members of the Tesla community, the EV maker has also reduced the price of the 4680 Model Y Standard Range AWD. The vehicle was previously priced at $63,990, but it has now been adjusted to just $50,990. Similar to other Model Y variants, the reduction translates to a $13,000 price drop. 
With the IRA's $7,500 federal tax credit in place, consumers purchasing the Model Y Dual Motor could essentially acquire the all-electric crossover for $45,490. Consumers opting in for the 4680 Model Y Standard Range AWD would essentially be acquiring the vehicle for only $43,490. That's a pretty incredible deal for the Model Y. 
The Model Y Performance already qualifies for the IRA's incentives, thanks to its heavier weight, which allowed the variant to be recognized by the program as an "SUV." Ultimately, the recent price reductions bode well for Tesla's best-selling crossover. Considering that the Tesla Model Y already became the United States' 6th best-selling vehicle last year even with its high price, the all-electric crossover could very well achieve new heights this 2023.
The Teslarati team would appreciate hearing from you. If you have any tips, contact me at maria@teslarati.com or via Twitter @Writer_01001101.