"I waited 4 years for this one and would wait 4 more if that is what it took to protect my family like this" are the words that resonate in orthopaedic surgeon Jonathan Braman's head after he and five passengers, plus their family pet, survived a horrific crash in their Tesla Model X.
According to Braman, he and his family were entering an intersection near E. Bush Lake Road in Bloomington, Minnesota when a GMC SUV ran through a red light at high speed striking the Model X near the right front quarter panel. The impact caused all airbags to deploy – some in areas Braman admits he didn't realize existed – and provide safety around all passengers within the vehicle. Braman tells Teslarati, "I rapidly got out of the car and was lucky enough to have a group of young men who were behind me in line at the light help extract us from the car.  I quickly got my family as far away from the GMC as I could.  I was unsure if the gasoline in that car was stable and worried that his car would catch fire."
Luckily everyone walked away unharmed. "We are alive. I'm pretty sure any other 7 passenger vehicle would have rolled if hit by this distracted Detroit Missile.", says Braman.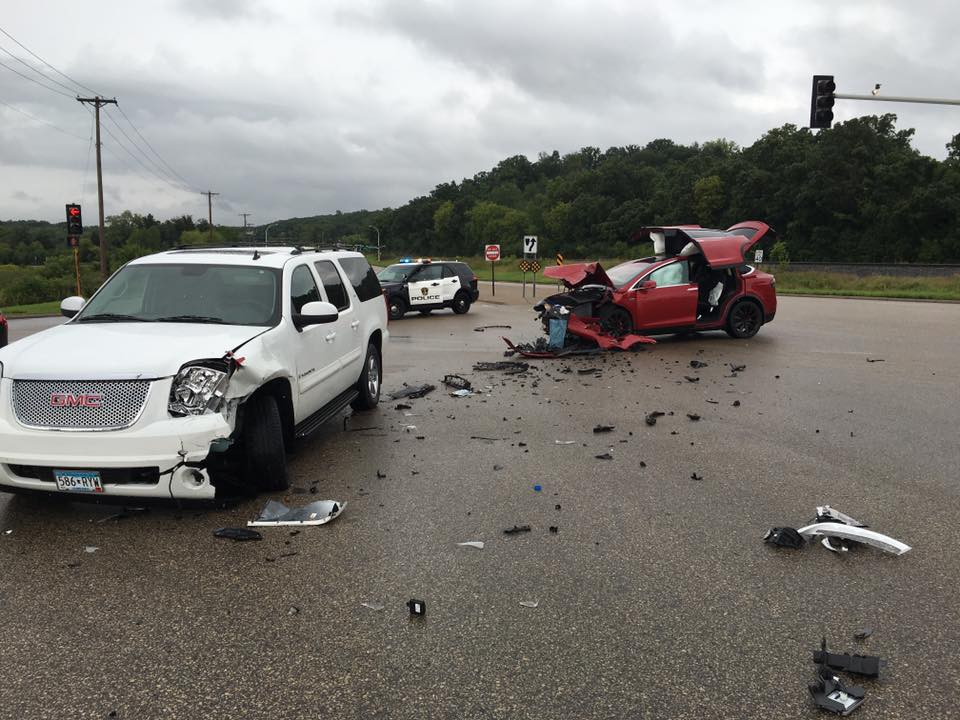 What's remarkable about this story is the fact that, despite being struck at high speed by a heavy and fast-moving SUV, and above the axis of rotation, the Model X didn't roll. Braman who practices orthopaedic surgery and has been witness to some of the more extreme cases of spinal injury realizes the significance in this. Had the Model X rolled or even spun, there could have been serious neck and spinal injuries involved.
Braman's father who was sitting inches from the point of impact was protected by the Model X's large front crumple zone and airbags throughout, including never-before-seen leg airbags that deployed. "The other car was forced to glance off of us and came to a stop. The crumple zones worked, and my father who was sitting several inches from the point of impact was seen and discharged from the hospital. He would have been much more seriously injured if there were less safety protections. The leg airbags (and the others as well) deployed protecting him even further. The glass was not injured except by the airbag and never came out of any of the windows.", tells us.
Despite being shook up from the incident, Braman a Roadster owner since 2010 says he waited over four years to receive his Model X P90D(L) and will wait another four if it means getting into a vehicle that will, not only protect the climate and his children's future, but protect his family from this type of crash, and have them all walk away safely.
"I waited 4 years for this one and would wait 4 more if that is what it took to protect my family like this."
This incident serves as a great example of why the Model X truly is the best car ever. Not because of the vehicle's countless technological innovations: that's a given, but because Tesla truly did put safety in mind before anything else. If you recall, CEO Elon Musk's opening remark from the Model X unveiling event was around safety – something Braman's story of survival can surely attest to.