Tesla Semi Truck competitor Nikola Motor Company will unveil battery-only versions of the Nikola Two and Nikola Tre semi-trucks at its two-day Nikola World 2019 event in Scottsdale, Arizona this week. Previously, hydrogen-electric versions were announced, including the Nikola One, unveiled in 2016. A track demonstration of the Nikola Two will be part of the Nikola World activities, and a functioning version of the company's coming solar powered hydrogen fueling stations will be on display.
In the lead up to the Nikola World production, the zero-emissions trucking startup has made significant development headway, teased further product announcements, and built excitement around its brand. At the end of March, Nikola finalized a deal with Saint Holdings IPA acquiring 400 acres of prime development property of an up-and-coming vehicle manufacturing hub in Pinal County, Arizona. The manufacturing mega site will host the factory where Nikola's Class 8 vehicles will be built once complete. For now, Fitzgerald Glider Kits is handling the initial truck manufacturing.
Nikola announced a $16 million-dollar equipment purchase (out of hundreds of millions planned) for its hydrogen fuel cell laboratory shortly after the Arizona land deal was made public. The technology already developed and utilized in the company's demo trucks will continue to be improved upon at this lab, enabling Nikola to "set a new efficiency benchmark for heavy-duty fuel cell systems", as described by CEO Trevor Milton in a press release about the investment.
#NikolaWorld2019 is tomorrow and we're so excited to share with the world what we've been tirelessly working on over the past couple of years. Tomorrow will be a huge step in showing off the most advanced technology the transportation industry has ever seen. See you all tomorrow. pic.twitter.com/gMxrafOxi3

— Nikola Motor Company (@nikolamotor) April 15, 2019
Nikola has made a number of bold claims about the products it's developing since the Nikola One's unveiling in 2016. Nikola's truck lineup itself is said to meet or exceed the performance provided by diesel-powered vehicles with 1,000 hp, up to 2,000 ft-lbs of torque, and around 1,000 miles of range. In response to claims that hydrogen production requires fossil fuels, the company stated that its fueling stations will primarily use renewable energy sources as will its manufacturing facilities. Along with committing to a clean energy, diesel-free future for transportation, Nikola is also working on making its products ready for full autonomous driving, all of which draw direct comparisons to its main rival, the Tesla Semi.
The hydrogen-electric truck company unveiled the Nikola One full-cab semi-truck prior to Tesla's launch of its own commercial hauler, which should have given Nikola a time and development advantage; however, over the last year, the Arizona-based truck manufacturer has acquired the appearance of having fallen technologically behind.
The electric vehicle community has grown accustomed to seeing all-electric vehicle manufacturer Tesla's continued success while also witnessing several electric startups disappear almost as quickly as they appeared. The lack of a near-production vehicle feeds the perception that Nikola's "talk" won't be translated into its "walk", to borrow a common phrase. There are also doubts about the hydrogen fuel cell component of Nikola's technology, something the company has addressed numerous time, doubling down on the viability of fuel cells as a better solution over batteries-only for long range trucking.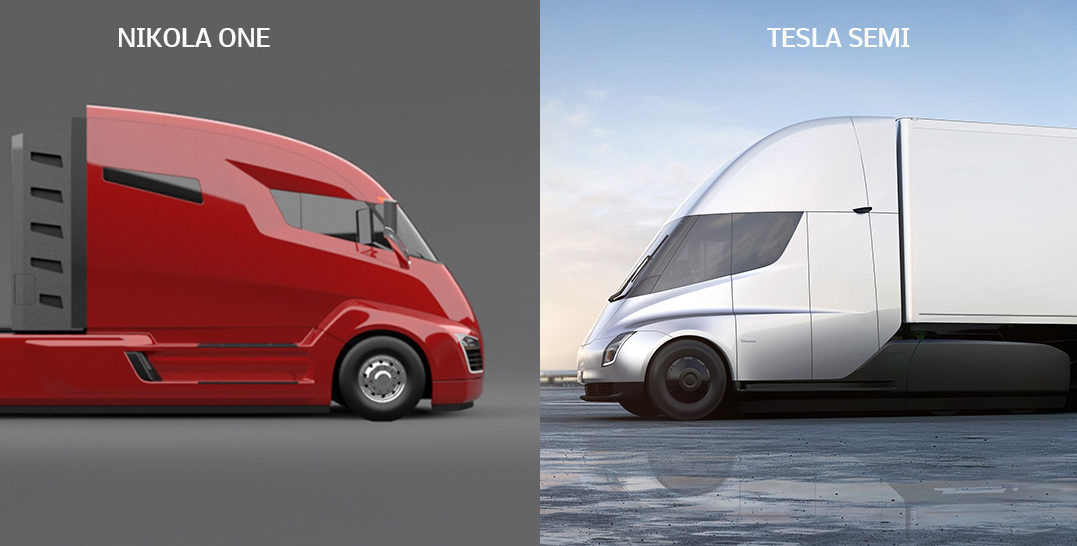 In contrast, the Tesla Semi test mule has been seen on public roads on several occasions, and Tesla has even released production-quality video of the semi-truck hauling its all-electric sedan and SUV brethren. Photos of the long-hauler making deliveries of those same vehicles to customers were also published by Tesla, furthering the narrative that significant progress is being made by the California-based car maker with its Semi.
Tesla itself is very familiar with the public relations climb. Every slip in production estimates, price change, or even odd tweet or two (etc.) from CEO Elon Musk draws the ire of critics and skepticism of fans alike. Musk's tenacity, however, has given way to the phrase "Tesla Effect". Due to Musk's drive that helped lead to success at Tesla, any newcomers to the electric auto manufacturing industry are going to have to answer the question, "What are you doing that's better?" Nikola Motors is no exception despite the primary business differences between the companies.
Nikola World 2019's product announcements and battery-electric unveilings will serve to bring the company's tangibility into view. Nikola also frequently communicates its gratitude for its supporters, and this week's event is no different. An announcement was made via the company's social media accounts that guests of Nikola World would be treated to a country music superstar performance during the first night of the event.
"SURPRISE ANNOUNCEMENT! We will be having a special country music superstar performing the night of the unveiling, you don't want to miss it," the company tweeted. Nikola World 2018 was the company's first annual event, officially putting Nikola on the map of next generation, Class 8 truck manufacturers.
SURPRISE ANNOUNCEMENT! We will be having a special country music superstar performing the night of the unveiling, you don't want to miss it! #NikolaWorld2019 pic.twitter.com/FidOf1FwLA

— Nikola Motor Company (@nikolamotor) April 10, 2019
Follow us @Teslarati for behind-the-scenes coverage from Nikola World, taking place on April 16-17 in Scottsdale. We'll bring you a first look at Nikola's upcoming all-electric semi trucks and new products.