Tesla's Made-in-China Model 3 units are filling up the parking lot of the Gigafactory 3 in Shanghai, a sign that the electric car maker has ramped up its production after receiving a permit from the government to sell and deliver its locally-made electric cars to customers across the country.
Tesla owner and Twitter user @JayinShanghai shared a photo on Monday showing roughly 500 Model 3 units occupying practically all parking spaces at Gigafactory 3, a big difference from an image posted a few days ago showing roughly a hundred or so units on the ground.
It appears Tesla has stepped on the pedal to ramp up the production of the Model 3 units to meet the demand of the largest market for mid-sized premium sedans. In its Q3 2019 update, the American electric car maker shared the notion that China could become the Model 3's biggest market.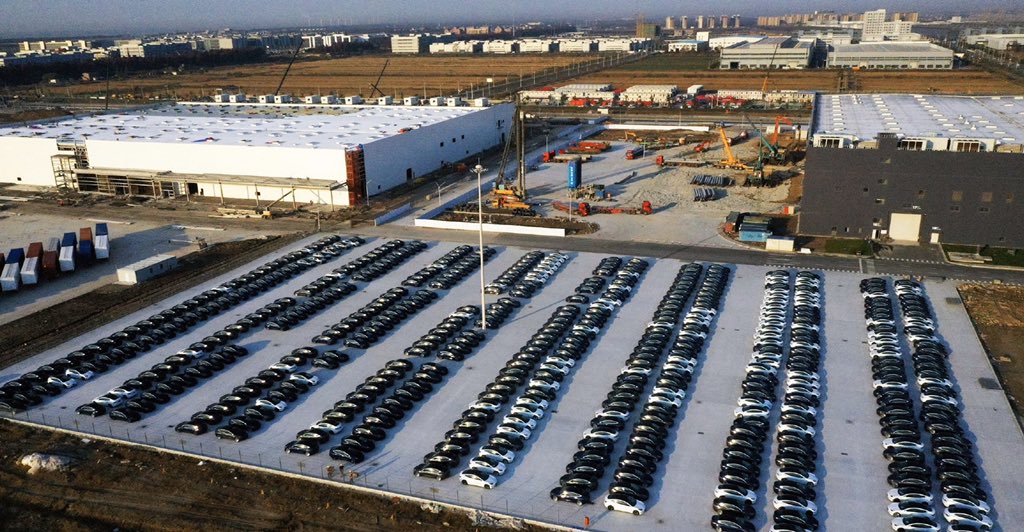 Earlier this week, there were sightings of transport trucks carrying Tesla Made-In-China Model 3 out of the Shanghai facility and most likely on their way to customer showrooms and delivery centers. 
On Dec. 6, Tesla China announced that the carmaker's Model 3 was included in the list of new electric vehicles receiving incentives released by China's Ministry of Industry and Information Technology, hinting that the electric car manufacturer was given the green light to deliver the Model 3 to customers.
The Tesla Made-in-China Model 3 will be sold for around $50,000 while announced subsidies for two variants of the vehicle may potentially save buyers around $3,500.
Delivery dates might have been moved up from the earlier estimate of late January 2020 as well.
The Gigafactory 3 in Shanghai broke ground in January this year and was ready for production in 10 months. The latest developments in China further proves that Elon Musk's electric car company can compete in the global market and will soon start to get a share of the pie in the biggest EV-hungry automotive market in the world.
As consumers get their first taste of the Tesla Model 3, the brand is planning to increase the number of its fast charging stations to 362, an increase of 39%. It will also double its service centers from 29 to 63 in the coming months. Tesla executives in China have also created Weibo accounts through which customers can get directly in touch with them.
H/T to @JayinShanghai