Tesla buyers that are looking to offset the price of their car should know that the $7,500 federal EV tax credit is on pace to reach its limit by the end of the year. But that doesn't mean the credit will be fully gone by then.
The federal incentive to purchase an electric vehicle comes in the form of a $7,500 tax credit. In order to qualify for this credit, one must have a tax burden of at least $7,500 and take ownership of a newly purchased electric car before the vehicle manufacturer reaches its 200,000th EV sold in the U.S. Tesla is quickly approaching this number and will likely hit the 200,000 mark, or beginning of the "phase-out" period, sometime in October of this year.
Model 3 buyers who receive their cars in the quarter when Tesla delivers its 200,000th U.S. vehicle will receive the full $7,500 federal tax credit. The tax credit will drop by 50% two quarters after the 200,000th car is sold, and another 50% two quarters beyond that, before the tax credit is fully gone sometime around April 2019.
Essentially, buyers who take delivery of their Teslas within roughly the first year-and-a-half of the company hitting its 200,000th electric vehicle delivery in the U.S. will be eligible for the tax credit. The closer to the 200,000th delivery date, the larger the credit.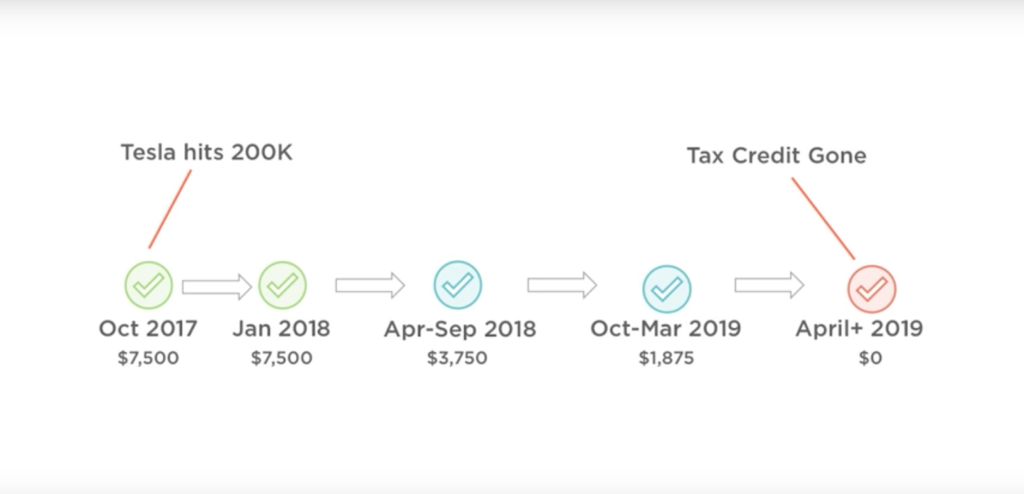 So, what if you're not part of the batch that's able to receive the tax credit? A used Model S could be a good option considering they are selling for $45,000-$60,000 depending on the options. The Chevy Bolt is also a great option and sold at a price point more comparable to the Model 3. It packs an impressive 238 miles of range and bundled with high tech features and DC fast charging. Other manufacturers have also announced electric vehicle plans for 2018 that are guaranteed to be eligible for the federal tax credit.
What are your thoughts on the federal tax credit running out? Are you relying on that credit for your Model 3 purchase or are you holding out for an EV from another manufacturer?