After seeing demand for their line of electric motorcycles soar, California-based Alta Motors is adding Matthew Work to their executive team as Chief Revenue Officer. Alta Motors saw its sales increase 18X in 2017 and added 36 new distributors to their dealership network.
Matthew Work joins the company after nearly two decades of experience in the technology industry, ranging from several SaaS companies to guiding Dice.com to a successful IPO. Work also has a strong passion for motorcycles, having owned more than 50 motorcycles in the past. He's been advising Alta Motors for the past 18 months and his move to the management team speaks to the company's fast growth in 2017.
Alta Motors raised a $27M Series B round this summer, with a total of ~$44M in funding.
"Work's combined high-tech and motorcycle expertise will be a boon to Alta," said Alta Motors CEO, Marc Fenigstein. Work's combined background in technology and his interest in motorcycles will help Alta Motors scale even faster as they prepare for 2018.
Alta Motors was founded in late 2010 and has a strong management team that has developed the powertrain and battery technology in-house. Alta's battery system boasts one of the highest energy densities in the industry and provides the bikes with incredible performance, according to the company.
One of Alta's newest customers, Ben Atkinson, a long-time motorbike rider, describes the bike as his favorite out of all the bikes he owns. After having his interest in riding on trails and parks constrained by noise issues with his other bikes, Atkinson fell in love with Alta's bike near-silent riding experience combined with the superior performance from the bike's electric motor.
"I'm becoming a better rider, just because I'm able to ride it a lot more!" Atkinson said in an interview with Teslarati.
"You hear your tires scrubbing the ground… I can focus on other things. I can concentrate on my riding style… hitting different lines, you can hear your rear tire spin and scrub. I think you have just one more indication of how you are hooking up, so I think it's a better riding experience. You are more in tune with the bike," Atkinson said.
Alta has seen significant demand from their dealer network and in the midst of working through its order backlog. "We've sold more Alta bikes this year than any other single model," said Scott Bannick, sales manager of Colorado-based Elite Motorsports, a dealership that began carrying Alta's bikes in November 2016.
Bannick told us about a recent customer that was interested in the Alta Redshift, largely due to all of the action taking place in the electric vehicle segment. "He called me back and knew everything about those two vehicles and he knew everything about Alta and electric vehicles in general. He went from being a lifelong gas dirtbike rider who drives gas cars and rides gas motorcycles to being someone fully bought into the idea (of electric vehicles)," Bannick said.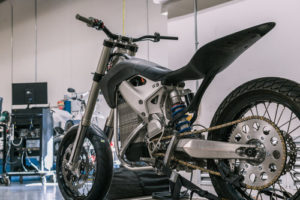 Bannick also described other potential customers that happened to be Tesla owners and were seeking the electric motorcyles that offered comparable performance and reliability to Teslas.
"The success we've seen was unimaginable a year ago, but now not so surprising. The coolest thing to witness after encouraging a customer to try the electric bike, is seeing that customer return at the end of the day with eyes the size of dinner plates. It's priceless," Bannick said.
Alta Motors added 36 dealers to their network this year, bringing it to a total of 41 dealers in 18 states. "After demonstrating the Redshift's ability to compete head to head with combustion, we're excited to scale our dealership base across the U.S., offering more riders the opportunity to hop on for an initial joy ride," said Alta Motors CEO, Marc Fenigstein.
I recently spoke with Fenigstein last month on the NextMobility Podcast. The episode was most popular episode in Season 1. You can listen below or subscribe to the podcast here.