Tesla Motors has officially approved MIG welders from two companies to be used in making structural repairs to its aluminum bodied Model S and Model X. Like all manufacturers, Tesla must be certain that any structural repair performed on its vehicle meets the same crashworthiness standards as a new vehicle. Anything less could subject the manufacturer to liability in the event of occupant injury or death while riding in a car that has been repaired, says Repairer Driven  News.
With a limited number of authorized Tesla body repair shops trained to rebuild vehicles to the original specifications for structural integrity, becoming certified by Tesla is almost always a cause for celebration. Especially when you're the equipment manufacturer.
Tesla has approved the use of Pro Spot's SP-5 Smart MIG and SP-5.3 Double Pulse 3-Phase Smart MIG welder by technicians within the company's Approved Body Shop Network.
"Congratulations to the entire Pro Spot team", said Pro Spot President Ron Olsson through an issued statement. "Our commitment to a total aluminum repair solution is paying off. To be recognized by a high technology company, like Tesla, is a great confirmation that our product development is on point."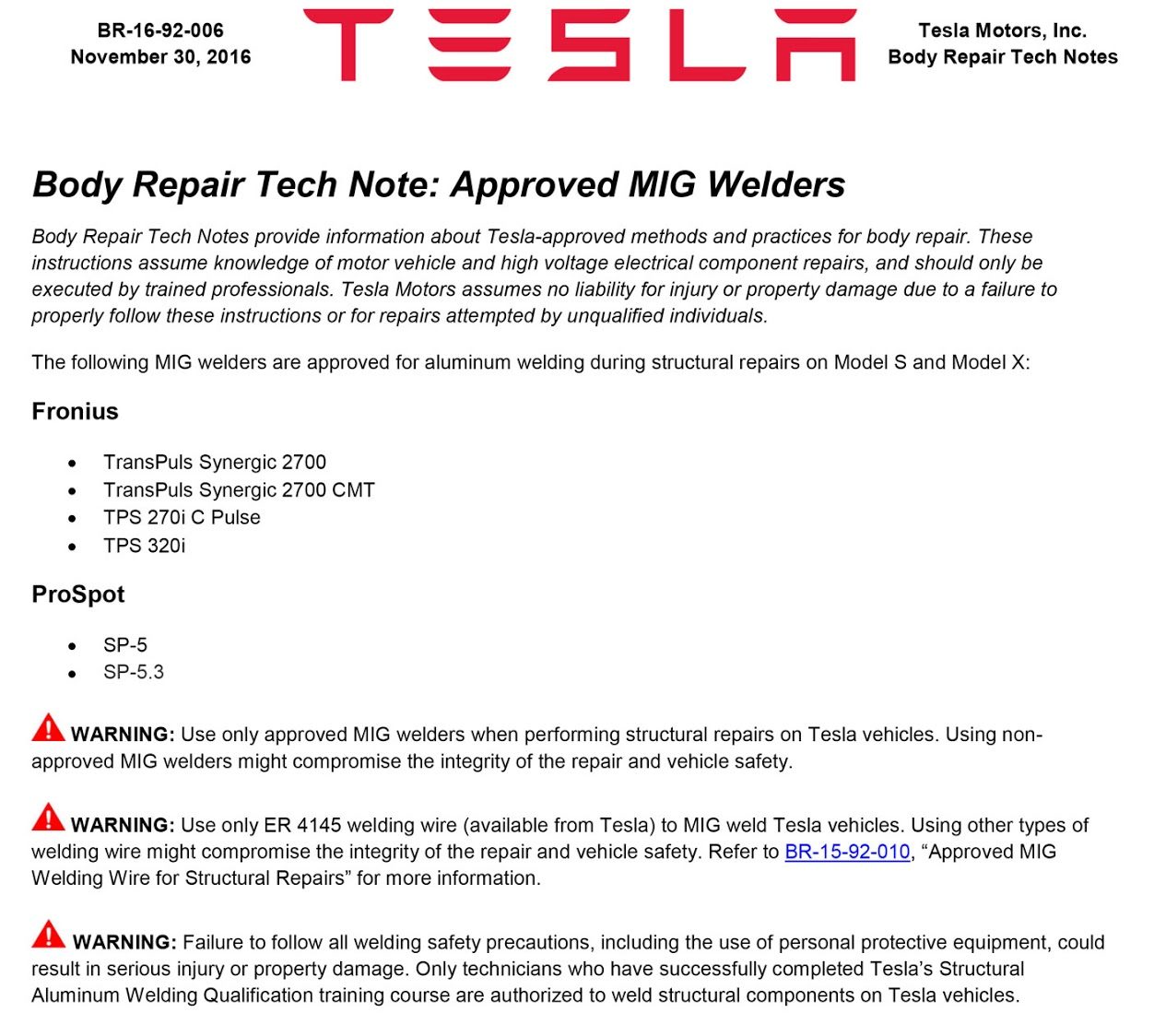 Pro Spot's welders are approved for aluminum welding during structural repairs on Model S and Model X. Other auto manufactures using Pro Spot welders include Mercedes-Benz, Jaguar, Land Rover, Honda/Acura, and Ford, among others. The company says its welding equipment stands out for ease of use due to three separate torches for steel, silicon bronze, and aluminum. That reduces the possibility of corrosion from mixing welding wire.
Obtaining certification from Tesla can require an extensive course of training and testing. Companies that manufacture repair tools are welcome to submit them to Tesla for approval but the certification process can take up to 2 years and there is no guarantee of success.
As Tesla gears up for production of the Model 3, one might think that the number of Certified Tesla body repair shops will also drastically increase, but Repairer Driven News thinks otherwise. The industry newsletter believes that it's unlikely Tesla will expand its network of approved repair facilities by much. They believe there is simply too much risk that a faulty repair could have a negative impact on the public perception of the safety of the new model.
Nevertheless, more cars will mean more collisions. Customers and insurance companies are not going to be content to wait months for repairs to take place. Tesla will be walking a tightrope between having enough certified repair specialists available and meeting customer expectations.