Serial tech entrepreneur Elon Musk will be speaking at this week's TED 2017: "The Future You" conference on Friday, April 28. The sold-out event, which cost selected attendees $8,500 for basic admission, takes place from April 24-28 at the Vancouver Convention Centre.
If you've never seen a TED Talk, it's a casual speech usually delivered in 18 minutes or less before a packed auditorium. The content is inspirational, uplifting, inventive, or radical — and sometimes all of these. According to the nonprofit organization, TED is a global community that believes "passionately in the power of ideas to change attitudes, lives, and, ultimately, the world."
The conference theme this year is intended to "explore the most pressing questions of our time and to imagine what our shared future might look like." With Musk planned as a headliner for Friday's "The Future Us" Session, the conference will end with a speaker who has transformed industries through technological innovation. Musk has been instrumental in various technological breakthroughs, such as the PayPal online banking system, Tesla's all-electric car, and SpaceX advanced self-landing rockets, to name just a few.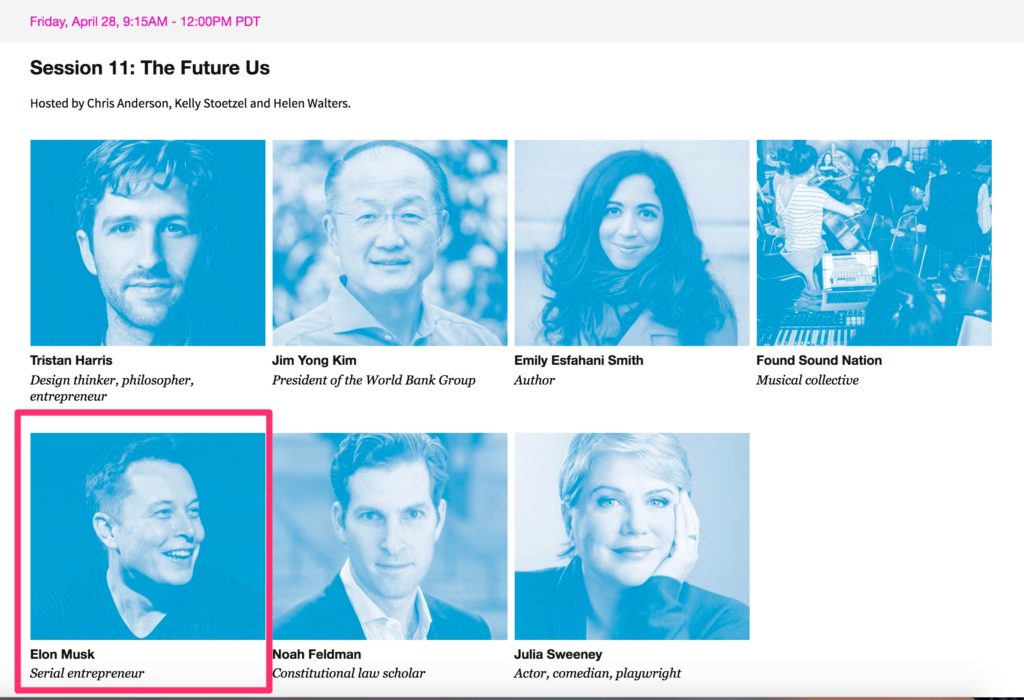 TED 2017 will be a forum in which speakers like Musk can share ideas about how work, connections, and interactions affect how we can collectively thrive in a world full of change. The conference will "ask – and try to answer – the big questions of the moment."
For Musk, those questions will likely focus on the continued imprint he envisions as the world transitions to a sustainable energy economy. Yes, electric vehicles are central to that goal, but so, too, are energy systems like Tesla solar systems combined with Tesla Powerwall and Powerpack, which may help individuals and communities to gain independence from large scale energy providers. Decentralized energy like this, which is generated or stored by a variety of small, grid-connected devices, may be as revolutionary in the short term as would be Musk's plan to send humans to Mars.
This is not the first time that Musk has been a speaker at a TED Talk. If you'd like to anticipate what he'll discuss this year, it might be efficacious to view his role at the TedTalk 2013: "The mind behind Tesla, SpaceX, SolarCity."