Twitter has teamed up with investment platform eToro to offer users real-time information on stock and cryptocurrency prices, effectively improving the capabilities of the social media platform's Cashtag feature. 
Twitter's Cashtag function, which was introduced in December, allowed users to search for a ticker or coin symbol, such as $TSLA or $BTC, to receive information about the selected commodities. At the time of its announcement, the image posted by Twitter for its Cashtag feature included a "View on Robinhood" button.
A look at the feature today shows that users can now click on a "View on eToro" button. Doing so redirects users to the online trading platform, where they can access more information and engage in trading activities for their selected assets.
In a comment to CNBC, eToro CEO Yoni Assia noted that numerous users already discuss financial markets on Twitter. With this in mind, a partnership between Twitter and eToro is ideal. By collaborating, Twitter and eToro aim to reach new audiences and strengthen their brands' connections.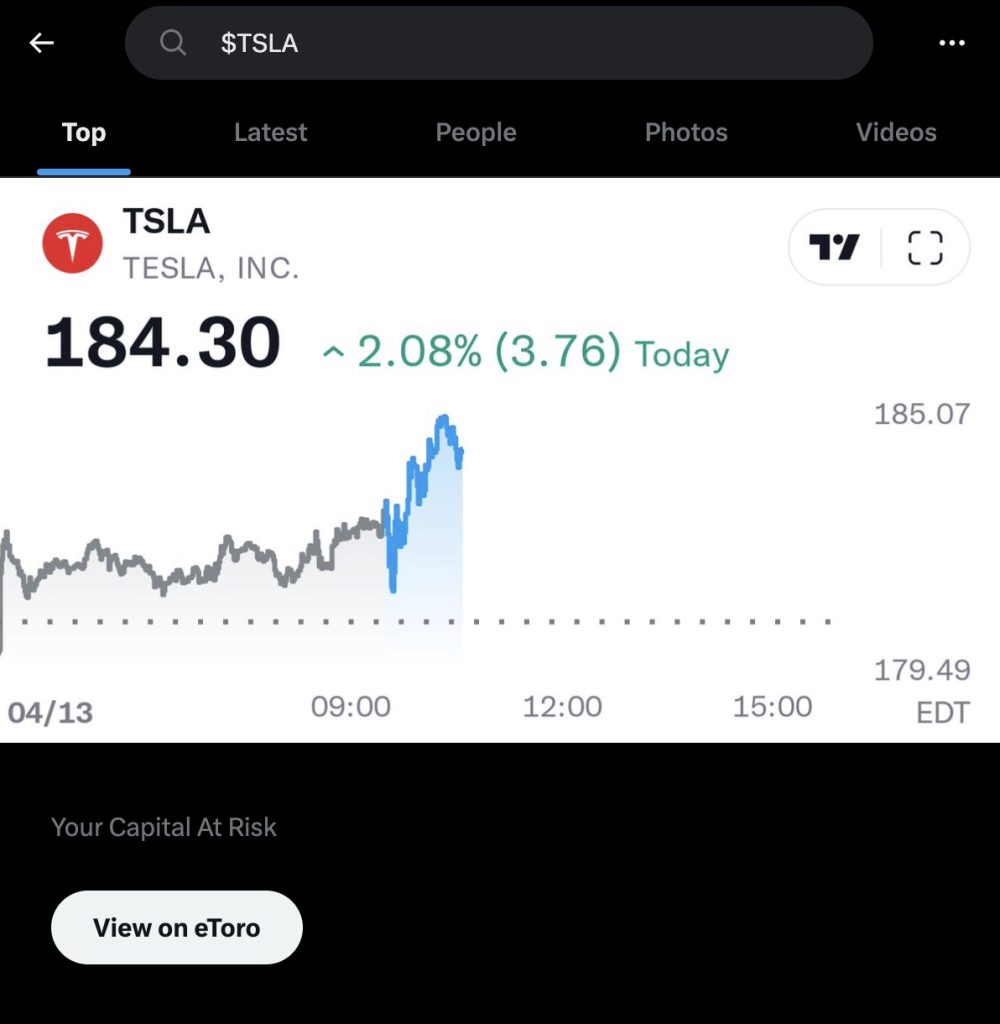 "As we've grown over the past three years immensely, we've seen more and more of our users interact on Twitter and educate themselves about the markets. There is very high-quality content, real-time content on financial analysis of companies and what's happening around the world. We believe this partnership will enable us to reach those new audiences and connect better the brands of Twitter and eToro," the executive said.
Elon Musk has been focused on making Twitter profitable. He also continues to juggle the social media platform's growing list of controversies. But apart from these, the CEO has also mentioned in the past that Twitter would likely roll out finance features in the future. These include a high-yield money market account for creators who choose to publish their content on the platform, as well as a paywalled video function that allows creators to charge users for access to their work.
Don't hesitate to contact us with news tips. Just send a message to simon@teslarati.com to give us a heads up.