Ford Pro, the legacy OEMs commercial division, unveiled new charging solutions tailored for commercial customers' electrified fleets.
Ford Pro informed Teslarati about its newly designed Series 2 AC Charging Station 80 amp and expanded DC Fast Chargers for commercial vehicle fleets. Both charging solutions work with Ford Pro's charging management software, which works with Ford and non-Ford electric vehicles. The automaker claims its latest commercial charging solutions are easier to use, service, and control. 
The Series 2 AC charger has a detachable cable and connector. It also has an RFID reader and increased connectivity. The AC charger is also designed with the future in mind. As Ford Pro states, it is "primed for future standards and over-the-air updates." Below are the Series 2 AC's charger's features
Enhanced security with RFID that limits unwanted charger access. Fleet operators can issue a unique Ford Pro RFID card1 to control access to chargers, enabling charging sessions to be limited to specific individuals or vehicles by specifying days and times for access. The new RFID software also supports Ford and non-Ford vehicles, unlocking the ability for fleet operators to track energy reports through Ford Pro's charging management software.

Improved detachable cable and connector reduces time and expense of charger repairs, avoiding replacement of the entire charging station if a cable or connector is damaged.

Wide range of connectivity options with cellular pre-configured and optional Wi-Fi and Ethernet connectivity for locations with restricted cellular coverage.

The new Series 2 AC Charging Station 80 Amp will be ISO-15118 ready and equipped to enable future functionality over the air, such as advanced vehicle-to-charger communications that can identify and log when a specific vehicle connects. Ford Pro designed the new hardware to be ready for the future so customers are better prepared for new electric vehicles and future capabilities.

The new LCD screen on the Series 2 charger displays step-by-step instructions to initiate charging and essential information, including charge duration, fault alerts, energy usage, and more.

Temperature sensors to monitor and alert for overheating by derating the charger automatically.

Extended operating temperature range of -40C (-40F) to 50C (122F) and operating altitude of up to 3500m to serve the needs of customers in more places.

The new Ford Pro charging hardware is backed by a 3-year warranty on charger parts and labor and continues to provide around-the-clock tech support to help increase uptime and productivity for customers.

Ford Pro Telematics, chargers, software, and service work seamlessly to provide fleet operators and managers with a single solution to monitor their vehicle network 24/7.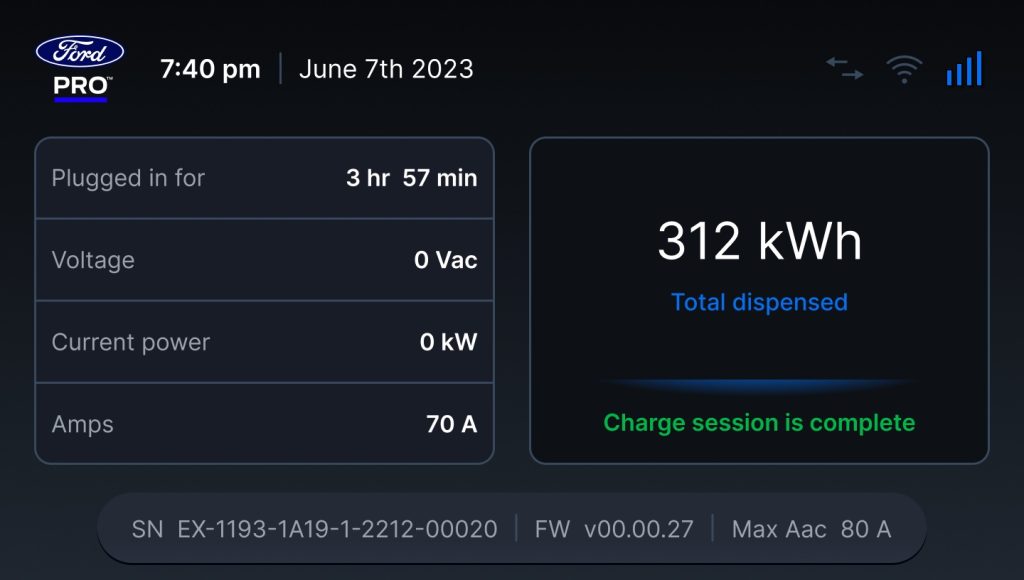 Ford Pro customers can choose between the extended DC Fast Charger options: 180 kW and 240 kW. The Series 2 AC Charging station and DC Fast Charger are available for pre-order now.
The legacy automaker also provides customers with access to the BEV Fit team. The BEV Fit team offers complimentary consulting to customers who have electric fleets and are transitioning or are thinking of transitioning to electric commercial vehicles. The team helps customers find available incentives for their fleet. Ford Pro customers can consult the BEV Fit team regarding their charging site design and construction needs. They may also turn to the team for help collaborating with local utilities to meet their energy needs.
The Teslarati team would appreciate hearing from you. If you have any tips, contact me at maria@teslarati.com or via X @Writer_01001101.