The audience put on their HTC Vive headsets, which allowed everyone to see each other at their tables with color-coded avatars. A virtual mini slot car track appeared, and each person grabbed a single Vive controller and competed with others at their tables. Little Jaguar slot cars flew around and off the virtual track. Conversations erupted and interactions flourished as the audience played and waited. Soon, a presenter via live local video feed arrived, and the virtually-enhanced room suddenly filled with the avatars of all 66 people present, interconnecting everyone through virtual reality (VR).
The video feed switched everyone's attention. It outlined Jaguar's journey from its founding as the Swallow Sidecar Company in 1922, to this moment in time prior to the 2016 LA Auto Show, with the flashy reveal of a concept version of its I-Pace all electric sport utility vehicle.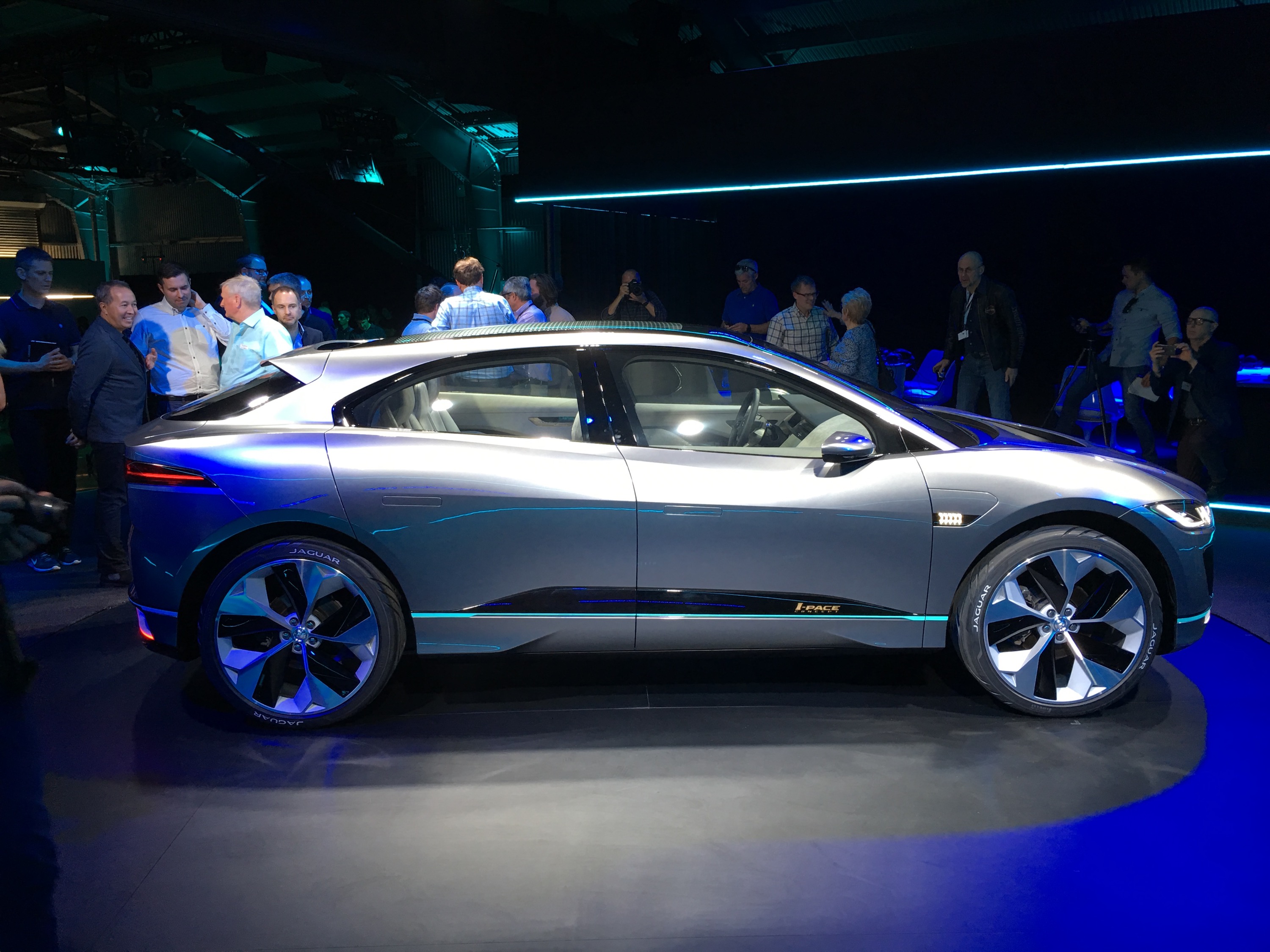 The Jaguar I-Pace Concept is essentially a direct competitor to Tesla's Model X P90D, with a dual motor design and 90 kWh battery that puts out an equivalent of about 400 horsepower and 700 ft. lbs. of torque. The Jaguar model is 12″ shorter, 3″ narrower, and a tiny bit taller than the Tesla product. It will feature a 90 kWh battery that should give the car approximately 300 miles of range using the U.S. testing standard. The battery should be able to recharge to 80% in just an hour and a half. The Jaguar electric powered SUV is purported to be capable of going from 0 to 60 mph in roughly four seconds. Jaguar is hoping to bring the vehicle into production sometime in 2018.
Yes, the Jaguar I-Pace is supposed to compete against the Tesla Model X. But the Jaguar VR press statement experience, using presenters, 3D models, diagrams, animations, and designs — generated through a Jaguar partnership with the Imagination Agency and help from REWIND, HTC, and Dell — far exceeded any hard-to-hear Tesla press conference or Elon Musk live appearance with poorly supported PowerPoint in the background.
Early into Jaguar's virtual reality press statement, Ian Callum, Jaguar's famous designer, was introduced. He shared a think-aloud about the I-Pace design. True to Callum's mantra that "It's about beauty of line and purity of form," he displayed interactive sketches, wire meshes, battery packs, motors, and other parts of the I-Pace vehicle that will work together in a gestalt. Each member of the audience fully interacted with the same 3D models as he discussed them. Because all headsets were interconnected, two groups of people participating from the UK were able to join in through virtual connecting. While users peered inside a finished Jaguar I-Pace prototype, an actual, real-world version of the vehicle was rolled into the room.
According to audience members present, the overall design, implementation, and explanation of the Jaguar I-Pace was nearly perfectly executed in VR and offered a never-before-experienced sense of product engagement and immersion. Many people left the Jaguar VR press statement convinced of the vehicle's attributes, design, and performance as well as its capacity to compete fully against Tesla.
And they never learned the price of the Jaguar I-Pace.
[Shout out to Anshel Sag for sharing his VR experience]