Maryland continues to show strong support for Tesla ever since since the state's General Assembly ruled in May of last year to allow the company to sell its vehicles direct to consumers. Maryland has not only become one of the top three states for owning a Tesla: EV drivers receive a generous $3,000 tax credit and pay a relatively low 15 cent per kWh utility rate, but the state has three Tesla Supercharger stations and several Tesla storefront galleries where the Silicon Valley automaker can sell directly to interested buyers.
Now comes word via PlugInSites.org* that Tesla has received the green light for installation of what would be the state's fourth Tesla Supercharger station. The new station will be located at the Maryland House off busy Interstate 95. According to PlugInSites, Maryland House serves nearly 3 million visitors a year making it one of the busiest destinations within the country. Though a fifth Supercharger 50 miles south at Laurel is currently under construction, Tesla will leverage usage data collected from Aberdeen to plan for the number of stalls needed in a proposed Supercharger just 15 miles north at the Chesapeake House Travel Plaza. To date, Tesla has over 4,300 Supercharger stalls across the world [map].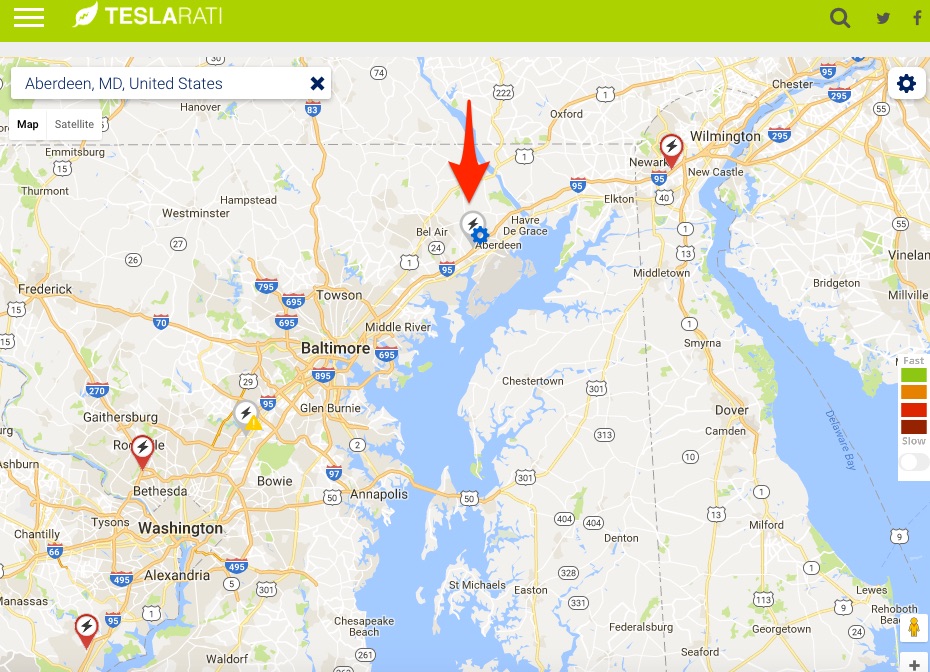 With growing concerns from existing Tesla owners that Supercharger stations will become congested, likely spawned by the company's announcement that it aims to produce 500k vehicles in 2018, and reports of overcrowding at Supercharger stations, Tesla has been rapidly expanding its fast-charging network and Destination Charging program across the world. Just last week, Tesla unveiled its largest Supercharger to date – a 20-stall location in Norway. We also recently caught up with a Southern California Tesla Service Center rep. who told us that a new Supercharger near Disneyland will be opening within the next month that will facilitate travels between Orange Country to Los Angeles. Additional reports that Tesla is in negotiations to expand its Supercharger network into gas stations and grocery store chains throughout the U.S. further validates that the company is laser-focused on laying the groundwork to support its grandiose plans to electrify the future of transportation.
*Editor's note: We have corrected the original story by removing a previous reference stating that the Tesla Supercharger in Aberdeen, Maryland will be built on an ex-Chevron property. A big thanks to @Lanny for the correction.