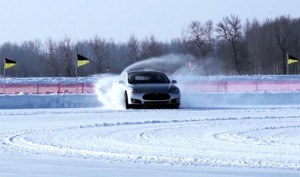 It's funny to think a disruptive electric vehicle (EV) Californian startup can not only get under the skin of the biggest automakers in the U.S., but would find some of its biggest success in a country known for its harsh cold weather, Norway.
Norway is red hot for Tesla Motors
Norway has the hots for Tesla Motors and shows a serious love for electric vehicles (EV) than even our fair weathered states in the U.S.. Norway helped push Tesla's shares by more than 6% on Wednesday, sending analyst scratching their heads once more. To put this into context, the over-value of Tesla's shares (TSLA) has attracted criticism, even from Elon Musk. This has raised serious red flags for investors, most of which have flocked en masse to buy shares, thus further raising its price.
Gigafactory sends analysts into a frenzy
It would be fair to say that news of the Gigafactory sent analysts through the roof with negative comments and recommendations. Tesla stocks spiked to a dizzying $265, then fell to $203 in a month to finally stabilize at $230 currently. According to Seeking Alpha, Tesla's production is expected to out-pace its deliveries in the first quarter of this year. In other words, as Tesla moves more vehicles around, thanks to its European and Asian markets, the European sales will be very important for the company and its valuation.
Analysts predict the future through equations. Yet a closer look at their track record shows they don't always get it right. In fact, they rarely do. Not too many predicted the 2005 real estate crash, and even less predicted the 2008 economic nightmare. Analysts get carried away as investors unnaturally inflating stock prices beyond their realistic values. Still, if the Gigafactory is exciting, it raises a lot of valid economic questions.
Playing the Tesla number game
In a recent report from StreetInsider , Tesla nearly reached 1,500 deliveries in Norway during March. This is up from just 563 in the first two months of 2014 and the report shows it delivered 2,057 vehicles in Norway this year so far, compared to under 2,000 all of 2013 in Norway. Tesla has already outpaced last year's total and could be well on track to meet its estimates.
If Tesla expects 35,000 deliveries in 2014, it needs to increase its production rate, since only 6,500 deliveries were expected in the first quarter of the year. This means in order for the company to achieve its 35,000 Model S target, it would need to reach 6,500 deliveries in the first quarter, followed by 7,500 in the second quarter and 9,500 in the third quarter, and finally 11,500 in the last quarter. You can see this is a lot, even for Tesla Motors.
It's exciting to see Tesla beat estimates. Many downplayed the company in its early years. Those of us backing Tesla since then were dismissed as idealists with no grasp on reality. Yet, reality has to start from somewhere, and that usually is through imagination. Tesla shows there is room for what we truly want and need to happen, that entrepreneurship is well and alive in the U.S..
Note: The author does not own any Tesla Motors stocks to his awareness, although has ETF shares, which can include any given stocks at any time.