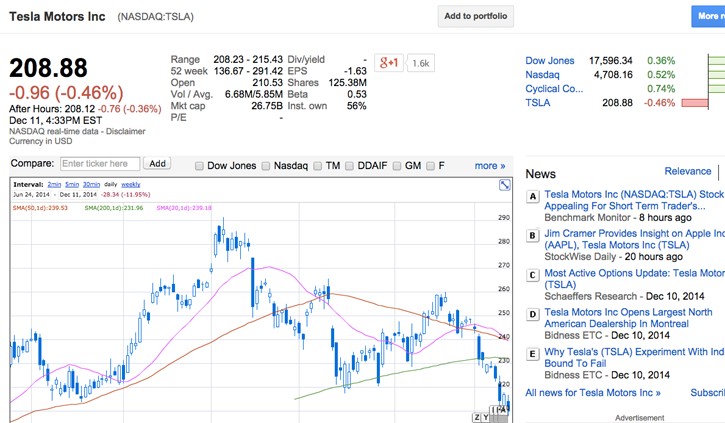 As I was watching a recent webinar on forward-looking trending tools for stocks, the moderator popped Tesla Motors stock chart on the screen to demonstrate the Fibonacci retracement and Ichimoku tools. Perfect timing, I'm a long investor in Tesla Motors stock and what about these downward oil prices?
Financial media sites are in a tizzy regarding oil prices plummeting—Saudis pulling the strings—and how this poses a big hurt for electric car industry sales and, of course, Tesla Motors stock price. Sine I cover the oil and gas industry for the Chicago-based Automation World magazine, the Saudis' primary "displacement" target is U.S. shale.
Fracking shale plays are very expensive due to the fact that oil and gas drilling companies have to setup so many wells in order to find shale sweet spots. Plus, these small-to-medium sized drillers are financially over-leveraged and need barrel prices to be somewhere around $80 a barrel in order to be profitable. That's not going to happen for some time, did I say "displacement."
However, it does begs the question whether there is a decent correlation between high gas prices and electric car sales in the last four years, and will lower gas prices doom Tesla Motors's stock price for the near-term or long-term?
As a Energy Information Agency chart shows above, there's not a direct correlation between sales and increase gas prices. However, I believe some EV automakers will take a hit from really low gas prices in 2015–say $2.10-2.20– but not Tesla Motors.
Why? Tesla Motors owners are not obsessed with the price of power for their car, compared to a Volt or Leaf owner is my theory, and this car just won the award for the highest satisfaction from Consumer Reports, two years running.
Plus, Americans are buying more expensive cars, north of $50,000. TrueCar just this week released data on buying patterns and showed:
From January through November 931,064 vehicles were sold in the U.S. with average price above $50,000, a whopping 30.8 percent increase compared to the same period last year, according to TrueCar.
So with lower oil prices soon to be a non-issue or baked into Tesla's current stock price, is it attractive at $210 or lower? How long will this downward, selling pressure last?
Ishimoku technicals (forward-looking indicators) point to new lows being tested in the near term, such as the $203 level. So Tesla shorting could continue and recent data shows 23% of Tesla stock owners were shorting in November.
According to John Del Vecchio and Tom Jacobs' book What's Behind the Numbers? (via a Nasdaq.com article), this is why you short a stock:
We recommend waiting until there is aggressive revenue recognition, weakening balance sheets, and deteriorating cash flow trends. It's the flipside of value-with-catalyst, which is fundamental analysis of value combined with a catalyst for stock market buying to boost the price to realize that value.
As most Tesla Motors investors and followers know, the company's cash flow is quite positive and revenue is on solid-footing with production capacity investments made in 2014, and the company's estimate of 50,000 vehicles delivered in 2015. In 2014, Tesla will probably deliver just under 35,000 vehicles, a solid increase.
So there may be an opportunity to buy in the near-term for longs, as I feel the oil price "news" won't really affect Tesla sales in 2015. One caveat, although, is to keep an eye on Model X news and possible struggles in hitting a 250 mile range for this coveted SUV. This could dampen the stock price if problems persist.