Porsche has announced that it will work with Intel's Mobileye unit to introduce autonomous driving features to upcoming models.
One of the least-known competitors in the autonomous vehicles sector is Intel's Mobileye division, which has been quietly rising in popularity over the past decade. Mobileye has inked numerous partnerships with brands across the globe, including Ford, BMW, NIO, Volkswagen, and many others. Now, joining its massive portfolio is a brand many expect to be quite adverse to autonomous driving technology, Porsche.
Since its founding, Porsche has made its vehicles about the driving experience. Its 911 series has become synonymous with fun, sporty driving, but now, Porsche is hoping to enhance that through the introduction of autonomous driving. The iconic German brand announced today that it would partner with Mobileye to introduce autonomous driving to its future vehicles, hoping AV technology will help take over the dull and monotonous parts of the current driving experience.
"In most situations, drivers will continue to want to drive a Porsche themselves in the future – and will be able to do so at any time. This said, there are certain aspects of partially automated driving that we are interested in," says Michael Steiner, Board Member for R&D at Porsche. Intelligent systems like Mobileye SuperVision technology can aid the driver in everyday situations, for example, by not having to keep their hands on the wheel the entire time in traffic jams."
Porsche did not specify which vehicles would come with the upcoming autonomous driving system. Still, with a fleet of new EV offerings on the horizon, they could be ideal candidates for the high-tech option that EV buyers often seek.
Mobileye's SuperVision system is one of its highest-level autonomous systems, though it's primarily designed for highway applications. According to Mobileye's website, the system is currently capable of autonomous lane changing, point-to-point autonomous navigation, adaptive cruise control, front, and rear collision avoidance, side cut-in avoidance, and basic parking guidance.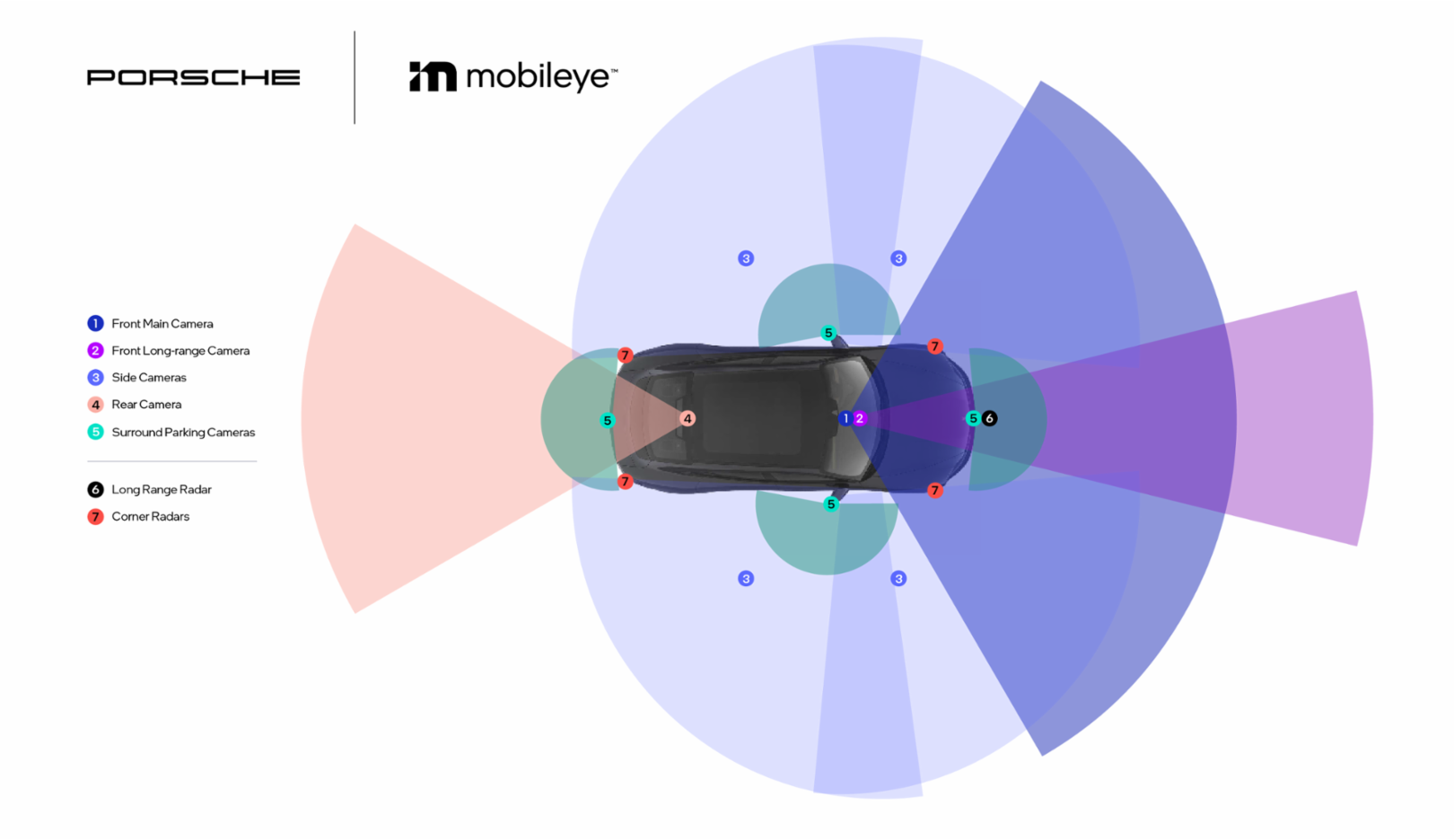 While this system is significantly more limited than the top-of-the-line offering from Tesla, it may be the ideal solution for Porsche buyers looking for the best driving experience possible. Further, with increasing vehicles coming with "electronic nannies," Porsche may be a holdout of the traditional driving experience, at least for a little while longer.
What do you think of the article? Do you have any comments, questions, or concerns? Shoot me an email at william@teslarati.com. You can also reach me on Twitter @WilliamWritin. If you have news tips, email us at tips@teslarati.com!