The Rivian R1T pickup truck and R1S sport-utility vehicle will be on display for public viewing at the Fully Charged LIVE North America event in Austin, Texas on February 1-2.
Fully Charged is a well-known YouTube channel focusing on electric vehicles and sustainable energy. While the show is based out of the United Kingdom, the growing popularity of electric cars has brought the third event hosted by the company to the United States. The two-day event will feature both an indoor and outdoor exhibition and will display around 50 electric vehicles for those in attendance.
The Rivian R1T and R1S vehicles will both be in attendance, making the event one of the first instances where the general public will be able to view the trucks and SUVs manufactured by the Plymouth, Michigan-based electric car startup. The event is highlighting the fact Rivian will be displaying its vehicles for the public to see, as it is a rare occurrence to be invited to view the cars if a pre-order reservation is not held.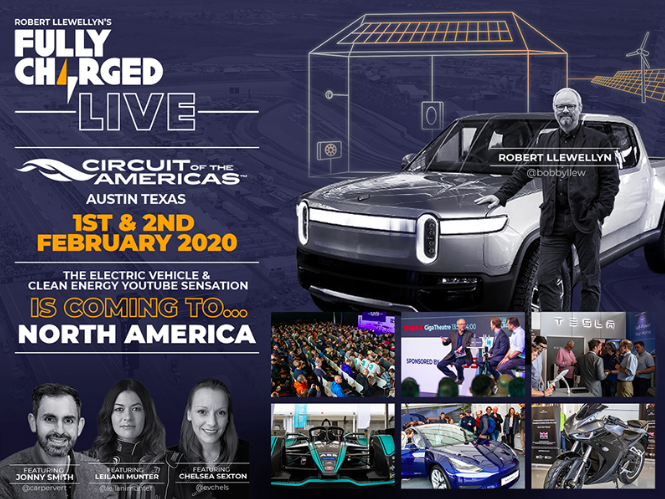 In the past, Rivian has utilized a number of viewing events for people who have reserved one of its electric vehicles. The most recent reservation holder's event took place in Seattle, Washington, where Rivian decided to surprise its reservation holders with a new blue color for its R1T truck that has a base price of $69,000.
Rivian has held public events before, but they are rare. Most recently, the company held one near its production plant in Normal, Illinois giving local residents the opportunity to see what the company was building at the plant formally owned and operated by Mitsubishi.
Fully Charged was able to send correspondent Chelsea Sexton to Rivian's headquarters in Michigan for an interview with CEO RJ Scaringe and Chief Engineer Charles Sanderson, who shed some light on the history and goals of Rivian.
Rivian's initial production of the R1T and R1S is scheduled for late 2020 and early 2021. The R1T and R1S will both available for purchase in three different battery sizes allowing for different range specifications. The 105 kWh battery holds 230 miles of range, the 135 kWh will give 300+ miles, and 180 kWh will offer 400+ possible miles of travel on a single charge. Both vehicles are designed for maximum performance and efficiency during on-road and off-road driving. With a quad-motor system that will output 750 horsepower along with more than 3 feet of wading depth, the initial specifications of Rivian's vehicles are something that the electric vehicle industry has never seen.
You can watch Rivian's interview Fully Charged presenter Chelsea Sexton below.