SpaceX has applied for an FCC Special Temporary Authority license to authorize rocket communications during what is likely Crew Dragon's In-Flight Abort (IFA) test, now scheduled to occur no earlier than November 23rd.

In line with recent comments from SpaceX executives, a November or December In-Flight Abort test would almost certainly preclude Crew Dragon from launching with astronauts in 2019, pushing the Demo-2 mission into the Q1 2020. Nevertheless, it would serve as a good sign that Crew Dragon remains on track if SpaceX can complete the critical abort test – meant to prove that Dragon can whisk astronauts away from a failing rocket at any point during launch – before the year is out.
The FCC application describes "SpaceX Mission 1357" launch from NASA's Kennedy Space Center (KSC) Launch Complex 39A, leased by SpaceX and primarily dedicated to launches involving either Falcon Heavy or Crew Dragon. Most tellingly, the STA request describes the mission as involving a "simulated orbital second stage", an unusual phrase for SpaceX applications that almost certainly reveals it to be Crew Dragon's IFA.
In the history of Falcon 9, all booster launches from Florida or California have carried functional Falcon upper stages. The FCC application's "simulated" descriptor implies that this particular mission's upper stage will not actually be capable of flight – a fact Elon Musk confirmed for the In-Flight Abort test in February 2019. Although the upper stage will otherwise be orbit-capable, the stage on Crew Dragon's abort test is never meant to ignite and will thus feature a mass simulator in place of a functioning Merlin Vacuum (MVac) engine. A flight-proven Falcon 9 Block 5 booster – likely B1046.4 – will power the mission and both it and the upper stage are very unlikely to survive.
During the In-Flight Abort test, the Falcon 9 stack will lift off like any other launch, flying for approximately 60-70 seconds on a normal trajectory. Shortly thereafter, during a period of peak aerodynamic stress known as Max-Q, Crew Dragon's SuperDraco abort system will somehow be triggered, causing the spacecraft to rapidly speed away from what it perceives to be a failing rocket. As Crew Dragon departs its perch atop Falcon 9's upper stage, the rocket's top will be instantly subjected to a supersonic windstream, akin to smashing into a brick wall. If the upper stage is quickly torn away, the booster will find its large, hollow interstage subjected to the same windstream, likely tearing it apart. The mission will undoubtedly be a spectacle regardless of how things transpire.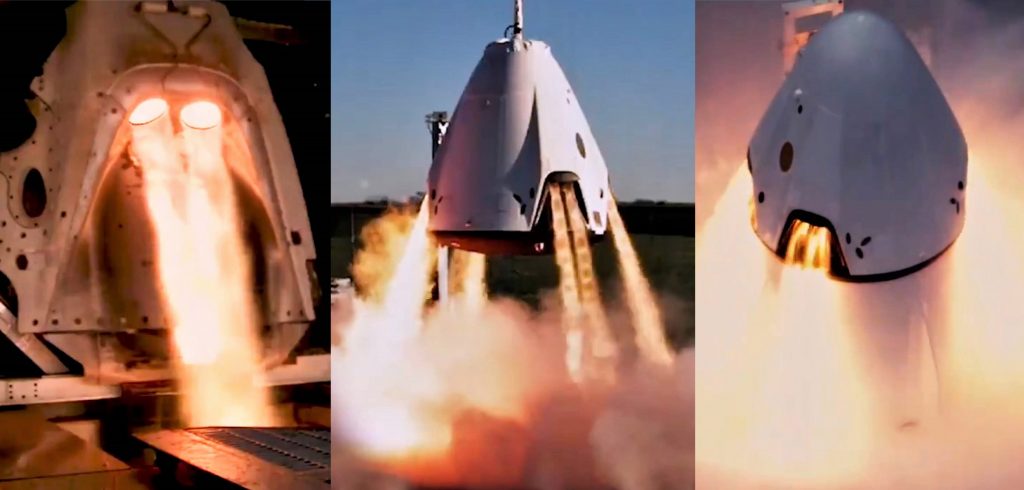 This filing comes ahead of the imminent resolution of a multi-month investigation to determine the cause of an anomaly that resulted in the loss of the DM-1 Crew Dragon capsule during a static fire test in April 2019. With that investigation nearly wrapped up and the Florida Department of Environmental Protection declaring "no further action" required with clean up efforts, as reported by Florida Today, SpaceX is likely ready to begin prelaunch preparations for Crew Dragon's next major milestones.
SpaceX recently posted a video highlighting extensive testing of Crew Dragon's SuperDraco abort system, noting the thrusters' ability to propel a Crew Dragon capsule half a mile away from a failing rocket in just 7.5 seconds. SpaceX has performed more than 700 successful static fires, ranging from individual double-engine powerpack tests to a 2015 pad-abort test and integrated hover testing before propulsive Crew Dragon landing development was canceled in 2017.
The late-2019 IFA launch window means that a 2019 crewed Dragon debut is more or less impossible. Nevertheless, if SpaceX can successfully complete Crew Dragon's IFA test in November or December, chances are good that there will be opportunities to attempt Crew Dragon's crewed launch debut sometime in Q1 2020.
Check out Teslarati's newsletters for prompt updates, on-the-ground perspectives, and unique glimpses of SpaceX's rocket launch and recovery processes.