Update: In what has become an extremely rare occurrence, a SpaceX Falcon 9 launch was aborted less than a minute before liftoff by a "fouled range."
Translated, that means that a vehicle or pedestrian of some kind failed to heed strict warnings and entered Cape Canaveral's launch 'range' during a live launch attempt. According to SpaceX's webcast host, the culprit may have been an aircraft that strayed inside temporarily restricted airspace. Over the last few years, range violations have become rarer and rarer as the East Coast US military wing responsible for managing it, the systems responsible for disseminating 'keep-out zones,' and general public awareness have gradually improved.
As SpaceX CEO Elon Musk noted shortly after the rare Falcon 9 launch abort, the keep-out zone figuratively erected before US rocket launches is large, covering hundreds of square miles to hedge against the possibility of an in-flight rocket failure or explosion. Despite SpaceX's innovative cheerleading of an autonomous flight termination system (AFTS) that would terminate a Falcon rocket the second it departed a much smaller corridor, safety regulations and range management have yet to respond in a significant way. According to Musk, if that status quo remains in place without major reform, "there is simply no way humanity can become a spacefaring civilization."
Orbit details shared by SpaceX suggest that the company's second dedicated Smallsat Rideshare launch – known as Transporter-2 – will also carry a second batch of polar Starlink satellites.
SpaceX launched the first batch of ten polar Starlink satellites in January 2021 as part of Transporter-1, co-manifesting them alongside a record-breaking 133 other spacecraft for a variety of companies and institutions. The mission was ultimately a major success, breaking records and demonstrating that SpaceX is serious about its Smallsat Program. Much like company executives promised in 2019 and 2020, SpaceX really does appear to have firm plans for semi-regular rideshare missions that will give customers two or more launch windows per year.
Now scheduled to launch no earlier than 2:56 pm EDT (16:56 EDT) on Tuesday, June 29th, Transporter-2 is the second in a series of Falcon 9 rideshare launches currently scheduled every six months or less over the next several years.
While Transporter-2 wont beat the unprecedented number of satellites launched on on Transporter-1, SpaceX says it will still "launch 88 spacecraft to orbit" and – more importantly – carry more customer mass. In other words, Transporter-2 will carry roughly 50% fewer satellites, each of which will weigh substantially more on average.
Ordering directly through SpaceX, Smallsat Rideshare Program begins at $1 million for up to 200 kg (~440 lb) to Sun Synchronous Orbit (SSO; around 500 km or 300 mi). A majority of small satellites weigh significantly less than 200 kilograms but if a customer manages to use all of their allotment, the total cost of a SpaceX rideshare launch could be as low as $5000 per kilogram – incredibly cheap relative to almost any other option. For a dedicated launch to SSO on a Rocket Lab Electron or Astra Rocket 3.0 rocket using every last gram of available performance, the same customer would end up paying a minimum of $25,000 to $37,500 per kilogram to orbit.
Befitting the premium price tag, a dedicated launch on one of a growing number of small orbital-class rockets does carry benefits like direct orbit insertion, specialized payload handling, and more schedule control. A rideshare with dozens of other satellites is more akin to taking a bus, delivering the lowest prices possible at the cost of strict departure times and a one-size-fits-all approach to drop-offs.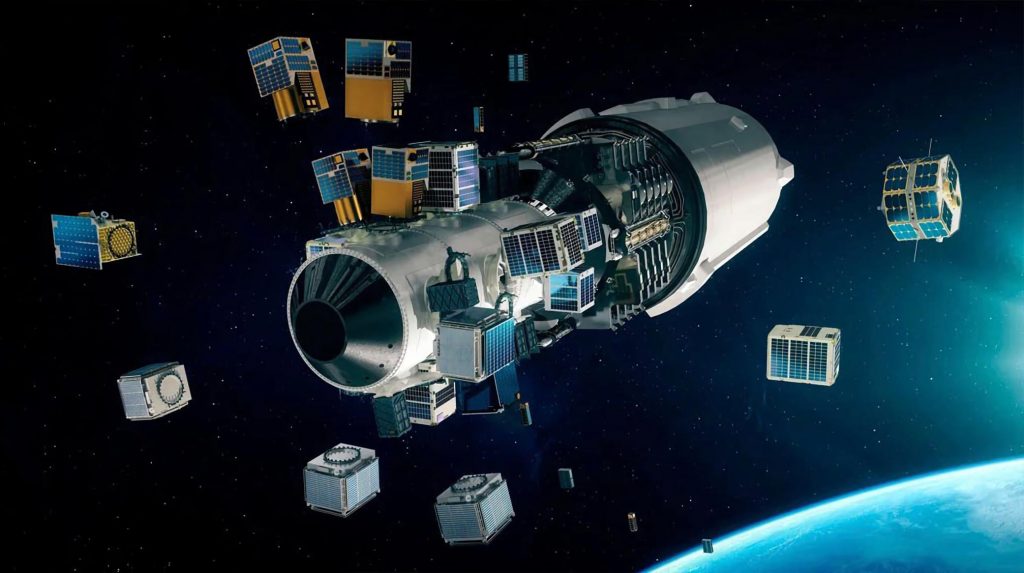 Given that SpaceX's Transporter program is on track to orbit more than twice as many satellites in six months as Rocket Lab's small Electron rocket has launched on 17 successful missions spread over more than three years, it's safe to say that a large portion of prospective smallsat owners and builders have concluded that the cost savings provided by rideshares far outweigh the inconvenience.
Beyond Transporter-2, SpaceX is already working to launch Transporter-3 in December 2021, Transporter-4 as soon as March 2022, Transporter-5 in June 2022, Transporter-6 in October 2022, and at least three other dedicated rideshare launches tentatively scheduled in 2023.